Bulk Carrier Webinar Week

21 September 2021 - 22 September 2021

09:00 - 14:45

BST - ONLINE
---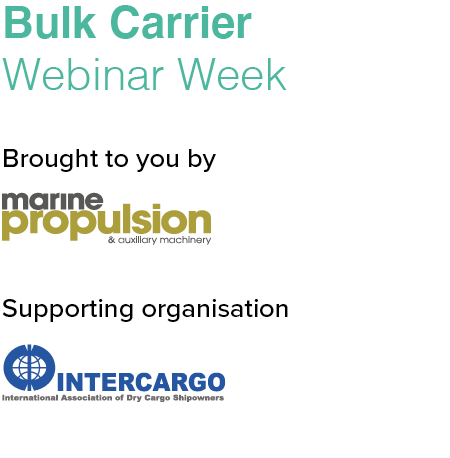 ---
Be sure to join us for Bulk Carrier Webinar Week

Cargo hold preparation. CII compliance. Port calls.

Beginning Tuesday 21 September we will be holding a series of daily webinars focused on cargo hold preparation, CII compliance and the real-time revolution for bulk carrier port calls. Each webinar is meticulously researched and speaks to a key industry challenge, headache or opportunity. The webinars are designed to strike the right balance between transmission of key information and interaction with the expert panel assembled. Those who register will also receive copies of webinar materials post event.

Our discussions are focused, cover the advertised subjects, and deliver registrants actionable insights.

Registration is free, please sign up below.

To guarantee a position on one of the webinar panels, as either a premium partner or sponsored presenter and panellist, please speak with Bill Cochrane or Colin Deed. A number of positions are made available throughout our webinar weeks for our commercial partners on a first come, first served basis.
Please join us for any or all of the following:
Safe and efficient cargo hold preparation
for bulk carriers

Date: Tuesday 21 September - Time: 09:00-09:45 BST
Cargo hold preparation is a critical yet perilous aspect of bulk carrier shipping. Careful planning and competent execution throughout the cargo chain from the chartering and operations team ashore to the master, officers and crew onboard is essential. Failure to prepare risks cargo and contractual claims and endangers operations and life. This webinar will set out what's required, how to safeguard your approach, and lessons learned from accidents, incidents and oversights.


Join us as we discuss
DryBMS
Cargo hold preparation and declaration
Hold cleanliness standards
Ventilation requirements
Common cause of cargo damage
Loss-prevention: standards, safety and maintenance
Roles and responsibilities from charterer to crew
Panellists include:
Alexandra Chatzimichailoglou, Senior Claims Adviser, Lawyer, Gard
Nitin Mathur Managing Director, Commercial, Wallem Group
Shubpreet Singh, Managing Director, Wilhelmsen Ship Management Singapore

Paul Markides, Marine-Quality Manager, INTERCARGO
---
Streamlining CII compliance for bulk carriers

Date: Wednesday 22 September - Time: 09:00-09:45 BST
The bulk carrier segment will face the greatest challenges of all maritime sectors in achieving positive Carbon Intensity Index (CII) ratings.

This webinar will assess the options available to bulk carrier operators to improve their energy efficiency: fleet renewal, market-driven energy savings technologies and speed reduction. Decisions need to be taken now that balance compliance, efficiency, safety and contractual considerations against the tightest of regulatory deadlines.

Join us as we discuss
Fleet renewal. How CII will drive new vessel designs
Market-driven energy saving technologies
Slow steaming. Reducing cargo intake. Non-linear reduction
Vessel size considerations. Performance monitoring and analysis
Whether CII is a capex issue rather than a technical issue for bulk carrier operators
Panellists include:
Harshavardhan Bhave Director, Fleet, Pacific Basin Shipping
Martin Crawford-Brunt, Chief Executive Officer, Lookout Maritime
Prashanth Athipar, Principal, Maritime Supply Chain Excellence and Sustainability, BHP
Shimpei Watanabe, Senior Specialist, ClassNK

Sponsored by:
---
The real-time revolution for bulk
carrier port calls

Date: Wednesday 22 September - Time: 14:00-14:45 BST
Real-time information gives bulk carrier operators the opportunity to lower emissions and costs by sailing more slowly, with lower emissions, and arriving at the port just in time and at the moment there is space available. Achieving this objective presents significant challenges for both the bulk carrier and the terminal operator. Chief among these challenges is the need for a degree of information sharing not seen previously as well as the introduction of new standards. This webinar will consider these issues and how digitalisation, IoT and artificial intelligence are enabling the revolution.


Join us as we discuss
The current bulk carrier business model
Bulk carrier/berthing issues
Digitalisation of the supply chain
Electronic bills of lading
Digital cargo solutions
Safety and emission reduction
Timeline for the real-time revolution of bulk carrier port calls
Panellists include:
Capt. Sivaraman Krishnamurthi, Founder & CEO, TrimSail Digital Solutions

Edward Senju, Regional CEO, Sansan
Bill Cochrane - Project Lead
bill.cochrane@rivieramm.com

Add to Calendar
Webinar details:
A confirmation email will be sent after registration. A reminder will be sent with your access details no later than 72 hours before the events date and a further reminder will be sent 1 hour before the webinar is due to begin.
During the webinar the identity of the attendees is confidential

All attendees join the webinar with their microphone off

We encourage questions to be sent during the webinar, the Moderator will raise these to the expert presenters

A recording of the Webinar will be accessible at www.rivieramm.com/webinar-library following the live event taking place.