Carbon Capture & Storage Webinar Week

16 August 2021 - 18 August 2021

09:00 - 14:45

BST - ONLINE
---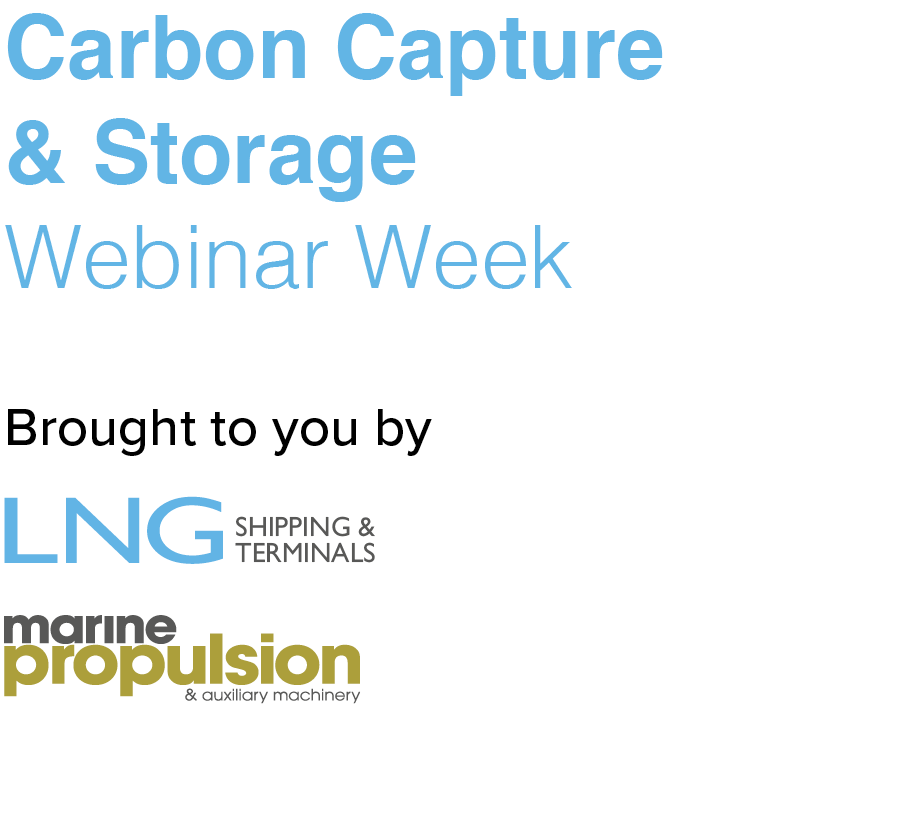 ---
Be sure to join us for Carbon Capture & Storage Webinar Week

CO2 shipping and terminals. Future fuels.
Beginning Monday, 16 August, we will be holding a series of daily webinars focused on large-scale CO2 shipping and terminals, safety and the pathway to new fuels. Each webinar is meticulously researched and speaks to a key industry challenge, headache or opportunity. The webinars are designed to strike the right balance between transmission of key information and interaction with the expert panel assembled. Those who register will also receive copies of webinar materials post event.

Our discussions are focused, cover the advertised subjects, and deliver registrants actionable insights.

Registration is free, please sign up below.

To guarantee a position on one of the webinar panels, as either a premium partner or sponsored presenter and panellist, please speak with Ian Pow. A number of positions are made available throughout our webinar weeks for our commercial partners on a first come, first served basis.
Please join us for any or all of the following:
Meeting the technical challenges of large-scale CO2 shipping and terminals

Date: Monday 16 August Time: 09:00-09:45 BST
Large-scale CO2 shipping will be integral to global decarbonisation strategies. To transport the increased volumes of CO2, the global fleet will need to ramp up in size and scale and CO2 terminals will need to be designed and operated. This presents both challenge and opportunity. As industry gears up for early-stage implementation will it need to start from scratch, or will it be able to draw on experience gained from the LNG and LPG industries?
Join us as we discuss
Vessel design and technology requirements
Engine and fuel options
Energy use and cost estimates
Retrofitting gas carriers to carry liquid CO2
Operational considerations
Cargo containment systems and cargo handling systems
CO2 terminal requirements
What can be applied from the LNG and LPG sectors
Panellists include:
Karin Kuipers, Process Engineer, Anthony Veder Group
Michael Joos, Senior Consultant, Element Energy


---
How ship-based CCS supports the transition to future fuels

Date: Wednesday 18 August Time: 14:00-14:45 BST
Japanese research suggests onboard carbon capture systems could reduce emissions up to 90% by 2028. The implications for a vessel's Energy Efficiency Index (EEXI) and Carbon Intensity Index (CII) are clear, and CCS could represent a giant leap forward towards achieving IMO's 2050 decarbonisation goals. This webinar will delve into the detail behind this promising technology, including storage space required, capture rates expected and onshore reception facilities needed -- as well as associated costs and what transporting CO2 means for vessels.
Join us as we discuss
Shipboard CO2 capture technologies
CII and EEXI
Design, technical and operational issues
Economic considerations
Retrofit options versus newbuild
Where will we be in 2028?
Panellists include:
Jan Boyesen, Senior Manager Green Transition, Maritime & Logistics Innovation Denmark (MARLOG)


---
Ian Pow - Brand Manager
ian.pow@rivieramm.com
Webinar details:
A confirmation email will be sent after registration. A reminder will be sent with your access details no later than 72 hours before the events date and a further reminder will be sent 1 hour before the webinar is due to begin.
During the webinar the identity of the attendees is confidential

All attendees join the webinar with their microphone off

We encourage questions to be sent during the webinar, the Moderator will raise these to the expert presenters

A recording of the Webinar will be accessible at www.rivieramm.com/webinar-library following the live event taking place.