Container Ship Tech & Ops Webinar Week

02 September 2021 - 03 September 2021

09:00 - 14:30

ONLINE
---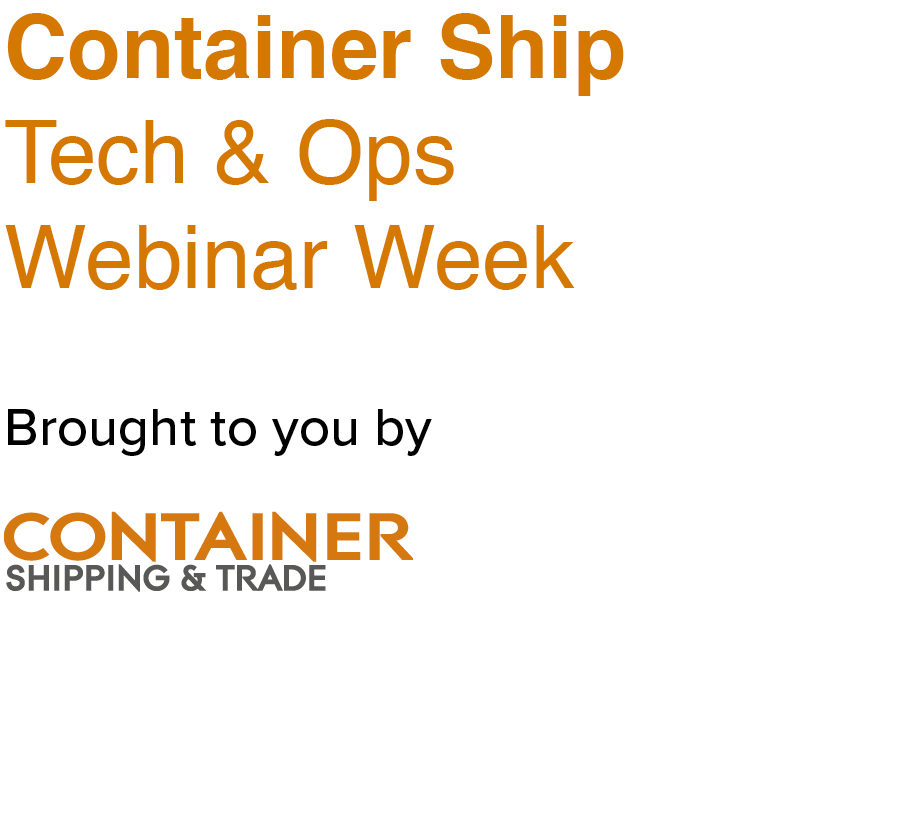 ---
Be sure to join us for Container Ship Tech & Ops Webinar Week
Beginning Thursday 2 September, we will be holding a series of webinars focussed on transitioning towards zero emissions, containers lost overboard and scrubber technology.
Each webinar is meticulously researched and speaks to a key industry challenge, headache or opportunity. The webinars are designed to strike the right balance between transmission of key information and interaction with the expert panel assembled. Those who register will also receive copies of webinar materials after the event.
Our discussions are focused, cover the advertised subjects, and deliver registrants actionable insights.
Registration is free, please sign up below.
To guarantee a position on one of the webinar panels, as either a premium partner or sponsored presenter and panellist, please contact Colin Deed. A number of positions are made available throughout our webinar weeks for our commercial partners on a first come, first served basis.
Please join us for any or all of the following:
Weather routeing: minimising the risk of containers overboard


Date: Thursday 2 September - Time: 09:00-10:30 BST
Record numbers of containers are being lost overboard. A major contributing factor is climate change-driven increases in the severity of storms. Our webinar will provide expert insight on how weather routing technology can mitigate the risk of lost containers overboard.
Join us as we discuss
The role of weather within container lossage
How seafarers can use weather routeing solutions to keep cargo safe
How advances in metocean data can help operators reduce and avoid box losses
Vessel motion forecasting and reducing losses
Weather routeing for the future
---
LNG: transitioning towards zero emissions

Date: Thursday 2 September - Time: 13:00-14:30 BST
CMA CGM's contract for nine 23,000-TEU LNG dual-fuelled container ships in 2017 was a powerful endorsement for LNG as a marine fuel in the container sector. Many more LNG newbuild projects and retrofit contracts have followed in the years since. LNG has the scalability and availability to meet the needs of ultra large box ships and is also attractive to smaller vessels. Our webinar will examine the key technical and operational considerations and challenges of LNG propulsion for box ships, as well as market developments.
Join us as we discuss
Fuel tanks: overcoming space issues and increasing volume efficiency
Fuel gas systems: the rise of automation
How industry collaboration can increase LNG box ship uptake
Bunkering considerations and developments
Paving the way for LNG retrofits
---
Scrubbers: bridging the decarbonisation gap

Date: Friday 3 September - Time: 13:00-14:30 BST
The container ship sector is one of the largest maritime markets for scrubbers, and their popularity within this sector looks set to continue. While Covid-19 proved challenging for this market, we look at how more advanced technologies, shorter turnaround times and improved installation processes make scrubbers an attractive investment for box ship owners.
Join us as we discuss
The business case for scrubbers
OPEX. CAPEX. ROI
More efficient installation processes
Simplifying maintenance
The rise of remote monitoring
Innovating scrubbers for the future
Panellists include:
Piotr Witkowski, Deputy Technical Director, Trident BMC
Aleksander Askeland, Chief Sales Officer, Yara Marine Technologies


Sponsored by:
---
Colin Deed - Project Lead
colin.deed@rivieramm.com
Webinar details:
A confirmation email will be sent after registration. A reminder will be sent with your access details no later than 72 hours before the events date and a further reminder will be sent 1 hour before the webinar is due to begin.
During the webinar the identity of the attendees is confidential

All attendees join the webinar with their microphone off

We encourage questions to be sent during the webinar, the Moderator will raise these to the expert presenters

A recording of the Webinar will be accessible at www.rivieramm.com/webinar-library following the live event taking place.