LPG Shipping & Terminals Webinar Week

03 August 2021 - 05 August 2021

14:00 - 14:45

BST - ONLINE
---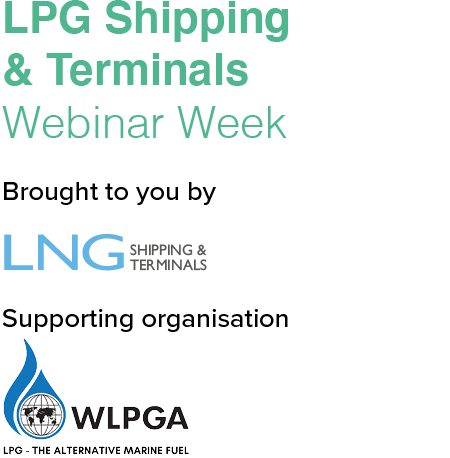 ---

Be sure to join us for LPG Shipping & Terminals Webinar Week

Cargo handling. VLEC design.


Beginning Tuesday, 3 August, we will be holding a series of daily webinars focused on cargo handling and safe transfer operations, VLEC design and LPG bunkering. Each webinar is meticulously researched and speaks to a key industry challenge, headache or opportunity. The webinars are designed to strike the right balance between transmission of key information and interaction with the expert panel assembled. Those who register will also receive copies of webinar materials post event.

Our discussions are focused, cover the advertised subjects, and deliver registrants actionable insights.


Registration is free, please sign up below.


To guarantee a position on one of the webinar panels, as either a premium partner or sponsored presenter and panellist, please contact Ian Pow. A number of positions are made available throughout our webinar weeks for our commercial partners on a first come, first served basis.
Please join us for any or all of the following:
LPG cargo handling and safe transfer operations

Date: Tuesday 3 August - Time: 14:00-14:45 BST
This webinar will examine the latest advances in cargo handling systems to improve safety and efficiency of handling LPG during loading, transport and unloading operations.


Join us as we discuss
Developments in reliquefaction plants
Associated equipment: inert gas generators, cargo pumps and vaporisers
Ship-to-ship transfer
Safety management systems and best practices
Panellists include:
Chris Clucas, Principal Consultant, Liquefied Gas Consultancy
Andrew Scott, Business Development Director, Babcock LGE


---
VLEC design: improving efficiency at the terminal and at sea




Date: Wednesday 4 August - Time: 14:00-14:45 BST
The ethylene carrier sector is expanding and now includes large purpose-built carriers. This webinar will look at technology advances, vessel design as well as options for faster loading times and lower transportation costs.


Join us as we discuss
Hull form refinements
Cargo containment technology
Propulsion options and fuel gas systems
Future-proofing your investment: ammonia-ready?
Panellists include:
Shiraz Lakhani, QHSE Manager, PG Shipmanagement Pte


---
Ian Pow - Project Lead
ian.pow@rivieramm.com

Add to Calendar
Webinar details:
A confirmation email will be sent after registration. A reminder will be sent with your access details no later than 72 hours before the event's date, and a further reminder will be sent 1 hour before the webinar is due to begin.
During the webinar, the identity of attendees is confidential

All attendees join the webinar with their microphone off

We encourage questions during the webinar; the moderator will raise questions to the expert presenters

A recording of the webinar will be accessible at www.rivieramm.com/webinar-library after the event has taken place.