The shaft line is at the core of a ship and is crucial to a vessel's operation. Now is the best time to ensure it's in the best possible working order. Whether you have a new build vessel, or an existing vessel which needs an upgrade, retrofit, replacement or overhaul, we have a wide range of integrated solutions to help you achieve the ideal shaft line.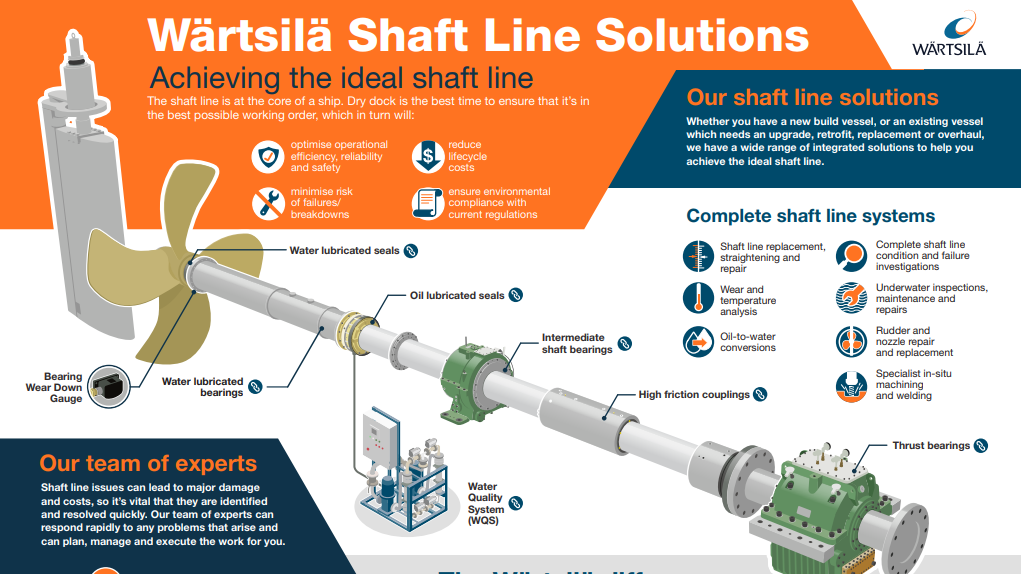 wartsila shaftline solution infographic December 2020.PNG
To maintain ideal operating conditions, it's vital that shaft line issues are identified and resolved quickly. Our team of experts can respond rapidly to any problems that arise and can plan, manage and execute the work for you. Our Wärtsilä Shaft Line Repair Services include dedicated project management, technical support and consultancy, in-country field services, and specialist underwater services.
Wärtsilä Shaft Line Solutions delivers a portfolio of end-to-end services and integrated solutions for the marine markets that builds on our core values: lifecycle efficiency, risk reduction, environmental leadership and design excellence. Through providing shaft line solutions since 1886, we have become an industry leader with installations on over 30,000 vessels worldwide. We have the capabilities to support customers on a global scale and remain committed to providing in-country and round-the-clock expertise.
Learn more about how to achieve the ideal shaft line through our Wärtsilä Shaft Line Solutions infographic.
www.wartsila.com/marine/build/shaft-line-solutions