P&O Cruises Australia's conversion of Princess Cruises' Golden Princess into Pacific Adventure is exciting for the operator and passengers on many levels, offering new and innovative concepts alongside signature features – and it will be the largest ship in the fleet.
P&O Australia head of design Petra Ryberg gives Passenger Ship Interior & Refurbishment Review a glimpse into the design and features.
Explaining how she came to her design specification, she says "I sailed on Pacific Adventure for 10 days and spent time walking around the ship, as I like to walk into a room and feel what it lends itself to. The more time I spend on board, the clearer I become [about the design]."
During her time on board, she started the design specifications. "I like to write specifications on board the ship [rather than afterwards] as you can take as many photos as you like and be in the space, but you may not remember the small details when back in the office."
The specifications have all been finished. Ms Ryberg says "This ship is due in October next year. And we are already done and dusted with this design, we know what we want to do and are allowing sufficient time for contractors to make it happen."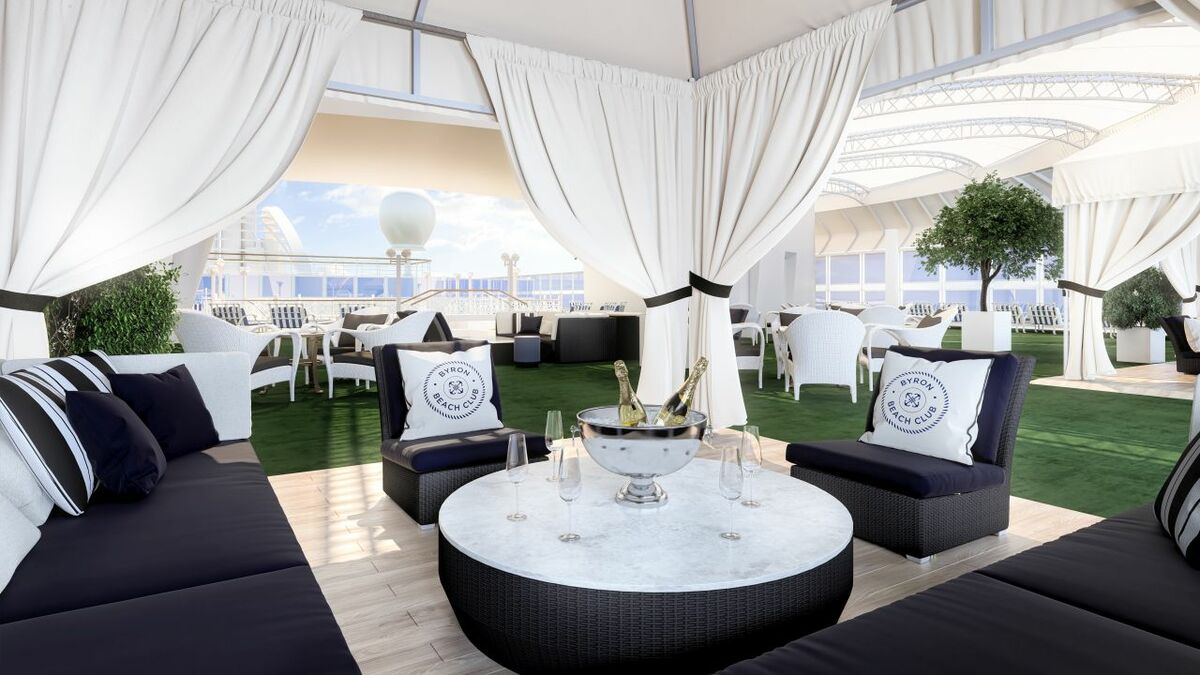 The Byron Bay Beach Club has been designed to be similar to a European members beach club
Pacific Adventure: a unique design
Homing in on some of the innovative features, she says "It is the biggest ship in the fleet, so everyone is excited about that, and being bigger allows for more dining, activities and shows. There are 17 decks and it is quite a unique design."
She singles out the nightclub on the aft, which will offer "amazing views".
Another major venue will be a traditional Australian pub, which features a 9 m by 6 m bar – the largest in the fleet. Ms Ryberg says, "We want to bring families together in the space and cater for different age groups, with karaoke and other activities."
She explains how parents can relax with a beer while their children can take part in activities, or the whole family can get involved in the activities.
She says to deal with cruise ship challenges of limited space, "If you make a space multi-purpose, it can be one thing in the day and transformed at night, giving guests another experience."
Another new feature will be the Byron Beach Club, an exclusive retreat available to passengers booked in Byron Beach Club suites and mini suites. Ms Ryberg says
"This will give these passengers exclusive access to one of the pools located by the spa. And then there is a private outdoor area exclusively for Beach Club members. We have designed it to be a bit like a European members beach club."