Ballast Water Webinar Week

18 May 2020 - 22 May 2020

09:00 - 09:45

ONLINE
---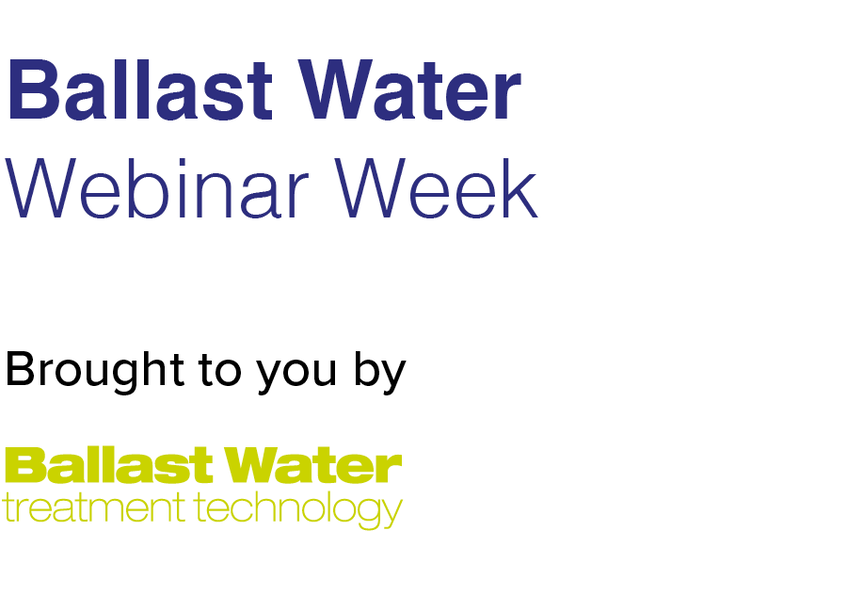 ---
Ballast Water Webinar Week, be sure to join us
Beginning 18 May we will be holding a series of daily webinars, each meticulously researched and organised in response to a present ballast water related challenge, headache or opportunity. The webinars are free to attend and are designed to strike the right balance between transmission of key information and interaction with the expert panel assembled.
Should you wish to join one of our expert panels please contact Paul Dowling.
Please join us for any or all of the following:
Our discussions are focused, cover the advertised subjects, and deliver registrants actionable insights.
What revised G8 requirements mean for the owner/operator

Date: Monday 18 May - Time: 09:00-09:45BST


Premier Partner:


The majority of ballast water treatment systems on order today are scheduled to be installed after the IMO's revised requirements for G8 type approval enter into force on 28 October. These systems require IMO revised G8 type approval meaning owner/operators need to act now to avoid problems in October.
Join us and learn
Market overview / Convention update
Revised G8 type approval and the October 2020 deadline: what owner/operators need to consider
The impact of COVID-19
What if? Legal and liability issues, including non-compliance
Panellists:
William Burroughs, Senior Principal Engineer, ABS
Mark Riggio, Senior Market Manager, Hyde Marine
---
Navigating the BWMS system selection maze

Date: Tuesday 19 May - Time: 09:00-09:45BST

Premier Partner:




Owner/operators need to balance type-approval, flow rates, trading patterns, purchase price, installation time, crew training and operating costs when selecting a BWMS. Our panel shares lessons learned from a range of newbuild and retrofit installations. Join us and learn
IMO versus USCG type-approval
Flow rates for different vessel types
Retrofit installation challenges: finding a slot; the impact of COVID-19; engineering preparation and planning
Comprehensive crew training is key
Availability of spares and consumables.
Panellists:
Nikolas Vaporis, Director Newbuildings, Capital Ship Management
Andrew Marshall, VP Business Development, Ecochlor

Marcie Merksamer, Vice President, EnviroManagement
Nier Israeli-Spielberg, VP Ballast Water Division, Filtersafe
Guillaume Drillet, Regional Manager, SGS
---
Overcoming bottlenecks on BWMS retrofit installation and operation

Date: Wednesday 20 May - Time: 09:00-09:45BST

BWMS suppliers share and field questions on the logistical issues of providing equipment for retrofit. Engineering companies discuss shipyard issues. Shipowners on how anticipate, mitigate and overcome order backlogs and bottlenecks to remain sailing and profitable. Join us and learn
Logistics: the pain points and how to deal with them
The shipyard interface: managing backlog, delays and cost overuns
Operators: feedback on cost and performance issues
Strategies that work
Panellists:
Nitesh Ranvah, CEO and Naval Architect, 21 Knots
Dimitrios Tsoulos, Regional Sales Manager EMEA, De Nora Water Technologies (DNWT), Marine Business Unit

Tim Wilkins, Environment Director, INTERTANKO
Jad Mouawad, CEO, Mouawad Consulting

Sponsored by:

---
Alternatives to ship-board ballast water treatment systems

Date: Thursday 21 May - Time: 09:00-9:45BST

Ballast Water Treatment does not have to take place onboard a vessel. This webinar assesses alternative, compliant approaches, including in-service experience and examples. Join us and learn
What the Convention actually says about ballast water treatment
Spotlight on containerised BWMS
Suggestions presented at MEPC
An audit of alternative systems strengths and weaknesses
Panellists:
Debra DiCianna, Senior Compliance Engineer, Choice Ballast Solutions
Kevin J. Reynolds, Director of Research & Development, Glosten
---
The prospects for reviving VIDA and alternative testing procedures

Date: Friday 22 May - Time: 16:00-16:45BST

The Vessel Incidental Discharge Act (VIDA) was designed to bring USCG ballast water treatment regulations in line with IMO requirements and create a level playing field for owners and supplies alike. The USCG has stated that this is not possible. Is this a final ruling or is there a way to make it happen? This webinar will explore why VIDA stalled and what's required to revive it. Join us and learn
Why VIDA is important.
Differences between IMO and USCG testing procedures
The USCG position
What the science says
Is there a way forward for VIDA?
Panellists:
Nicole Dobroski, Assistant Chief, Marine Environmental Protection Division, California State Lands Commission
Cees Van Slooten, CUC-IL Coordinator, Control Union Certifications
Jon Stewart, President, International Maritime Technology Consultants, Inc.

Sponsored by:
Paul Dowling - Project Lead
paul.dowling@rivieramm.com

Add to Calendar
Webinar details:
A confirmation email will be sent after registration. A reminder will be sent with your access details no later than 72 hours before the events date and a further reminder will be sent 1 hour before the webinar is due to begin.
During the webinar the identity of the attendees is confidential

All attendees join the webinar with their microphone off

We encourage questions to be sent during the webinar, the Moderator will raise these to the expert presenters

A recording of the Webinar will be accessible at www.rivieramm.com/webinar-library following the live event taking place.