Ballast Water Webinar Week

04 November 2020 - 06 November 2020

09:00 - 09:45

ONLINE
---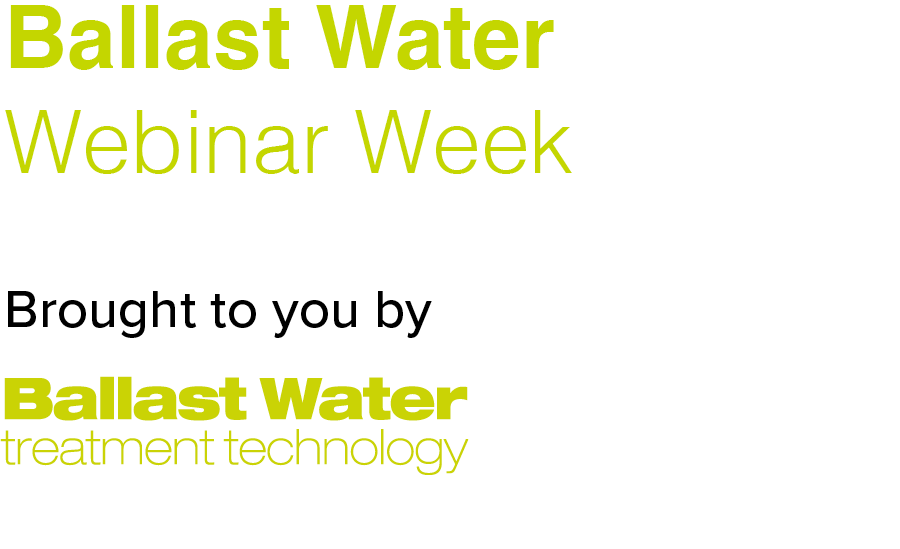 ---
Ballast Water Webinar Week, be sure to join us
Beginning 4 November, we will be holding a series of daily webinars, each meticulously researched and organised in response to a present ballast water related challenge, headache or opportunity. The webinars are free to attend and are designed to strike the right balance between transmission of key information and interaction with the expert panel assembled.
Should you wish to join one of our expert panels please contact Paul Dowling.
Please join us for any or all of the following:
Our discussions are focused, cover the advertised subjects, and deliver registrants actionable insights.
---
Ballast water testing and compliance: match fit and fit-for-purpose?

Date: Wednesday 4 November - Time: 11:00-11:45GMT

Premier partner:

What will follow the Revised G8 and USCG / VIDA policy letter entering into force? Discussion will take in the compliance tester: how compliant are the industry's testers, and is it time to gear up for biofouling?
Join us and learn
Rules around post-installation testing
Who can test for compliance
Market shake out: how many providers will there be in 2025?
Whether biofouling is the next big thing
Panellists include:
Michael Haraldsson, Global BDM - Ballast Water Testing, Maritec Pte Ltd
Viktor Friberg, Head of Global Sales, PureBallast, Alfa Laval
Gireesh M Menon, Managing Director (Design & Offshore Engineering), Aries Marine, UAE


Sponsored by:
---
Niche solutions and decarbonisation of ballast water treatment systems

Date: Wednesday 4 November Time: 15:30-16:15 GMT

Watch now
A look at the alternatives and contingencies for permanent onboard ballast water treatment systems and a consideration of fuel consumption and carbon emissions for these systems – would a shore-based renewable power treatment serve shipping's decarbonisation aims?
Join us as we discuss:
Contingency measures during BWMS installation or BWMS breakdown

Serving heavy lift, aft-peak tanks and specialist craft

Spotlight on containerised BWMS

Decarbonisation of shipping: should port-based ballast water treatment be revisited?
Panellists include:
Marcus Hummer, Chief Executive Officer, Bawat
Kevin J. Reynolds, Director of Research & Development, Glosten
Sponsored by:


---
What's next for the ballast water sector?

Date: Thursday 5 November - Time: 09:00-09:45GMT
Most ballast water treatment systems on order today are scheduled to be installed after the IMO's revised requirements for G8 type approval enters into force on 28 October. 
Join us as we discuss
Regulatory and compliance perspectives of obtaining IBWMC certificate with D-2 compliance
Renewed IOPP certificate but no BWMS installed – what happens next?
What constitutes a BWMS delivered to the ship before the 28 Oct 2020 deadline?
Retrofit installation: upgrading a BWMS from 2008 G8 / AMS to newer USCG or Revised G8
How many more BWMS will be type-approved at virtual MEPC 75?
Panellists include:
Ytzhak (Itzik) Rozenberg, Chief Technical Officer, Atlantium Technologies
Debra DiCianna, Senior Compliance Engineer, Choice Ballast Solutions
Marcie Merksamer, Vice President, EnviroManagement


Sponsored by:


---
BWMS retrofit installation and operation

Date: Friday 6 November - Time: 09:00-09:45GMT

Ballast water management system suppliers field questions on the logistical issues of providing equipment for retrofit. Engineering companies discuss shipyard issues. Shipowners will share what it takes to mitigate and overcome order backlogs and bottlenecks to remain sailing and profitable. The clarion call for shared data and sharing experience of retrofit installations through a central database also will be assessed.
Join us and learn
Retrofit and supervision of projects: how to ensure quality is maintained
The shipyard interface: managing backlog, delays and cost overruns
Operator feedback on cost and performance issues
Data and experience sharing: why repeat the same mistakes?
Panellists include:
John Loaiza, Director, BioMarine Services
Shobhit Agarwal, Project Manager, Maersk Line
Tom Hazen, Sales Engineer, Hyde Marine
Sponsored by:


---
Paul Dowling - Project Lead
paul.dowling@rivieramm.com
Webinar details:
A confirmation email will be sent after registration. A reminder will be sent with your access details no later than 72 hours before the events date and a further reminder will be sent 1 hour before the webinar is due to begin.
During the webinar the identity of the attendees is confidential

All attendees join the webinar with their microphone off

We encourage questions to be sent during the webinar, the Moderator will raise these to the expert presenters

A recording of the Webinar will be accessible at www.rivieramm.com/webinar-library following the live event taking place.