Ballast Water Webinar Week

22 June 2021 - 24 June 2021

09:00 - 15:45

BST - ONLINE
---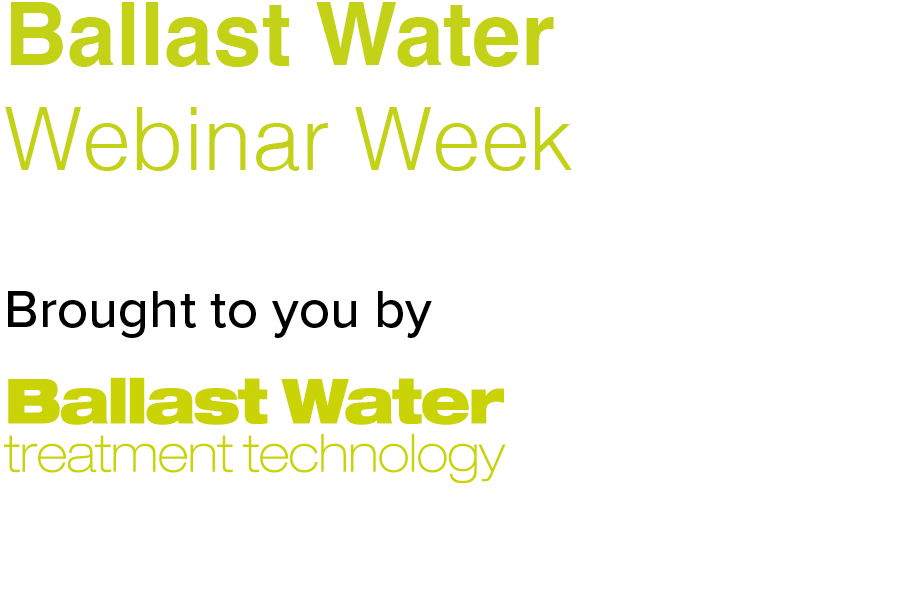 ---
Ballast Water Webinar Week, be sure to join us

Retrofit projects. IMO MEPC 76. Resolving operational issues
Beginning Tuesday 22 June, we will be holding a series of daily webinars, each meticulously researched and focused on different facets of ballast water. The webinars are designed to strike the right balance between transmission of key information and interaction with the expert panel assembled.
Riviera's Ballast Water Webinar Week will focus on retrofits, IMO MEPC 76 and resolving operational issues.

Our discussions are focused, cover the advertised subjects, and deliver registrants actionable insights.

Registration is free, please sign up below

Should you wish to join one of our expert panels please contact Paul Dowling.

A number of positions are made available throughout our webinar weeks for our commercial partners on a first come, first served basis.
Please join us for any or all of the following:
---
When alternate ballast water management systems displace retrofit projects

Date: Tuesday 22 June - Time: 14:00-14:45 BST

How much time, money and effort can operators save by adopting alternate means of managing their vessels' ballast water? Why should operators take a vessel out of service and commit to researching systems and investing in training if there is a viable alternative? And have the candidate vessels for an alternative approach expanded beyond those that discharge infrequently or are towards the end of their service life?
Join us as we discuss:
The total cost of a ballast water treatment system versus alternate treatment methods
Whether alternate treatment providers can guarantee discharge meets local standards
Compliance and who pays should something go wrong
Whether pasteurisation means lower CAPEX and OPEX versus traditional BWMS
Alternative ballast water management systems compatibility with offshore vessels
Panellists:
William Burroughs, Senior Principal Engineer, ABS Global Sustainability Center
Jakob Olsson, CCO, Bawat
---
What IMO MEPC 76 will mean for ballast water treatment

Date: Wednesday 23 June Time: 15:00-15:45 BST

WATCH NOW
On 10 June MEPC 76 will take place as a virtual meeting – but will there be practical progress on ballast water issues? Our panel will scrutinise the issues; identify where industry can expect decisions and where items are likely to carry over to MEPC 77… and the implications for industry.
Join us as we discuss:
Draft amendments adopted at MEPC 75
Prospects that the experience building phase will move from experience gathering stage to analysis stage
New protocols for verification of ballast water compliance monitoring devices
Pathways for administrations, class societies, port state control authorities and third-party auditors to achieve a common interpretation on entries in the ballast water record book
Commission testing and International Ballast Water Management Certification
Will operators be able to bypass exchange in ports with poor water quality
Whether offshore vessels will receive an exemption
Panellists:
William Burroughs, Senior Principal Engineer, ABS Global Sustainability Center
Tim Wilkins, Environment Director, INTERTANKO


---
How to counter common BWMS retrofit and operational issues

Date: Thursday 24 June Time: 09:00-09:45 BST

WATCH NOW
We should be in peak BWMS retrofit installation mode, but COVID has caused logistical issues. Our panellists will clarify the present outlook. They will also share proven troubleshooting strategies and workarounds when problems occur post retrofit installation.

Join us as we discuss:
COVID's lingering effect on the supply chain and installation
Pump issues: will variable speed control help?
Clogging: the case for an in-line pre-filter
The forgotten variable: maintaining outflow pressure
Who pays to fix the issues?
Who pays the penalties?
Panellists:
Per Nykjaer Jensen, Owner, European Marine Technology (EUMT)
Kevin Reynolds, Director of Research & Development, Glosten
Jad Mouawad, CEO, Mouawad Consulting


---
Paul Dowling - Project Lead
paul.dowling@rivieramm.com
Webinar details:
A confirmation email will be sent after registration. A reminder will be sent with your access details no later than 72 hours before the events date and a further reminder will be sent 1 hour before the webinar is due to begin.
During the webinar the identity of the attendees is confidential

All attendees join the webinar with their microphone off

We encourage questions to be sent during the webinar, the Moderator will raise these to the expert presenters

A recording of the Webinar will be accessible at www.rivieramm.com/webinar-library following the live event taking place.