Bulk Carriers Webinar Week

26 January 2021 - 29 January 2021

09:00 - 10:00

ONLINE
---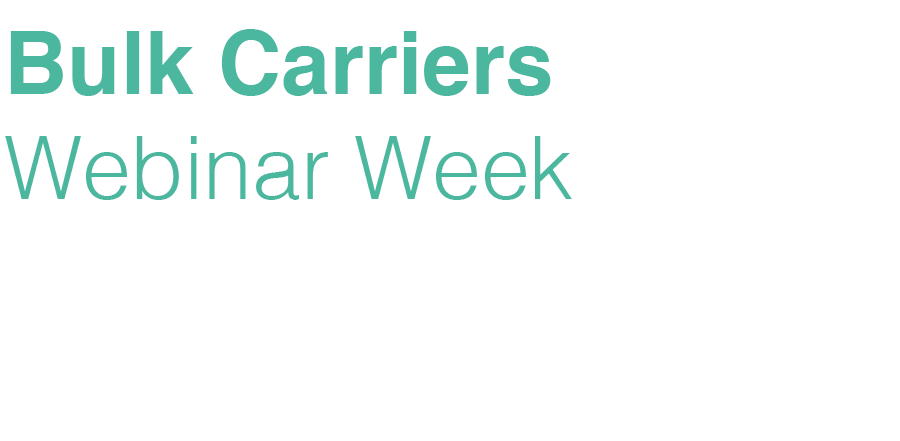 ---
Be sure to join us for Bulk Carriers Webinar Week
Beginning Tuesday 26 January, we will be holding a series of daily webinars, each meticulously researched and addressing a topic of vital importance to the bulk carrier sector. The webinars are designed to strike the right balance between transmission of key information and interaction with the expert panel assembled. Those who register will also receive copies of webinar materials following the event.
Our discussions are focused, cover the advertised subjects, and deliver registrants actionable insights.
Should you wish to join one of our expert panels please contact Bill Cochrane.
Please join us for any or all of the following:
The future-proofed bulk carrier

Date: Tuesday 26 January - Time: 14:30-15:15 GMT
How can bulk carrier owners and operators future-proof their fleets to meet the tightest of regulatory timetables when multiple pathways to decarbonisation -- each with well-publicised strengths and weaknesses -- are being presented? This webinar will critically assess the options and analyse the strategies available for bulk carrier operators of varying size and financial scale.
Join us as we discuss
To build or retrofit: that is the question
Fuel and propulsion options: biofuels to rotor sails and all points between
Scrubbers versus compliant fuels
A gateway to improved performance: gate rudder technology and ultrasonic antifouling assessed
Balancing compliance, operational requirements and return on investment
The charterer perspective
Panellists:
Nick Contopoulos, Chief Operating Officer, ANEMOI
Scott Bergeron, Director of Business Development & Strategy, Oldendorff Carriers
Fotios Belexis, Technical Director, Star Bulk
Elias Boletis, Director Propellers and Transmission, Wärtsilä

Sponsored by:
---
Bulk carrier safety by design, not by accident

Date: Wednesday 27 January - Time: 09:00-09:45 GMT
Significant improvements in bulk carrier safety have been seen in recent years, but major areas of concern remain including cases of liquefaction or cargo failure causing instability and structural failure and groundings, including the recent case of Wakashio. Amendments to the International Maritime Solid Bulk Cargoes Code come into force in January 2021, a new cargo ventilation guide has recently been launched and additional measures for bulk carrier safety in SOLAS are also under consideration. Industry experts will discuss the implications of these on bulk carrier design, build and operation and the importance of better incident and investigation reporting.
Join us as we discuss
Understanding INTERCARGO/DNVGL/Standard Club's new bulk cargo Ventilation Guide
Additional considerations for bulk carrier safety in SOLAS chapter XII and the International Code on the Enhanced Programme of Inspections during Surveys of Bulk Carriers and Oil Tankers
Lessons learnt from past casualties and their importance in determining additional safety improvement as well as challenges with incident and investigation reporting
Emerging claims trends
Identifying and reducing the risks for bulk and ore carriers from design to operation
Panellists :
Firoze Mirza, Managing Director, Bernhard Schulte (Hong Kong)
John Noble, Director, Constellation Marine Services
Morten Løvstad, Vice President, Global Business Director - Bulk Carriers, DNV GL - Maritime
Jay K Pillai, Special Advisor to the Management Committee of INTERCARGO

---
Standardising bulk carrier management and self-assessment

Date: Thursday 28 January - Time: 09:00-09:45 GMT
How well prepared is the bulk carrier industry for a self-assessment scheme, whether Dry SAS, DBMA or a third variant? Should industry be focussing on the bulk terminal side and applying a uniform standard, and is a scheme warranted?
Join us and learn
Bulk carrier vetting: a level playing field or just more confusion
Safety: a commercial consideration or the preserve of an NGO
The port and terminal perspective
It's not about industry standards. It's about industry implementation of existing standards and willingness
Panellists:
Capt Paritosh Dube, Senior Marine Superintendent, Bernhard Schulte (Hong Kong)
Sunil Kapoor, Director, FML Ship Management

Mark Rawson, Director ISM & QSE, Oldendorff Carriers
---
Just-in-Time (JIT) operations: a loaded issue for bulk carriers

Date: Friday 29 January - Time: 09:00-09:45 GMT
The insatiable demand for commodities and Just-in-Time optimised operations is creating increased pressure on owners and operators to achieve rapid loading and unloading of bulk carriers at the terminal. This webinar will bring together key stakeholders from terminal operators, class, flag administrations, insurers and owner representatives to help achieve a common understanding and drive solutions to the main areas of concern.
Join us and learn
Understanding arrival conditions, loading requirements and cargo conditions to avoid endangering the vessel and crew
The implications of incorrect loading and the impact on the operation, manoeuvrability and structural integrity of the ship
How traffic and resource management systems can help to ease the pressures
What more can the key stakeholders do to achieve a safe and synchronised port call?
Panellists:
M Abdul Rahim, Managing Director, Middle East and South Asia, ClassNK (Nippon Kaiji Kyokai)
Gerald Hirt, Managing Director, HVCC Hamburg Vessel Coordination Center
Ben van Scherpenzeel, Chairman, International Taskforce Port Call Optimization
Mikael Hägglund, Ship Type Sales Manager, MacGregor Sweden (Lifting and Machinery Systems)
---
Bill Cochrane - Project Lead
bill.cochrane@rivieramm.com
Webinar details:
A confirmation email will be sent after registration. A reminder will be sent with your access details no later than 72 hours before the events date and a further reminder will be sent 1 hour before the webinar is due to begin.
During the webinar the identity of the attendees is confidential

All attendees join the webinar with their microphone off

We encourage questions to be sent during the webinar, the Moderator will raise these to the expert presenters

A recording of the Webinar will be accessible at www.rivieramm.com/webinar-library following the live event taking place.