Maritime communications: hybrid connectivity for digital transformation at sea

19 May 2021

11:00 - 11:45

BST - ONLINE
---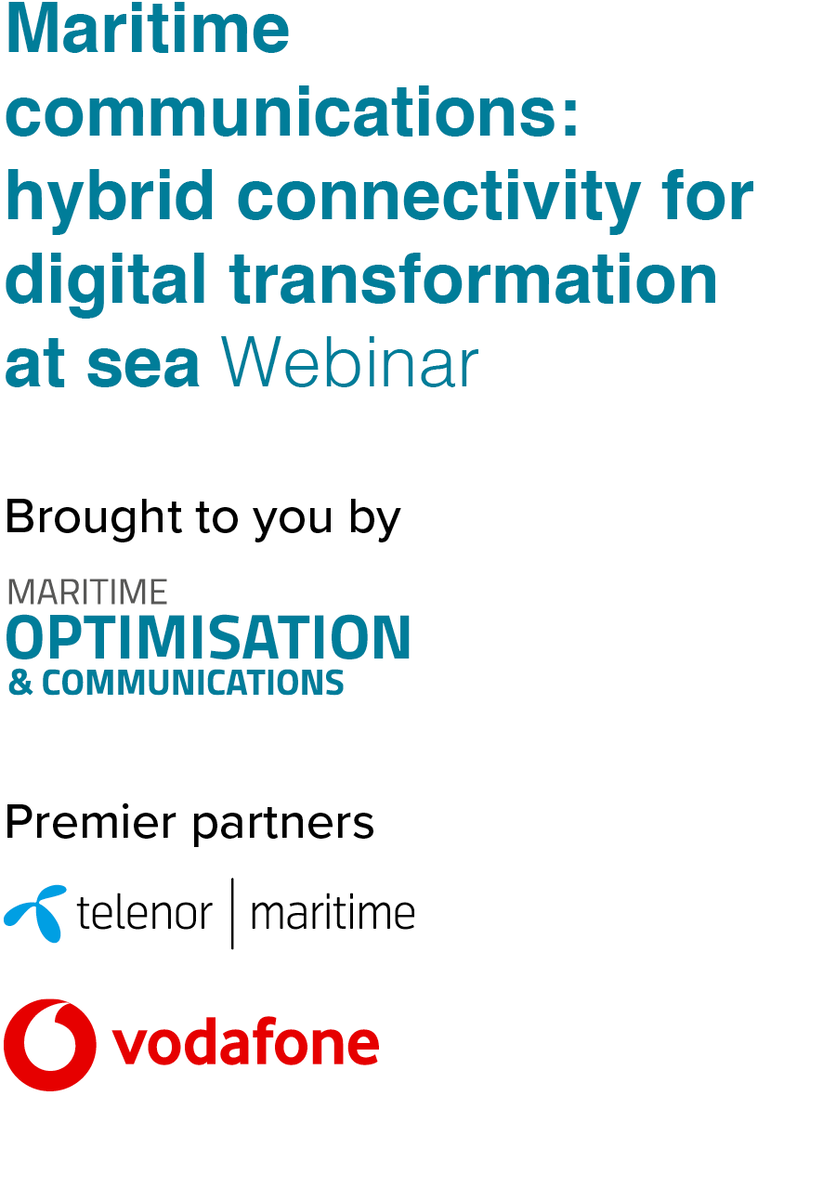 ---

Be sure to join us,

in partnership with Vodafone and Telenor Maritime, for a webinar looking at

hybrid connectivity for digital transformation at sea
Our discussion will be focused, cover the advertised subjects, and deliver registrants actionable insights.


Registration is free, please sign up below

For further information please contact Paul Dowling.

Maritime communications: hybrid connectivity for digital transformation at sea

Date: Wednesday 19 May Time: 11:00-11:45 BST

Watch now
Premier partners:
More vessel operators now choose to benefit from the advantages of hybrid connectivity to optimise their operations, but what makes connectivity truly hybrid? Our expert panel will assess applicability, use cases and benefits of various models of hybrid connectivity.
Join us as we discuss
Enabling a new digital ecosystem to host innovative onboard applications
Hybrid connectivity: how satellite, 4G, radiolink and HF radio come together
The benefits of hybrid connectivity
Roadmap to 5G
Port and coastal network coverage
What do vessel operators need to do to establish hybrid systems?
Panellists include:
Connie Tang, Senior Vice President, Vodafone Roaming Services
Fikret Pekin, Principal Product Manager, Vodafone Roaming Services
Knut Fjellheim, Chief Technology Innovation Officer (CTIO), Telenor Maritime
Morten Aarvik, Sales Manager IoT & Digitalisation, Telenor Maritime
---
Paul Dowling - Project Lead
paul.dowling@rivieramm.com

Add to Calendar
Webinar details:
A confirmation email will be sent after registration. A reminder will be sent with your access details 24 hours before the event's date and a further reminder will be sent 1 hour before the webinar is due to begin.
During the webinar the identity of the attendees is confidential

All attendees join the webinar with their microphone off

We encourage questions to be sent during the webinar, the Moderator will raise these to the expert presenters

A recording of the Webinar will be accessible at www.rivieramm.com/webinar-library following the live event taking place.