ITS Salvage Webinar Week

15 June 2021 - 17 June 2021

09:00 - 09:45

BST - ONLINE
---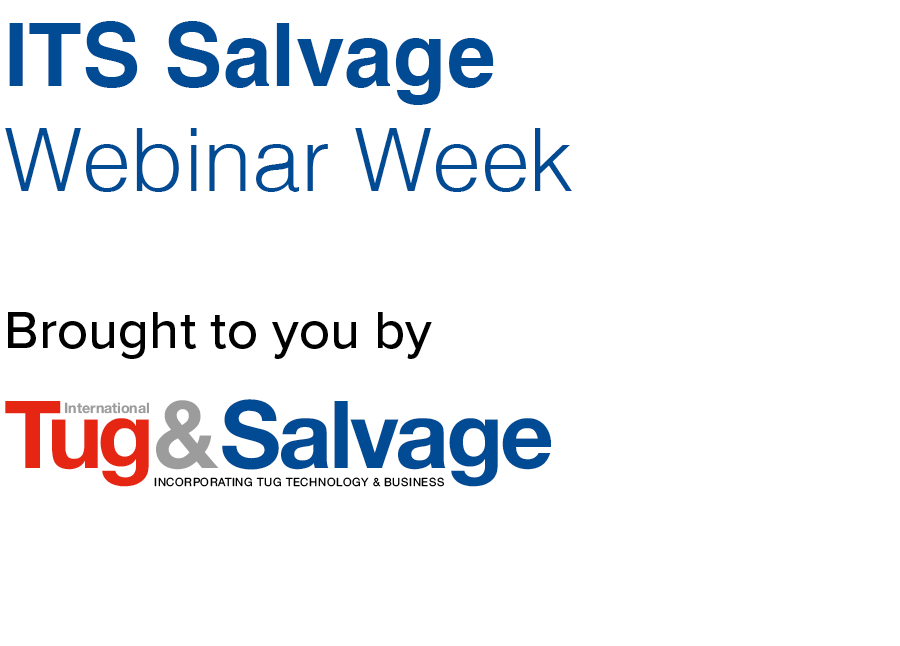 ---

ITS Salvage Webinar Week, be sure to join us

Salvors. LOF versus fixed contracts. Coastal state responsibilities

Beginning Tuesday 15 June, we will be holding a series of daily webinars, each meticulously researched and focused on different facets of the salvage industry. The webinars are designed to strike the right balance between transmission of key information and interaction with the expert panel assembled.

Our discussions are focused, cover the advertised subjects, and deliver registrants actionable insights.
Registration is free, please sign up below

Should you wish to join one of our expert panels please contact Indrit Kruja

A number of positions are made available throughout our webinar weeks for our commercial partners on a first come, first served basis.
Please join us for any or all of the following:
Salvage, COVID, Ever Given and what will follow

Date: Tuesday 15 June - Time: 09:00-09:45 BST
The salvage industry's importance to global trade and protecting the environment has been brought home to wider society by Ever Given. But, within the shipping industry itself, is the salvor's role in risk mitigation and reputation management fully understood? Our expert panel will discuss the salvor's role and how it can and will evolve to support global trade and protect the environment.


Join us as we cover
Lessons learnt from Ever Given and what will follow

Balancing act: how best to reconcile environmental and commercial considerations

Balanced investment: what constitutes sufficient salvage coverage

Tugs as emergency response vessels

COVID's continuing impact on salvage project and implementation

Whether 'doing the right thing' now goes beyond the traditional 'save the ship' strategy
Panellists:
John Noble, Director, Constellation Marine Services
Richard Janssen, Managing Director, Smit Salvage
George A. Tsavliris, Principal, Tsavliris Salvage Group


---
LOF versus fixed contracts: when does salvage become wreck removal?

Date: Wednesday 16 June - Time: 14:00-14:45 BST
Lloyd's Open Form (LOF) is both the most established and most debated form of salvage contract. Salvors favour LOF, arguing it provides the necessary financial cover for early and rapid response to a developing casualty situation. Its detractors say that the arrangement is akin to a blank cheque and favour a fixed price contract along the lines of those used to cover wreck removal projects – a proposal which, in turn, raises the key question: when does a ship salvage becomes a wreck removal and who makes that decision? The issue has been brought in to sharper industry focus following reports Lloyd's is considering closure of its Salvage and Arbitration Branch.


Join us as we cover
Blurred lines: salvage, wreck removal and where to draw the line
LOF and fixed contracts compared: case studies and practical experience
Has LOF lost its lustre? Are fixed contracts a fixed penalty?
SCOPIC's impact on salvage compensation and expenditure
The role of P&I and hull and machinery insurers in salvage and wreck removal
The future of LOF if Lloyds withdraws its support
Panellists:
Roger Evans, Secretary General, International Salvage Union (ISU)
Stephen Roberts, Director (Claims), Managers of London P&I Club
Daniel Dettor, General Manager (Europe), Resolve Marine


---
Any port in a storm... coastal state responsibilities assessed

Date: Thursday 17 June - Time: 09:00-09:45 BST
Ships in distress need ports of refuge. But coastal states are reluctant to grant safe harbours to ships on fire or damaged vessels carrying dangerous cargo. This webinar will focus on the plight of fire damaged ships and their sometimes-prolonged search for a place of refuge. Are coastal states meeting their responsibility to provide refuge for ships in an emergency?


Join us as we cover
Coastal states refuge responsibilities and requirements
IMO, European Union and regional guidance
Preparing ports for receiving damaged vessels
The role of dedicated emergency response vessels
Panellists:
Frans van Zoelen, Special Projects, Head Legal Emeritus, Chair Legal Committee, Havenbedrijf Rotterdam NV - IAPH (International Association of Ports and Harbors)
Stephan Hennig, The Secretary of State's Representative for Maritime Salvage and Intervention (SOSREP), HM Government
Leendert Muller, Past-President and Executive Committee Member, International Salvage Union (ISU) / Managing Director, Multraship
Peregrine Storrs-Fox, Risk Management Director, TT Club


---
Indrit Kruja - Project Lead
indrit.kruja@rivieramm.com

Add to Calendar
Webinar details:
A confirmation email will be sent after registration. A reminder will be sent with your access details no later than 72 hours before the events date and a further reminder will be sent 1 hour before the webinar is due to begin.
During the webinar the identity of the attendees is confidential

All attendees join the webinar with their microphone off

We encourage questions to be sent during the webinar, the Moderator will raise these to the expert presenters

A recording of the Webinar will be accessible at www.rivieramm.com/webinar-library following the live event taking place.