ITS TUGTECHNOLOGY Webinar Week

29 March 2021 - 31 March 2021

13:00 - 13:45

ONLINE
---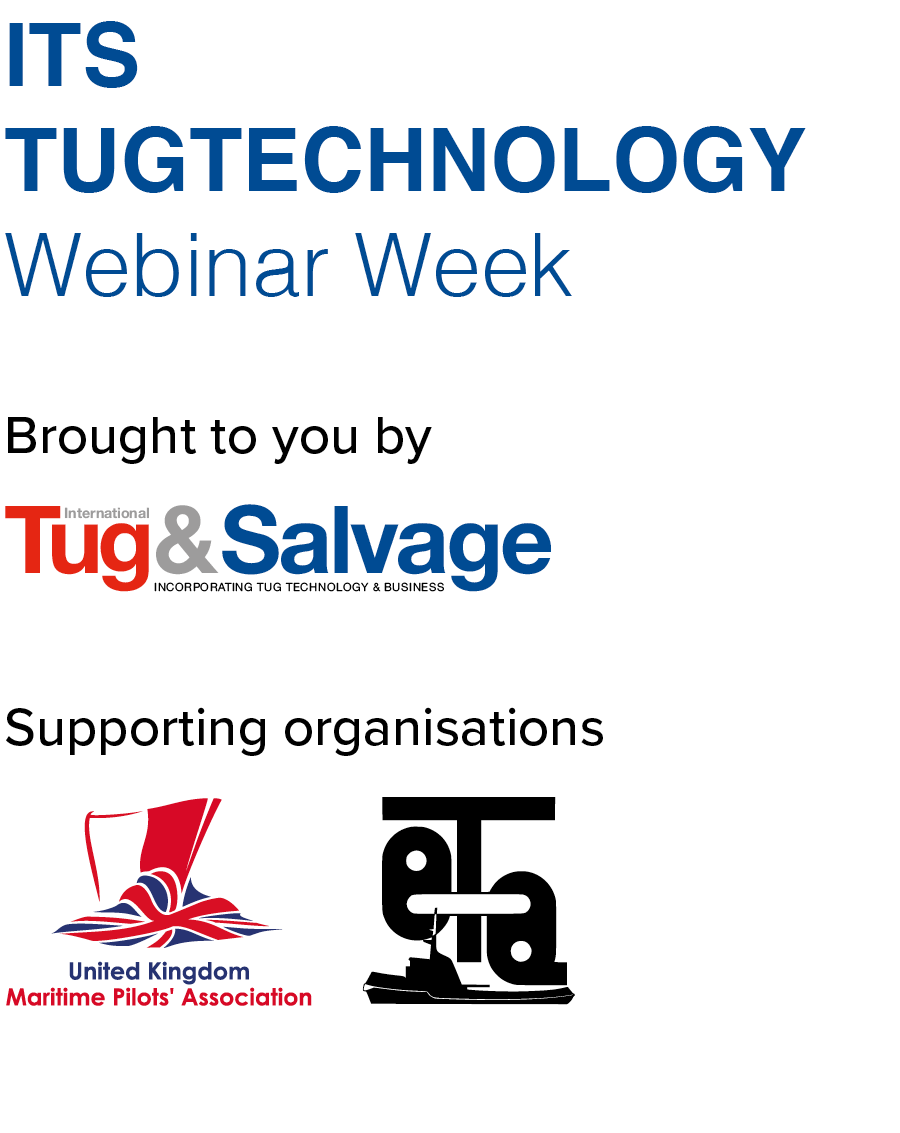 ---

Be sure to join us for ITS TUGTECHNOLOGY Webinar Week

Green marine propulsion. Safety and stability. Data and digitalisation.


The ITS TUGTECHNOLOGY Webinar Week is taking place 29-31 March and will focus on green marine propulsion, safety and stability, data and digitalisation.
Brought to you by the publishers of the International Tug & Salvage magazine and the organisers of the ITS Convention & Exhibition and the TUGTECHNOLOGY Conference, our webinars are free-to-attend and provide sector updates directly to your desk with acclaimed panellists offering expert insight from around the globe.
Designed to strike the right balance between transmission of key information and interaction with the expert panel assembled, each webinar has been meticulously researched and organised in response to a daily towage or environmental challenge, headache or opportunity. Those who register will also receive copies of webinar materials post event.
Registration is free, please sign up below.
To guarantee a position on one of the webinar panels, as either a premium partner or sponsored presenter and panellist, please speak with Indrit Kruja. A number of positions are made available throughout our webinar weeks for our commercial partners on a first come, first served basis.
Please join us for any or all of the following:
How tug operators are preparing for a new era in green marine propulsion

Date: Monday 29 March - Time: 13:30-14:15 BST

Tug owners and operators face tectonic shifts in shipping, port trends, environmental regulation and global trade. These changes are driving new ways of thinking, business models and an expected wave of investment in green technology. What role will alternative fuels, fuel cells, all-electric options and hybrid-electric propulsion play in the mix?


Join us as we discuss
Tug industry requirements: 2021-2025

Pathways to zero emissions: propulsion options

Alternative fuels assessed

Just how feasible is the all-electric tugboat?

Marine batteries and tug operations
Panellists:
Kimmo Lehto, Chairman, European Tugowners Association
Geert Vandecappelle, CEO, Boluda Towage Europe
Rick Broersma, Founder / MD, LionRock Maritime

Cansu Tuncer, Business Development Manager, Navtek
Ferhat Acuner, General Manager, Navtek Naval Technologies


Sponsored by:
---
Tug vessel classification and design: safety, stability and notations




Date: Tuesday 30 March - Time: 13:00-13:45 BST

This webinar will present what is required to deliver more powerful, stable, manoeuvrable, cost-effective and safe tugs. Our panel unites class, naval architects and operators in an open discussion examining the latest and pending rule requirements, the trade-offs that are made when balancing design, cost and compliance considerations, and how new thinking can inspire a new generation of future-proofed tugs.


Join us as we discuss
The 30-year lifecycle requirements of the next generation of tugs

Key design innovations for harbour and coastal towage

New class society notations and what is driving them

Market confidence: how tug operators can verify manoeuvrability, power, safety and stability claims

Designing seafarer-centric tugs
Panellists:
Lawren Best, Director of Design Development, Robert Allan Ltd
Scott Baker, Head of Marine Standards - Europe, Svitzer
Kerrie Forster, Chief Executive Officer, The Workboat Association
Capt Mike Morris, Chairman, United Kingdom Maritime Pilots Association


---
Smart tug operations: harnessing data and digitalisation

Date: Wednesday 31 March - Time: 13:00-13:45 BST
Data flows and digitalisation have significant potential for every link in the tug industry: owners and operators; ports and harbours; yards and the supply chain. Unlocking the potential requires an ability to understand and apply data flows and digitalisation technologies. The benefits of getting it right range from remote monitoring, improved vessel performance and voyage optimisation, resource planning, environmental and regulatory compliance and enhanced support for seafarers. This webinar will take a case-study approach to the options available.
Join us as we discuss
The challenges tugs and ports face in implementing digitalisation

Case study: quality data for tug and towage applications

Case study: lessons learned from the harbour and port sectors

Case study: data-driven insights that will benefit those on board
Panellists:
Jeremy Hartings, Services Delivery Manager, Caterpillar
Rick Broersma, Founder / MD, LionRock Maritime

Patrick Everts, General Manager, OptiPort
Eduardo Valença, Commercial Manager, Wilson Sons
| | | | |
| --- | --- | --- | --- |
| Supported by: | Sponsored by: | | |
---
Indrit Kruja - Project Lead
indrit.kruja@rivieramm.com

Add to Calendar
Webinar details:
A confirmation email will be sent after registration. A reminder will be sent with your access details no later than 72 hours before the event's date, and a further reminder will be sent 1 hour before the webinar is due to begin.
During the webinar, the identity of attendees is confidential

All attendees join the webinar with their microphone off

We encourage questions during the webinar; the moderator will raise questions to the expert presenters

A recording of the webinar will be accessible at www.rivieramm.com/webinar-library after the event has taken place.