LNG Webinar Week

20 April 2021 - 22 April 2021

13:00 - 13:45

ONLINE
---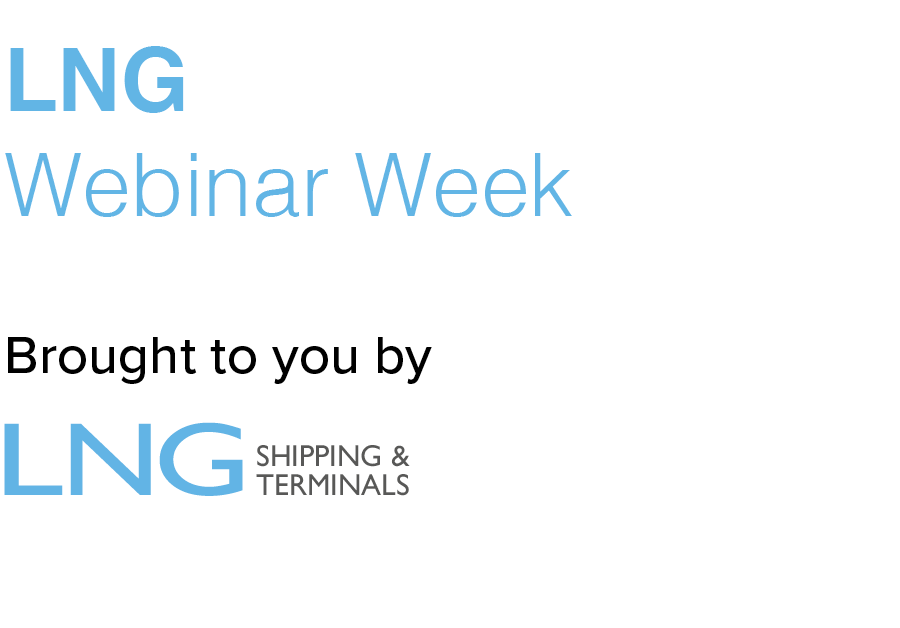 ---

Be sure to join us for LNG Webinar Week

Mooring Solutions. LNG bunkering vessels. Small-scale LNG.


Beginning 20 April, we will be holding a series of daily webinars, each meticulously researched and focused on a key LNG operational area. The webinars are designed to strike the right balance between transmission of key information and interaction with the expert panel assembled.

Our discussions are focused, cover the advertised subjects, and deliver registrants actionable insights.
Registration is free, please sign up below.
To guarantee a position on one of the webinar panels, as either a premium partner or sponsored presenter and panellist, please speak with Ian Pow. A number of positions are made available throughout our webinar weeks for our commercial partners on a first come, first served basis.
Please join us for any or all of the following:
Mooring solutions: MEG4.
What have we learned so far?

Date: Tuesday 20 April - Time: 13:00-13:45 BST

Mooring is one of the most common of all maritime tasks, yet mooring operations are far from standard. To ensure safe mooring involving both new and existing LNG carriers and equipment, standards are currently being upgraded. This webinar will explore some of the key technical and operational issues that shipowners, operators and ports face in this evolving industry.


Join us as we discuss
Understanding the mooring system plan and line management plan
New testing methods
Onboard inspections
The human element; safety of operation
Ports' preparedness
Panellists include:
Kostas Koronakis, CEO & Managing Director, D. Koronakis
Jac Spijkers, Technical & Business Development Manager Marine & Offshore EMEA, DSM Protective Materials


Small-scale LNG's big opportunities




Date: Wednesday 21 April - Time: 13:00-13:45 BST

Small-scale LNG offers an attractive alternative to large-capacity LNG facilities, allowing the distribution of smaller quantities of LNG in remote locations for users with lower capacity requirements for power generation, vehicle transport and marine bunkering. This webinar will examine different small-scale LNG facilities, their design elements and key liquefaction, storage, and loading and unloading systems.


Join us as we discuss
Small-scale LNG infrastructure

Small-scale modular and micro plants

Small-scale in the Americas, Europe and Asia

Examining the small-scale LNG business model
Panellists include:
Martina Sabatini, O&M Technical Superintendent, OLT Offshore
Paul Ocholla, Commercial Advisor & ssLNG Lead, Grain LNG
Eduardo Perez Orue, Director, Small LNG

---
LNG bunker vessels: safety, standards
and regulation

Date: Thursday 22 April - Time: 13:00-13:45 BST
The LNG bunkering fleet continues to grow, underpinning the strong uptake in LNG as a fuel. Ensuring the safe refuelling of the LNG-powered fleet is critical. This webinar will examine existing standards and regulations for LNG bunkering, LNG transfer systems and lessons learned from the different types of LNG bunkering.
Join us as we discuss
Overview of LNG bunkering fleet

Cryogenic containment systems

LNG bunkering standards and regulations (SIGTTO, OCIMF, IMO, ISO)

LNG transfer systems (emergency shutdown systems)

Lessons learned from ship-to-ship, truck-to-ship and ship-to-shore operations
Panellists include:
Johannes Dziuba, LNG-to-Power and Bunker Vessels Specialist, TGE Marine
Andrew Stafford, Technical Director, Trelleborg Marine Systems UK

Sponsored by:
---
Ian Pow - Project Lead
ian.pow@rivieramm.com

Add to Calendar
Webinar details:
A confirmation email will be sent after registration. A reminder will be sent with your access details no later than 72 hours before the event's date, and a further reminder will be sent 1 hour before the webinar is due to begin.
During the webinar, the identity of attendees is confidential

All attendees join the webinar with their microphone off

We encourage questions during the webinar; the moderator will raise questions to the expert presenters

A recording of the webinar will be accessible at www.rivieramm.com/webinar-library after the event has taken place.