Marine Fuels Webinar Week

23 November 2020 - 27 November 2020

14:00 - 09:45

ONLINE
---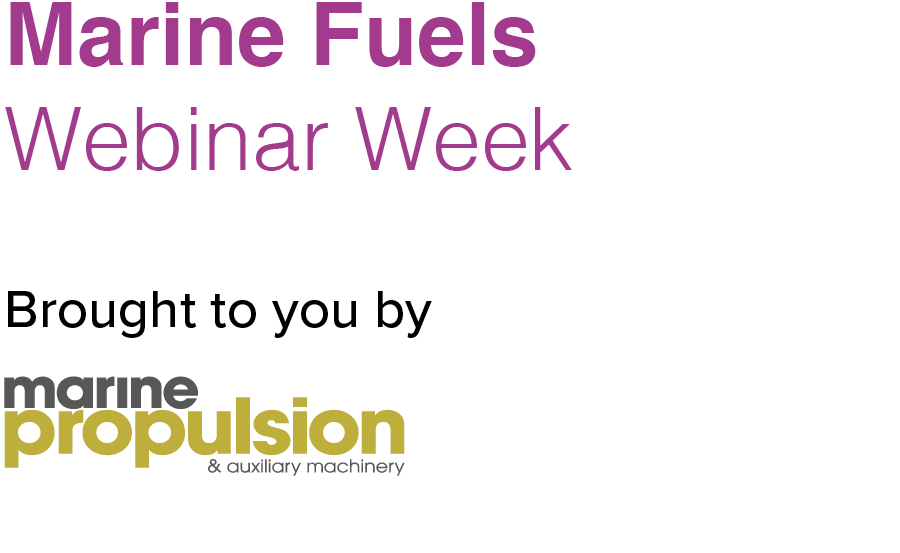 ---
Be sure to join us for

Marine Fuels Webinar Week
Beginning Monday, 23 November, we will be holding a series of daily webinars, each meticulously researched and organised in response to the ever-growing need to find compliant, efficient and reliable propulsion solutions. The webinars are designed to strike the right balance between transmission of key information and interaction with the expert panel assembled.
Our discussions are focused, cover the advertised subjects, and deliver registrants actionable insights.
Should you wish to join one of our expert panels please contact Tom Kenny.
Please join us for any or all of the following:
Biofuels: entering the maritime fuel mainstream

Date: Monday 23 November - Time: 14:00-14:45 GMT

Watch now
Vessel owners and operators are predicting that their customers will start to demand that the vessels that carry their freight be powered by biofuels. Results from recent biofuel pilot projects are encouraging, pointing to a sustainable, safe and manageable option that meets operational and de-carbonisation targets. This webinar will assess these findings and consider whether biofuels are set to enter the maritime fuel mainstream.
Join us as we cover
Just how feasible are biofuels for the maritime industry?
Biofuel: a drop in fuel. Or a fuel to drop out?
ISO standards and bio-derived fuels
Low oil price – no demand?
Are storage and oxidisation concerns well founded?
Is current data on biofuel sufficient to motivate long term investments?
Stuart Hall, Technical Sales Director, Forecast Technology
Jakob Steffensen, Director, Innovation Lead, DFDS
Naeem Javaid, Global Operations Manager - FOBAS, Lloyd's Register EMEA
---
LPG: the green pathway demystified

Date: Tuesday 24 November - Time: 14:00-14:45 GMT
Shipowners need answers now on the 'green pathway' for LPG and Bio LPG if they are to make a financial, technical and operational commitment to the fuel. The case for LPG as a marine fuel rests on its lower investment requirements, ready availability, easy storage and lack of cryogenics. What are the obstacles? This webinar will take a balanced view on the case for LPG as a marine fuel and demystify its green pathway.
Join us as we cover
LPG and Bio-LPG: where we are along the development journey?
What is Bio-LPG, how sustainable, available and affordable is it?
Safety considerations for LPG and Bio LPG
Pole position: will the tanker sector lead the way in adopting LPG as a mid to long-term fuel solution?
How proven LPG conversions could open the door for tankers
Panellists include:
Nikos Xydas, Technical Director, World LPG Association (WLPGA)
John Kokarakis, Technical Director, Bureau Veritas
Klaus Dahmcke Rasmussen, Head of Sales, Retrofit Projects, MAN PrimeServ
---
Bio-LNG and synthetic LNG: future fuels for maritime decarbonisation

Date: Wednesday 25 November - Time: 14:00-14:45 GMT

Watch now
Will investing in LNG and lowering emissions today allow for an easier transition to bio-LNG and synthetic LNG tomorrow? And is this a path the industry should take?
Join us as we cover
LNG the frontrunner: will proposed carbon taxation schemes drive further uptake?
The tipping point for LNG: 2030, 2040 or 2050?
Seamless transition or marketing spin: moving from LNG to Bio LNG and synthetic LNG
Regulatory bottleneck: how a 'tank-to'wake' approach means biofuels are not seen as emissions-free
The dual-fuel conundrum: the carbon footprint when operating 50% LNG, 50% bio-LNG
What we learnt at November's MEPC: IMO and lifecycle footprints
René Sejer Laursen, Director, Global Sustainability, ABS
Sebastiaan Bleuanus, General Manager, Research, Co-ordination and Funding, Wärtsilä
Carmelo Cartalemi, General Manager Global Sales, WinGD
---
Fuel testing in a new age

Date: Thursday 26 November - Time: 09:00-09:45 GMT

Watch now
The advent of a range of new fuels and COVID-19 means industry has entered a new age of fuels testing. Our expert panel will reflect on the year that was and consider the outlook for 2021.
Join us as we cover
CO2 reduction: increase in use of BioFuels
Future fuels consideration 2020-2030
How VLSFO has performed since the onset of sulphur cap rules
2020: a review of the year to date
Adapting to the 'new norm'
Panellists:
Joshua Townley, Technical Services Engineer - Marine Fuel Specialties, Innospec
Tracy Wardell, Global Technical Manager, Intertek Lintec
Steve Bee, Group Commercial & Business Development Director, Veritas Petroleum Services
---
Methanol: the simple facts

Date: Thursday 26 November - Time: 11:00-11:45 GMT

Watch now
There is still considerable activity within the maritime sector focusing on "the silver bullet" – the main fuel which will miraculously propel the bulk of ocean-going vessels, confidently compliant, to 2050. This is just not the case, and many other factors will influence the availability of compliant fuel, such as evolving technology, renewable feedstock, power, voyage, availability, infrastructure and policy vacuums. Methanol is one such candidate fuel which can serve to tick a number of boxes now and well into the future.
Join us as we discuss
Building a methanol-powered vessel that meets code and user-safety requirements
Methanol availability and infrastructure development
Space, safety and control barriers for methanol on board ships
Navigating regulations and the approval processes
Capex and opex costs
Panellists include:
Chris Chatterton, COO, Methanol Institute
Jacob Norrby, Newbuilding Project Manager, Stena Teknik
Matthias Classen, Commercial Manager, Proman Shipping
Kjeld Aabo, Director New Technologies, MAN Energy Solutions
Ayça Yalçın, Director, Market Development EMEA, Methanex Europe

---
Additives and their role in achieving emissions reduction and compliance

Date: Friday 27 November - Time: 09:00-09:45 GMT
It's decision time for shipowners on how to fuel their vessels. The industry's decarbonisation timetable means owners must meet tougher emissions legislation. Are VLSFOs the answer? And how will new fuels impact existing equipment, operations and maintenance?
Join us as we cover
Whether current additives can handle VLSFO blends

Next generation fuel challenges

Concerns regarding total sediment in VLSFOs
Panellists include:
Joshua Townley, Technical Services Engineer - Marine Fuel Specialties, Innospec
Idris Talib, Technical Manager Asia Pacific, Aderco
Julian Mcintyre, CEO and Founder, Arq
Matt Fazakerley, Lead Applications Scientist - Energy Technologies, Croda Europe
Sponsored by:



Tom Kenny - Project Lead
tom.kenny@rivieramm.com

Add to Calendar
Webinar details:
A confirmation email will be sent after registration. A reminder will be sent with your access details no later than 72 hours before the events date and a further reminder will be sent 1 hour before the webinar is due to begin.
During the webinar the identity of the attendees is confidential

All attendees join the webinar with their microphone off

We encourage questions to be sent during the webinar, the Moderator will raise these to the expert presenters

A recording of the Webinar will be accessible at www.rivieramm.com/webinar-library following the live event taking place.