Marine Lubricants Webinar Week

14 July 2020 - 16 July 2020

09:00 - 09:45

ONLINE
---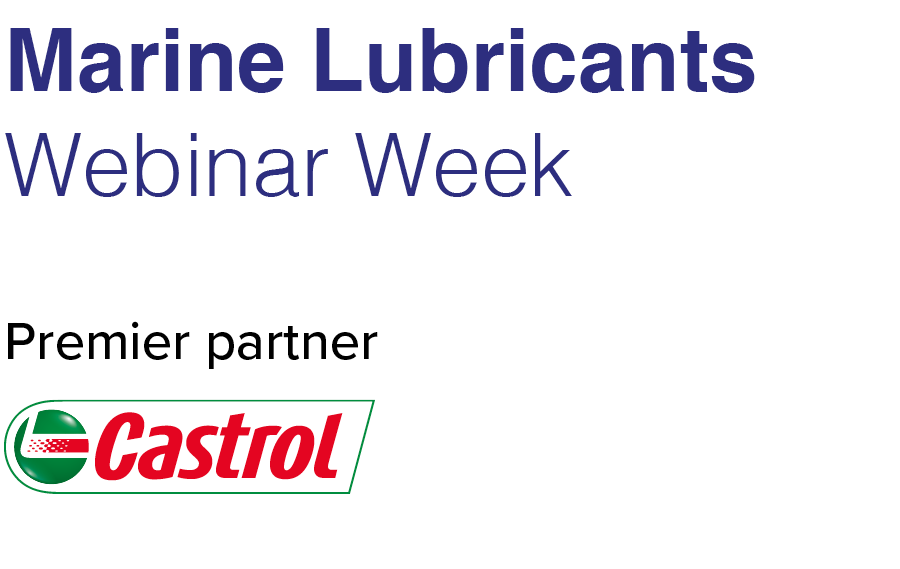 ---
Be sure to join us for

Marine Lubricants Webinar Week

Beginning Tuesday 14 July, we will be holding a series of daily webinars, meticulously researched and organised to address marine lubricants with the maritime professionals you want to hear from. The webinars are designed to strike the right balance between transmission of key information and interaction with the expert panel assembled.
Our discussions are focused, cover the advertised subjects, and deliver registrants actionable insights.
Should you wish to join one of our expert panels please contact Rob Gore.
Please join us for any or all of the following:
Marine Lubrication: improving procurement through to performance

Date: Tuesday 14 July - Time: 09:00-09:45 BST
The days of one contract manager in a corner office quietly handling a shipping company's entire fuels and lubes requirements are numbered. Digitalisation means greater transparency and efficiency is available from procurement through to performance.
Join us as we cover
The new onus on the vessel owner and operator when it comes to lubes' procurement
Data driven decision making made easy
Placing orders quickly and efficiently
Reducing low value and repetitive tasks
The role lubricant monitoring plays in energy efficiency measures
Manage costs. Improve fleet efficiency and performance
The keys to managing market uncertainty, including Coronavirus
What is my total cost of ownership?
Panellists include:
Grant Norton, Partnerships Director, Bulugo
Joseph Star, Aviation & Marine Offer Advisor, ExxonMobil
John Kalafatides, Senior Director – Marine Lubricants & Specialty Chemicals/ Innovation, Drew Marine

---
Assessing the added benefits of marine additives and lubricants

Date: Wednesday 15 July - Time: 09:00-09:45 BST
Additive technology's place in managing changing and challenging fuel properties, engine designs and vessel operating profiles
Join us as we cover
Corrosion, the latest generation of engines, and additives' edge
The significance of changing trade patterns and fuel availability
Vessel operation when running on fuels from different suppliers or from different refineries owned by the same supplier
Switching lubricants: straightforward or costly and inconvenient?
Are additives needed for ultra-low sulphur fuel?
Panellists include:
Ian Bown, Technical Manager - Marine Diesel Engine Oils, Lubrizol
Kjeld Aabo, Director New Technologies, Two-Stroke Promotion, MAN Energy Solutions
Paul Elliott, Technical Manager - Europe/Africa, Gulf Oil Marine

Sponsored by
---
Environmentally Acceptable Lubricants: safe or a safety hazard

Date: Thursday 16 July - Time: 09:00-09:45 BST
Reported instances of possibly hundreds of propeller shaft stern tube bearings overheating, leading to the failure (wiping) of the white metal linings of the bearings have called into question the safety of Environmentally Acceptable Lubricants (EALs). This webinar assesses whether the concern is justified or misplaced?
Join us as we cover
Oil-lubricated stern tube failures: Why they happen. What you can do.
Why transient conditions need to be factored in
Is the void space seal option a viable alternative?
What makes for an acceptable stern tube lubricant?
Is it fair to characterise all EALs as the same
What recent testing on thermal stability (degradation), oxidation (ageing) and effect of water (hydrolysis), will reveal about the performances of different EALs
Panellists include:
Dr Patrick Galda, Head of PANOLIN Tec Center, PANOLIN INTERNATIONAL
Rob Harrison, Technical Services Manager, Shell Marine
Kevin Duncan, Market Applications Specialist – Energy Technologies, Croda Europe
---
Rob Gore - Project Lead
rob.gore@rivieramm.com

Add to Calendar
Webinar details:
A confirmation email will be sent after registration. A reminder will be sent with your access details no later than 72 hours before the events date and a further reminder will be sent 1 hour before the webinar is due to begin.
During the webinar the identity of the attendees is confidential

All attendees join the webinar with their microphone off

We encourage questions to be sent during the webinar, the Moderator will raise these to the expert presenters

A recording of the Webinar will be accessible at www.rivieramm.com/webinar-library following the live event taking place.