Marine Lubricants Webinar Week

23 November 2020 - 27 November 2020

09:00 - 14:45

ONLINE
---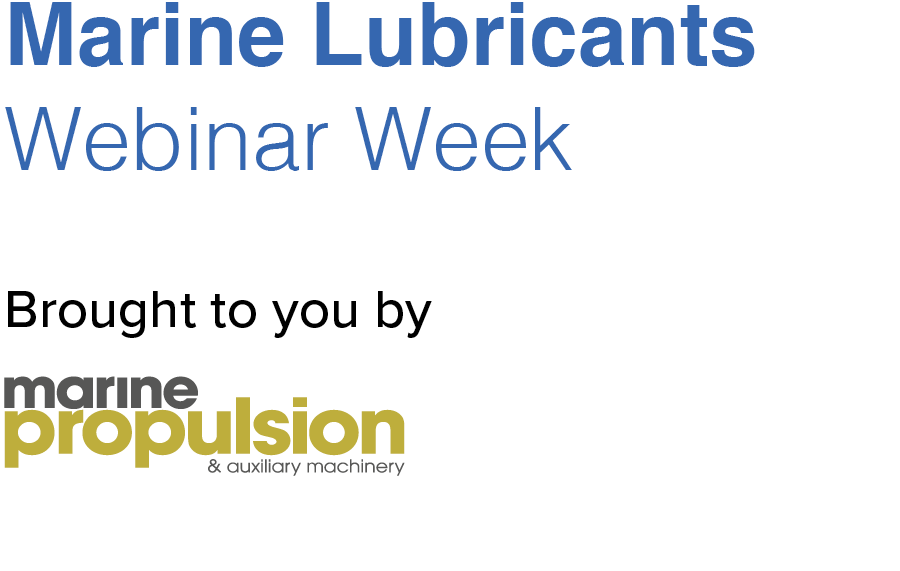 ---
Be sure to join us for

Marine Lubricants Webinar Week

Beginning Monday 23 November, we will be holding a series of daily webinars, meticulously researched and organised to address marine lubricants with the maritime professionals you want to hear from. The webinars are designed to strike the right balance between transmission of key information and interaction with the expert panel assembled.
Our discussions are focused, cover the advertised subjects, and deliver registrants actionable insights.
Should you wish to join one of our expert panels please contact Rob Gore.
Please join us for any or all of the following:
Bio-lubricants for marine vessels and auxiliary equipment: a better return on investment

Date: Monday 23 November - Time: 09:00-09:45 GMT
Bio-lubricants can offer more advanced lubricant technology than petroleum derived alternatives as well as offering regulatory compliance, environmental and sustainability advantages. Bio-lubricants can also offer a better through life cost than their petroleum derived substitutes. Decades of experience point to a lower cost of ownership because of the advanced technology engineered into these offerings. This webinar will assess these findings and consider whether bio-lubricants are ready for mainstream use.
Join us as we cover
Just how feasible bio-lubricants are for the maritime industry

What are the different types of bio-lubricants

Why does it matter to the maritime industry

How can the return on investment be maximised
Panellists:
Mark Miller, CEO, Biosynthetic Technologies
Kevin Duncan, Market Applications Specialist - Energy Technologies, Croda Europe
Don Gregory, Technical Director, Gulf Oil Marine
Ian Nielsen, Strategic Account Representative, RSC Bio Solutions
---
Optimum lubrication. Optimum auxiliary machinery performance

Date: Tuesday 24 November - Time: 09:00-09:45 GMT
Lubricants are a sizeable component of any vessel's budget yet most vessels in service are not optimally lubricated, accelerating machinery wear and increasing drydocking costs. This webinar will discuss ways to mitigate these impacts.
Join us as we cover
Know your lubricants: hydraulic fluids, gear oils, stern tube lubricant, greases, speciality
Base oil and additive technologies
Mineral-based oil versus synthetics
What to do if your lubricant is deteriorating: contamination and filtering
Lubricant cost versus value: balancing budgetary and operational requirements
Panellists:
Kim Kjær, Global Segment Manager - Marine/Offshore, C.C. Jensen
Phil Cumberlidge, Business Development Manager, Panolin Greenmarine Lubricants, Panolin International
Dirk Hoek, Sr. Lubricant Technical Advisor, Shell Marine
Sponsored by:


---
Oil condition monitoring: the answer to marine lubricant stress?

Date: Wednesday 25 November - Time: 09:00-09:45 GMT
Premier Partner:
Changes in trade patterns, fuel availability and a new generation of engines means marine lubricants must cope with a new and wider range of stresses. This webinar will investigate whether current oil condition monitoring is up-to-the-job and what the next generation of oil condition monitoring offers.
Join us as we cover
The increasing importance of oil condition monitoring
Striking the right balance between online and onboard inspection and analysis
Whether current oil condition monitoring prolongs lubricant life and reduces consumption
Which analyses can be automated online and reported instantly via satellite?
Panellists:
Morten Henneberg, Head of Innovation & Validation, C.C. Jensen
Rik Truijens, Technical Field Specialist, Marine Lubricants, Chevron Marine Lubricants
Joseph Star, Global Aviation and Marine Offer Advisor, ExxonMobil
Steen Lykke Pedersen, Head of Dry Docking and Maintenance Strategies, Maersk Supply Service

---
Business breakthroughs with digital transformation: becoming more agile and innovative

Date: Friday 27 November - Time: 14:00-14:45 GMT
Both buyers and suppliers of marine lubricants are starting to see a shift in the role of digital technology. So how do organisations achieve maximum value when implementing technologies to improve efficiency and increased returns whilst also avoiding death by digital?
Join us as we cover
Reducing complexity and doing less with more

Improving business efficiency using data management

Avoiding a siloed approach to digital
Panellists:
Grant Norton, Partnership Director, Bulugo
Deanna MacDonald, Co-founder & Board Member, BunkerTrace
Javier Garcia-Plata, Marketplace Development Manager, ShipServ
Rob Gore - Project Lead
rob.gore@rivieramm.com
Webinar details:
A confirmation email will be sent after registration. A reminder will be sent with your access details no later than 72 hours before the events date and a further reminder will be sent 1 hour before the webinar is due to begin.
During the webinar the identity of the attendees is confidential

All attendees join the webinar with their microphone off

We encourage questions to be sent during the webinar, the Moderator will raise these to the expert presenters

A recording of the Webinar will be accessible at www.rivieramm.com/webinar-library following the live event taking place.