Marine Lubricants Webinar Week

07 June 2021 - 09 June 2021

09:00 - 14:45

BST - ONLINE
---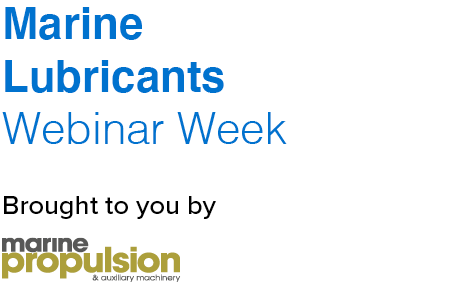 ---

Marine Lubricants Webinar Week, be sure to join us

ULSFO/VLSFO. 4-stroke engines. Bio-lubricants. Future fuels.

Beginning Monday 7 June, we will be holding a series of webinars focused on marine lubrication and ULSFO/VLSFO, four-stroke engines, bio-lubricants and future fuels. Each webinar is meticulously researched and speaks to a key industry challenge, headache or opportunity. The webinars are designed to strike the right balance between transmission of key information and interaction with the expert panel assembled. Those who register will also receive copies of webinar materials post event.

Our discussions are focused, cover the advertised subjects, and deliver registrants actionable insights.

Registration is free, please sign up below

To guarantee a position on one of the webinar panels, as either a premium partner or sponsored presenter and panellist, please speak with Tom Kenny. A number of positions are made available throughout our webinar weeks for our commercial partners on a first come, first served basis.
Please join us for any or all of the following:
Marine lubrication for ULSFO, VLSFO
and safeguarding engines

Date: Monday 7 June - Time: 09:00-09:45 BST
The introduction of ultra-low sulphur fuel oils (ULSFOs) and latterly very low sulphur fuel oils (VLSFOs) has brought new challenges and wide ranging reports on their impact on engines, underlining the importance of robust lubricant chemistry.


Join us as we discuss
Improving cylinder oil performance

Equipment upgrades

Lubricant and additive compatibility

Solutions to cylinder condition issues

Fuel-specific challenges
Panellists include:
Don Gregory, Technology and Innovation Director, Gulf Oil Marine
Dirk Hoek, Senior Lubricant Technical Advisor, Shell Marine
Caroline Huot, Senior Vice President – Shipmanagement, Delta Corp Shipping
Paul Parkinson, Group OCM Business Development Leader, VPS

---
Four-stroke lubrication options
post-IMO 2020

Date: Tuesday 8 June - Time: 09:00-09:45 BST

Premier partner:
Given the greater fuel-lubricant interaction in four-stroke engines and the multitude of BN and viscosity options, what do you need to consider when selecting lubricants? And what does the imminent implementation of EEXI mean for your lubricant choice?
Join us as we discuss
New fuel; new lube?
The true cost of switching lubricants
Lubricant monitoring
Efficiency and performance
Variable lubricant quality
Data-driven decision-making
Panellists include:
Nikolaos Kotakis, Technical Director, Total Lubmarine
Tim Styfhoorn, Filters and Fluids Lifecycle Manager, Caterpillar
Dr. Ram Vis, CEO and Founder, The Viswa Group

Sponsored by:


---
Bio-lubricants: a perfect fit for new fuels?

Date: Wednesday 9 June - Time: 09:00-09:45 BST
The market has responded to uncertainty on alternative fuels with significant uptake of bio-based lubricants. This webinar will assess the technical and environmental advantages of bio-based lubrication and greases.


Join us as we discuss
Regulatory advantages
Fuel compatibility
Oil degradation reduction
Decreased risk of equipment failure
Performance and durability concerns
Improved lifecycle and maintenance costs
Panellists include:
Thomas To, Technical Business Consultant, RSC Bio Solutions
Mark Miller, CEO, Biosynthetic Technologies
---
New fuel scenarios and their impact on lubrication

Date: Wednesday 9 June - Time: 14:00-14:45 BST
Marine engine lubrication is entering a new era, bringing new questions. What is the impact of new fuels on engine management? What are the effects of lubricant upgrading? This timely webinar will offer valuable insights for vessel owners and operators contemplating a shift to new fuels.


Join us as we discuss
Engine operating challenges with future fuels

Case studies: LNG, LPG and methanol

Does ammonia pose particular issues among alternative fuels?

What we've learned from engine tests to date

The operator's role and responsibilities
Panellists include:
Filippos Athanassiadis, Engineering Service Manager, ExxonMobil
Ian Bown, Technical Manager, Lubrizol
Kunal Mahajan, Project Manager, Chemicals & Energy, Kline & Company
Dorthe Jacobsen, Head of Dept. Engine Subsystems and Emission Control Automation & Control Development and Principal Research Engineer, Fuel & Emissions Engine Process Development, MAN Energy Solutions

---
Tom Kenny - Project Lead
tom.kenny@rivieramm.com

Add to Calendar
Webinar details:
A confirmation email will be sent after registration. A reminder will be sent with your access details no later than 72 hours before the events date and a further reminder will be sent 1 hour before the webinar is due to begin.
During the webinar the identity of the attendees is confidential

All attendees join the webinar with their microphone off

We encourage questions to be sent during the webinar, the Moderator will raise these to the expert presenters

A recording of the Webinar will be accessible at www.rivieramm.com/webinar-library following the live event taking place.