Marine Propulsion Webinar Week

29 September 2020 - 02 October 2020

09:00 - 09:45

BST
---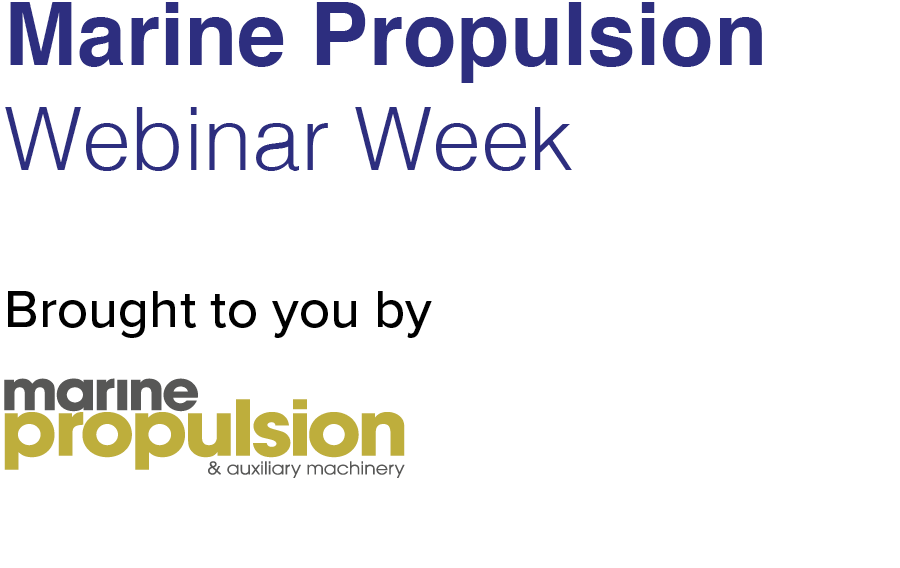 ---
Marine Propulsion Webinar Week, be sure to join us
Beginning Tuesday 29 September, we will be holding a series of daily webinars, each meticulously researched and organised in response to a marine propulsion challenge, headache or opportunity. The webinars are designed to strike the right balance between transmission of key information and interaction with the expert panel assembled. Those who register will also receive copies of webinar materials post event.
Our discussions are focused, cover the advertised subjects, and deliver registrants actionable insights.
Should you wish to join one of our expert panels, please contact Rob Gore.
Please join us for any or all of the following:
Engine design and operation for emission compliance: today and tomorrow

Date: Tuesday 29 September - Time: 09:00-09:45 BST
Vessel owners and operators must meet stringent emissions legislation against the tightest of deadlines. This webinar will cut through the spin to examine the options available from cost, compliance and operational perspectives.
Join us as we consider
The regulatory pipeline: what every operator needs to know
How engines can be prepared for upcoming regulation
The relationship between fuel and lubricant choice and an engine's environmental performance
Proving environmental conformance in the age of COVID-19
Operator case studies: lessons learned on the pathway to compliance
OEM case studies: retrofit, renew or replace
Financial evaluation: balancing budget, compliance and cost
Panellists:
Caroline Huot, Senior Vice President Shipmanagement, Delta Corp Shipping
Steve Walker, Global Marine Equipment Builder Manager, ExxonMobil
Kjeld Aabo, Director New Technologies 2 Stroke Promotion Department, MAN Energy Solutions
Volkmar Galke, Director, Global Sales, WinGD
---
Enhanced turbocharger care from drydock-to-drydock

Date: Wednesday 30 September - Time: 09:00-09:45 BST
This webinar will detail how operators can bring financial and operational predictability to the running of their turbochargers.
Join us as we consider
How data reporting is transforming monitoring and maintenance
The link between fuel and lubricant selection and turbocharger performance and component wear
Fixed costs drydock-to-drydock: fact or fiction
Mitigating surging. Oil leakage. Material defects
Evergreen service agreements: assessing their true value
Panellists:
Irina Lang, Global Product Manager Service, ABB Turbocharging
Andrew Madge, Vessel Manager, Wilhelmsen Ship Management UK

---
Alternative propulsion systems: the selection conundrum

Date: Thursday 1 October - Time: 09:00-9:45 BST
Driven by the need to save fuel, reduce emissions, minimise maintenance and provide operational flexibility, shipowners are faced with an almost bewildering array of options when it comes to selecting the most suitable propulsion solution for their vessels. This webinar analyses three very different technologies – waterjets, podded propulsors and thrusters ­– to provide shipowners with the critical information needed to make the right system selection.
Join us as we discuss
Propulsion system designs: what's new in waterjets, podded propulsors and thrusters

How to assess the 'best propulsion fit' for your vessel operations

Alternative approaches to meet alternative power demands
Case study: implementing the right maintenance programme for your fleet operations
Panellists:
Jonas Nyberg, Managing Director - West Hemisphere, Berg Propulsion
Mikal Bøe, CEO, Core-Power
Göran Grunditz, Vice President Kongsberg Hydrodynamic Research Centre, Kongsberg Maritime

---
Drivetrain innovation: what's new on the engine block?

Date: Friday 2 October - Time: 09:00-09:45 BST
How the drivetrain supply chain – from propeller to propulsor – is innovating to meet ship designer and operator requirements for optimised vessel performance at the right cost.
Join us as we discuss
Breakthroughs: seals, bearings, couplings and dampers setting new benchmarks in performance
Resolving problematic shaft alignment
Case study: overcoming drivetrain issues through reduced vibration
Achieving the goal of low or no maintenance
Panellists:
Torsten Philipp, Managing Director, Geislinger
Christoph Priestner, Manager Multi-Body and NVH Simulation, AVL
Marco Gordon, Area Sales Manager Europe & Africa - Shaft Line Repair Services, Wärtsilä Shaft Line Solutions
---
Rob Gore - Project Lead
rob.gore@rivieramm.com

Add to Calendar
Webinar details:
A confirmation email will be sent after registration. A reminder will be sent with your access details no later than 72 hours before the events date and a further reminder will be sent 1 hour before the webinar is due to begin.
During the webinar the identity of the attendees is confidential

All attendees join the webinar with their microphone off

We encourage questions to be sent during the webinar, the Moderator will raise these to the expert presenters

A recording of the Webinar will be accessible at www.rivieramm.com/webinar-library following the live event taking place.