Maritime Cyber Security Webinar Week

16 March 2021 - 18 March 2021

09:00 - 09:45

ONLINE
---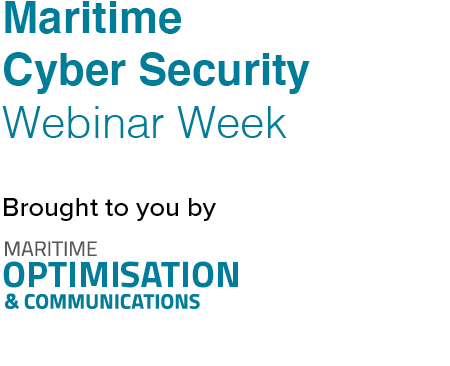 ---
Be sure to join us for Maritime Cyber Security Webinar Week

Beginning 16 March, Riviera is broadcasting a series of webinars, each meticulously researched and organised in response to a specific maritime cyber security challenge, threat or regulatory requirement. The webinars will strike the right balance between transmission of key information and interaction with the expert panel assembled. Those who register will also receive copies of webinar materials post event.
Our discussions are focused, cover the advertised subjects, and deliver registrants actionable insights.
Should you wish to join one of our expert panels please contact  Paul Dowling.
Please join us for any or all of the following:
The weakest link: the human factor and maritime cyber security

Date: Tuesday 16 March - Time: 09:00-09:45 GMT

Whether it is misusing a USB flash drive or a bad link clicked, people are the weak link between the hacker and the company. Establishing a culture of cyber awareness is the responsibility of the company, but the challenge for many is that their IT and technical departments do not have the specific skills and training to detect their own security flaws.


Join us as we discuss
Best practice and lessons learned from recent cyber-attacks.

Designing policies and procedures

Cyber awareness training

Cyber attack simulation
Panellists include:
Vijay Rathour, Partner, Digital Forensic Group, Grant Thornton UK
Morten Drægni, Director Security & GRC, Wilhelmsen Group
Paivi Brunou, Head of Cybersecurity, Technology, Wärtsilä Voyage
Graham Wright. Senior Vice President, Global Cyber Security, Inmarsat

Sponsored by:
---
Maritime's zero-day exploit: port cyber security




Date: Wednesday 17 March - Time: 14:00-14:45 GMT

A zero-day exploit is a secret vulnerability that no one has generated protection for. Despite continued discussion, it is widely acknowledged port facilities remain vulnerable to and unprepared for cyber threats. Attacks on logistics hubs would devastate the supply chain network with tremendous financial damage, so why are ports still vulnerable and what needs to be done?


Join us as we discuss
Eliminating the 'digital divide' between the offshore and onshore industries

Developing a co-operative approach to developing a complete cyber security environment

The rise of the cyber security centre

Bridging the gap between maritime experts and policy makers

The Trump administration's National Maritime Cyber Security Plan revisited
Panellists include:
Dr Kemedi Moara-Nkwe, Research Fellow, Cyber Security, University of Plymouth
Lars Benjamin Vold, Managing Director, NORMA Cyber
Paul Ferrillo, Partner, McDermott Will & Emery

---
Safety first: maritime cyber security,
IMO guidelines and the maritime supply chain

Date: Thursday 18 March - Time: 09:00-09:45 GMT
January's enforcement of IMO's guidelines for bringing cyber risk management into the ISM code is a key moment in shipping's digital revolution. What has changed? What are the key challenges?
Join us as we discuss
Compliance challenges

Balancing compliance, functionality and cost

Roles and responsibilities

Preparing for IMO certification

Building a rolling programme of ongoing compliance and ongoing training
Panellists include:
Daniel Ng, CEO, CyberOwl
Laurie Eve, Retail Director, Inmarsat Maritime
Nineta Polemi, Cybersecurity Associate Professor, University of Piraeus

Sponsored by:


---
Paul Dowling - Project Lead
paul.dowling@rivieramm.com

Add to Calendar
Webinar details:
A confirmation email will be sent after registration. A reminder will be sent with your access details no later than 72 hours before the event's date, and a further reminder will be sent 1 hour before the webinar is due to begin.
During the webinar, the identity of attendees is confidential

All attendees join the webinar with their microphone off

We encourage questions during the webinar; the moderator will raise questions to the expert presenters

A recording of the webinar will be accessible at www.rivieramm.com/webinar-library after the event has taken place.