Maritime Cyber Tech & Ops Webinar Day

10 June 2021

09:00 - 17:30

BST - ONLINE
---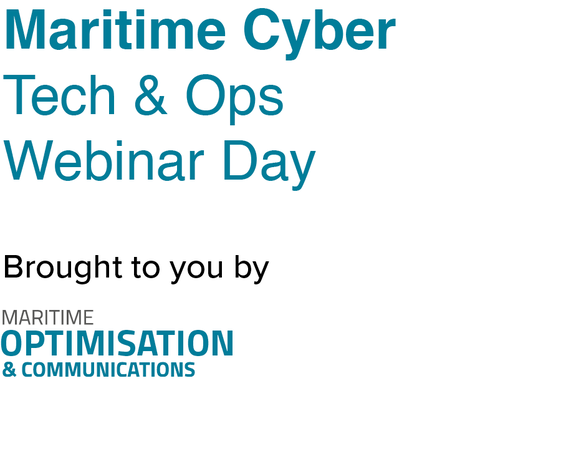 ---
Maritime Cyber Tech & Ops Webinar Day, be sure to join us

Regulation. Crisis Management. Human Factors. Ports
On Thursday 10 June 2021, Riviera's Maritime Cyber Tech & Ops Webinar Day will focus on cyber security and risk management from four perspectives: (1) mitigating the threat of attack on assets, (2) IMO cyber risk management guidelines, six months on, (3) the human element and (4) securing ports against attack.
Each 1.5-hour session is tailored to highlight the magnitude of the cyber security risk to the maritime industry and will deliver practical insights into what you can do to protect your assets and crew going forward.
Registration is free, please sign up below
To guarantee a position on one of the panels, as either a premium partner or sponsored presenter and panellist, please speak with Paul Dowling.
---
Please join us for any or all of the following:
Maritime cyber security and risk management: mitigating the threat of attack

Date: Thursday 10 June - Time: 09:00-10:30 BST

The need to mitigate cyber risk is clear and accepted. Charting an appropriate path that balances cost, compliance and operational risk is less straightforward. Our panel will assess what companies of varying sizes can do to harden OT and IT, build resilience into their supply chains and foster a 'cyber aware' culture that enhances internal and industry-wide collaboration.
Join us as we discuss
Current maritime threats and countermeasures

Cost considerations for owners and managers

Moving on from paper-based compliance

What the maritime industry can learn from ransomware attacks in other sectors

How IT and OT can be hardened to withstand attack

Effective systems integration: joining the new with the old to prevent hacks and other cyber threats

The link between risk mitigation strategies and cyber risk insurance premiums
Panellists:
Franco Cerutti, IT Security Director, Costa Crociere
Steven Hadwin, Director - Head of Operations - Data Protection, Privacy and Cybersecurity, Norton Rose Fulbright
Andrew Hill, Executive Director, Willis Towers Watson
Morten Drægni, Director Security & GRC, Wilhelmsen Ships Service

---
Cyber risk management in safety management systems - 6 months on


Date: Thursday 10 June - Time: 11:00-12:30 BST

The regulation regarding cyber risk management in safety management systems has been in place for 6 months. How have ship managers managed and what have the practical experiences been to date. Updates on inspections and audits – how are they going, what are the findings and where are the failures.
Join us as we discuss
What does this mean for the sector, what is required?

Is there sufficient guidance from the authorities?

How are state authorities practically applying the guidelines?

What have you learned and key observations since Jan 2021?

Are further guidelines/regulations required?
Panellists:
Jakob P. Larsen, Head of Maritime Safety & Security, BIMCO
Daniel Ng, Chief Executive Officer, CyberOwl
Erik I. Tvedt, Special Adviser, Danish Maritime Authority
---
Human factors in maritime cyber security

Date: Thursday 10 June - Time: 13:00-14:30 BST
Join us as we share how process, technology, training (including gamification) and information sharing can mitigate the human factor – the least predictable of cyber maritime risks, whether acting as aggressor or defender.
Join us as we discuss
Minimising and mitigating the human factor in a maritime cyber attack

How to differentiate cyber security technology

Countering social engineering: defending against phishing attacks

Understanding and enhancing seafarer digital competencies

Can the human factor be engineered out of the process?
Panellists:
Vijay Rathour, Partner – Digital Forensic Group, Grant Thornton UK
Gwilym Lewis, CEO, Neptune Cyber Inc.
Rory Hopcraft, Industrial Researcher, University of Plymouth
Sponsored by:
---
Securing ports against cyber attack

Date: Thursday 10 June - Time: 16:00-17:30 BST
This session highlights the myriad and multiplying threats to port cyber security – including state, malware and criminal – as well as proven and upcoming initiatives to defend these vital global intermodal hubs of commerce and transportation.
Join us as we discuss
Cyber threats to port facilities. What we know. What you can do.

Digitalisation and port vulnerabilities

Proven strategies for prevention and preparedness

How to secure management buy-in and support

Integrating cybersecurity into a global strategy

System selection. What works. What to avoid.

Crisis management and recovery following a cyber breach
Panellists:
Dean Mikkelsen, Managing Director, Hannibal Global Insight
Eddie Galang, Chief Information Security Officer, Port of Long Beach


---
Paul Dowling - Project Lead
paul.dowling@rivieramm.com
Webinar details:
A confirmation email will be sent after registration. A reminder will be sent with your access details no later than 72 hours before the event's date, and a further reminder will be sent 1 hour before the webinar is due to begin.
During the webinar, the identity of attendees is confidential

All attendees join the webinar with their microphone off

We encourage questions during the webinar; the moderator will raise questions to the expert presenters

A recording of the webinar will be accessible at www.rivieramm.com/webinar-library after the event has taken place.