Maritime Environmental, Social and Governance Webinar Week

30 March 2021 - 01 April 2021

09:00 - 09:45

ONLINE
---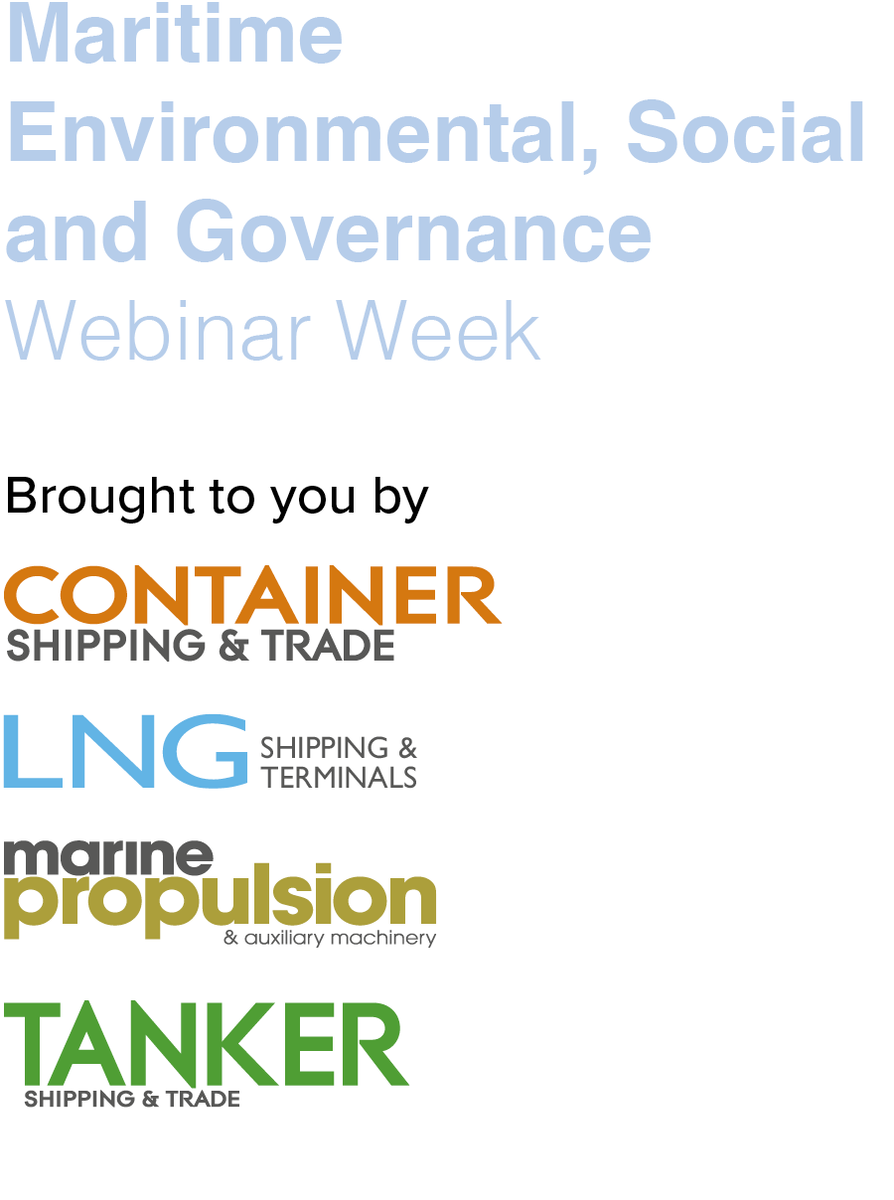 ---
Join us for Maritime Environmental, Social and Governance Webinar Week
Beginning Tuesday, 30 March, we will be holding a series of daily webinars, each meticulously researched and addressing one or more aspects of Environmental, Social and Governance (ESG) concerns, all topics of vital importance to the shipping industry. The webinars are designed to strike the right balance between transmission of key information and interaction with the expert panel assembled. Those who register will also receive copies of webinar materials post-event.
Registration is free, please sign up below.
To guarantee a position on one of the webinar panels, as either a premium partner or sponsored presenter and panellist, please speak with Ian Glen. A number of positions are made available throughout our webinar weeks for our commercial partners on a first come, first served basis.
Please join us for any or all of the following:
Our discussions are focused, cover the advertised subjects, and deliver registrants actionable insights.
ESG ratings: the new focus of shipping boardrooms

Date: Tuesday, 30 March Time: 09:00-09:45 BST
Premier Partner:


Environmental, Social and Governance (ESG) ratings are topping boardroom agendas, an emphasis reflected in the prominence leading shipping companies are giving to ESG considerations in their quarterly results, annual reports and governance documents. Maritime CEOs and CFOs and those directing ESG initiatives recognise their access to cargo, capital and ports is at risk if they cannot meet the standards expected by regulators, the market and the public. This webinar will provide clear guidance on what makes for an effective ESG strategy.
Join us as we cover
How COVID-19 strengthened the hand of shipping's ESG investors and regulators
Enhanced transparency. Enhanced reporting. Enhanced returns.
Why responsible ship recycling matters. The core constituents of an effective approach
ESG market and policy changes in the year ahead
New investors. New financing tools.
Panellists:
Capt. Herbert Soanes, Senior Vice President, Global Client Relations, MARITEC, a member of CTI Group
Joachim Nahem, Partner, The Governance Group
Simon Bennett, General Manager, Sustainable Development, The China Navigation Company
Joe Hughes, CEO, Shipowners Claims Bureau

---
ESG's human face: where crew welfare and technology intersect

Date: Wednesday 31 March Time: 09:00-09:45 BST

Watch Now
Technology has a vital role to play in supporting the physical and mental welfare of crew, training and safety, enabling vessel owners and operators to deliver and demonstrate the human face of their ESG approach. The catalyst has been COVID-19. The pandemic has propelled the plight of the stranded seafarer up the industry's and wider society's agendas. Investors and insurance communities are highly sensitised to crew welfare issues, as are industry associations and NGOs which have shown an unwavering determination to maintain the visibility of crew welfare issues and to shame those who fall short.
Join us as we cover
COVID-19, crew training, crew welfare and maintaining safe operations
Using technology to balance charter, crew and commercial requirements
The shift to the virtual: training, verification, e-learning and tele-medicine
Overcoming bureaucratic hoops and complications
Panellists include:
Bjorn Hojgaard, Chief Executive Officer, Anglo-Eastern Univan Group
John-Kaare Aune, Interim Chief Executive Officer, Wallem Group
Svend Foyn-Bruun, Vice President, MPS, Odfjell Ship Management
Clara Wahnich, Digital Innovation Partnerships Lead, Inmarsat

Sponsored by:

---
ESG emissions reporting and compliance

Date: Thursday 1 April Time: 09:00-09:45 BST

WATCH NOW
Vessel operators need to be able to track, report and benchmark their carbon emissions to demonstrate compliance, win business and justify investment. The requirement is real and intensifying. The IMO is being lobbied to use its 2023 strategy review to introduce a transparent standard emissions reporting approach. Voyage charterparty clauses are being prepared/stipulated that oblige vessel owners to collect fuel consumption data.
Join us as we cover
Whether your fleet is ready to meet short-term emissions measures entering into force in 2023
What the Carbon Intensity Indicator regime requires of every operator
The incentives and support available for adoption of greener fuels and shore power
The financial and other penalties of non-compliance
What a fit-for-purpose emissions reporting scheme looks like
Panellists:

Lotten Kronudd, Senior Adviser, ADS Insight Belgium / Managing Director, ADS Insight Scandinavia

Allan Skouboe, Chief Technology Officer, Danfoss IXA
Simon Brown, Managing Director, EMSYS
Nick Makar, Sr. VP, Maritime Administration / Regulatory Affairs, IRI / The Marshall Islands Registry
---
Edwin Lampert - Project Lead
edwin.lampert@rivieramm.com

Add to Calendar
Webinar details:
A confirmation email will be sent after registration. A reminder will be sent with your access details no later than 72 hours before the events date and a further reminder will be sent 1 hour before the webinar is due to begin.
During the webinar the identity of the attendees is confidential

All attendees join the webinar with their microphone off

We encourage questions to be sent during the webinar, the Moderator will raise these to the expert presenters

A recording of the Webinar will be accessible at www.rivieramm.com/webinar-library following the live event taking place.