Maritime Propulsion Webinar Week

05 May 2020 - 07 May 2020

09:00 - 09:45

ONLINE
---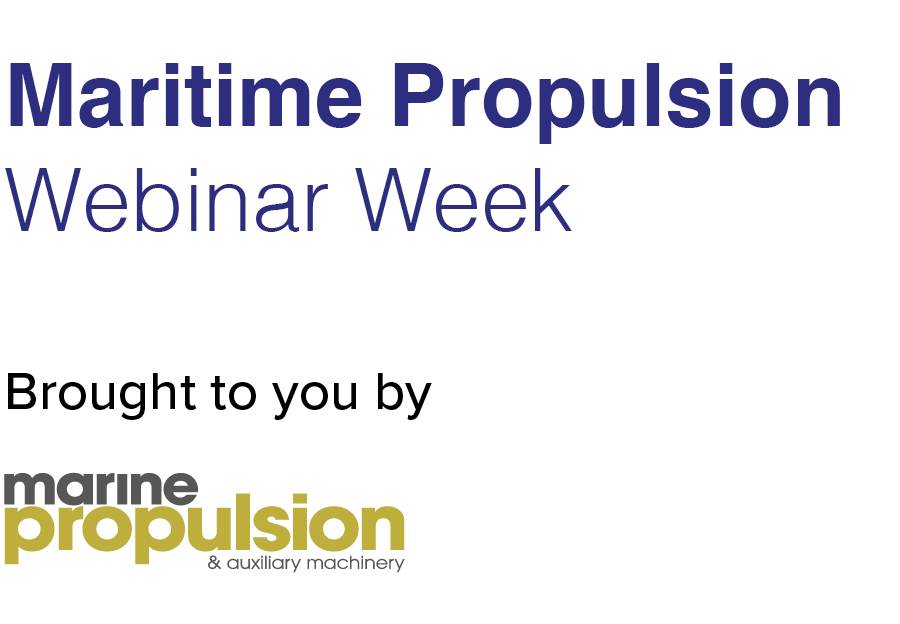 ---
Maritime Propulsion Webinar Week, be sure to join us
Beginning 5 May we will be holding a series of daily webinars, each meticulously researched and organised in response to a present propulsion related challenge, headache or opportunity. The webinars are free to attend and are designed to strike the right balance between transmission of key information and interaction with the expert panel assembled.
Should you wish to join one of our expert panels please contact Rob Gore.
Please join us for any or all of the following:
Our discussions are focused, cover the advertised subjects, and deliver registrants actionable insights.
Two-stroke engine forum: peace of mind when running a two-stroke engine on VLSFO

Date: Tuesday 5 May - Time: 09:00-09:45BST
Most two-stroke marine engines run on Very Low Sulphur Fuel oil. Depending on supply sources, there will be a wide range of viscosities, densities and combustion qualities. We'll share best practice on the operational issues owner/operators need to be aware of if they are to have peace of mind.
Join us and learn
Fuel stability and compatibility issues
Changeover processes
Why operating profile, trading pattern and service speed matter
How best to prepare crew
Supply and demand
VLSFO blends – Black Carbon or just blowing smoke?
What current data and analysis tells us on performance
Panellists:
Timothy Wilson, Principal Specialist, Lloyd's Register EMEA
Kjeld Aabo, Director, New Technologies, Sales & Promotion, MAN Energy Solutions
John Schakel, Global Marine Product Application Specialist, Shell Marine Products
Steve Bee, Group Commercial & Business Development Director, Veritas Petroleum Services
---
Marine Turbochargers OEM Forum: turbocharger technology as a pathway to lower emissions

Date: Wednesday 6 May - Time: 09:00-09:45BST
How OEMs are ensuring turbochargers support new engines and new fuels in meeting stringent environmental performance requirements.
Join us and learn
New fuels have new combustion characteristics requiring new turbocharger componentry
The demands imposed by low-pressure dual-fuel engines
What's needed to turbocharge environmentally-friendly diesel engine performance
More than SOx, it's NOx and greenhouse emissions too
Finding the sweetspot when matching turbocharger and SCR
Lessons learned from low-pressure exhaust gas recirculation
How an efficient turbocharger counteracts backpressure and minimises fuel consumption
Panellists:
Prof Dr Hinrich Mohr, Owner, GasKraft Engineering
Florian Hermann, Key Account Manager, KBB
Paul Morgan, Fleet Efficiency & Project Manager, Tufton Asset Management Cyprus

---
Marine Turbochargers Service & Repair Forum: Predictive maintenance. TBO. Spares supply. Warranties. Third party parts

Date: Thursday 7 May - Time: 09:00-9:45BST
Turbocharger damage ranks among the most common and expensive repair bill for the owner/operator. Here we discuss the issues and options available to safeguard your turbocharger.
Join us and learn
Mitigating common turbocharger problems and recognising failure warning signs
Certification: key themes and solutions
Sourcing the right parts: be wary of the world wide web
Ensuring through life-costs don't go through the roof
Scheduling Time Between Overhauls
Planned and emergency maintenance
New rules on inventory and Just-In-Time delivery.
Has the game changed on warranties?
How do reengineered or third-party parts factor in
Panellists:
Florian Hermann, Key Account Manager, KBB
Patrick Toll, Managing Director, PT-Shipmanagement
James Hogg, Director, Simplex-Turbulo Company
Paul Morgan, Fleet Efficiency & Project Manager, Tufton Asset Management Cyprus

---
Rob Gore - Project Lead
rob.gore@rivieramm.com

Add to Calendar
Webinar details:
A confirmation email will be sent after registration. A reminder will be sent with your access details no later than 72 hours before the events date and a further reminder will be sent 1 hour before the webinar is due to begin.
During the webinar the identity of the attendees is confidential

All attendees join the webinar with their microphone off

We encourage questions to be sent during the webinar, the Moderator will raise these to the expert presenters

A recording of the Webinar will be accessible at www.rivieramm.com/webinar-library following the live event taking place.