Offshore Wind Webinar Week

08 June 2020 - 11 June 2020

09:00 - 16:45

ONLINE
---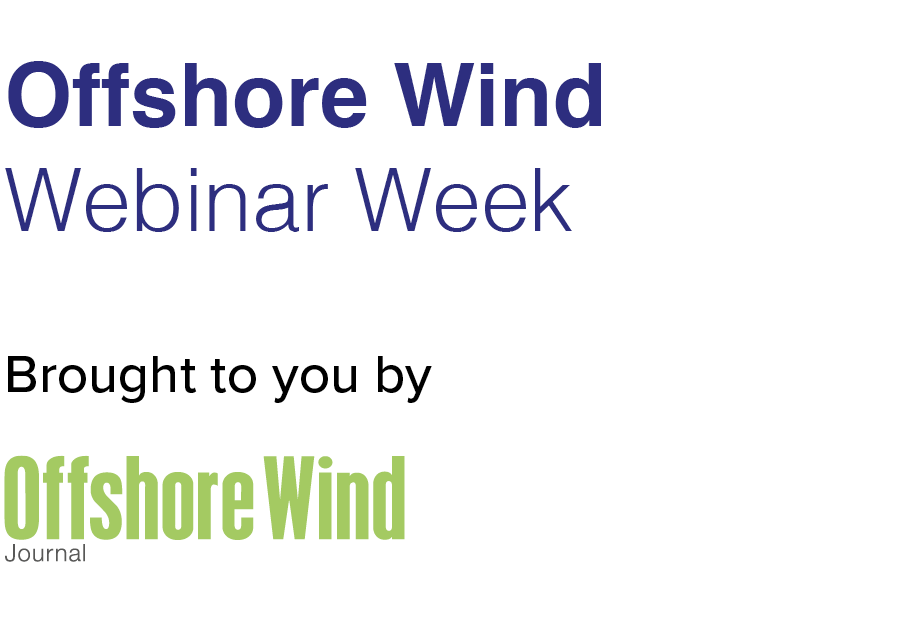 ---
Be sure to join us for

Offshore Wind Webinar Week
Beginning Monday 8 June, we will be holding a series of daily webinars, meticulously researched and organised to address offshore support vessel operations and associated technologies with the maritime professionals you want to hear from. The webinars are designed to strike the right balance between transmission of key information and interaction with the expert panel assembled.
Our discussions are focused, cover the advertised subjects, and deliver registrants actionable insights.
Should you wish to join one of our expert panels please contact Bill Cochrane.
Please join us for any or all of the following:
Walk-To-Work: rising to the challenge

Date: Monday 8 June - Time: 09:00-09:45 BST
The Walk-to-Work (W2W) sector is set for growth with offshore wind turbine installations forecast to treble through to 2030. The challenge for industry is managing the greater range of risks that go hand-in-hand with transferring personnel across a moving gangway in different theatres of operations. Our panel will use case studies to model what needs to be considered when preparing for the W2W opportunities and challenges ahead.
Join us as we cover
Vessel and gangway selection and compatibility 
What's new. What 's really innovative.
Using data analytics, AI technology, and digital twins to improve operations and reduce costs
Motion monitoring technology and what it can offer
Panellists:
Caspar Blum, Business Development Manager – Offshore Wind, Ampelmann Operations
Wijnand van Aalst, CEO, Safeway B.V. / Van Aalst Group B.V.
Stephen Bolton, CEO, Bibby Marine Services
Sponsored by:


---
Green vessels for a green industry: the offshore wind sector's race to decarbonise its assets

Date: Wednesday 10 June - Time: 09:00-09:45 BST

Watch Now
The race is on to reduce emissions and achieve carbon neutrality throughout the supply chain. Offshore wind vessel owners are considering - and investing - in new types of propulsion, innovative designs and hullforms. High-tech CTVs and SOVs are also attracting interest and orders. Don't get left behind! Our panel of industry experts will assess the available options and detail what's required to join and stay at the head of the pack.
Join us as we cover
Batteries, hybrids, hydrogen, diesel outboards, electric drive trains, methanol – which option is best for your vessels?
Providing power from shore: the benefits and disadvantages
Hybrid CTVs and SOVs: is this the future?
Innovative green ideas for operating CTVs and SOVs
Panellists:
Carolina Escudero, Business Development Manager, Vattenfall Network Solutions
Arnstein Eknes, Business/Segment Director - Special Ships, DNV GL
Andy Newman, Engineering Manager, Global Marine Group
John Olav Lindtjorn, Global Product & Portfolio Manager, ABB Marine & Ports

Sponsored by:


---
Bringing European experience to the US Offshore Wind market - exploring partnerships

Date: Thursday 11 June - Time: 16:00-16:45 BST

Watch Now
Offshore windfarm development in the United States holds considerable potential and is one of the best prospects for new opportunities. What North American developers are asking is how to bring European experience to the US and customise it for local conditions and regulations. Our webinar will bring the relevant parties together to provide the advice you need and respond to your questions on this significant emerging market.
Join us as we cover
Investment and partnership opportunities
Ownership structures and joint ventures
Keeping up with The Jones Act. Supply chain considerations
Political will, realities on the ground, environmental impacts
Accessing finance
Panellists:
Charlie Papavizas, Partner and Chair - Maritime Practice, Winston & Strawn
Cameron Dunn, Energy Infrastructure Leader, Arup
Ian Baylis, Managing Director, Seacat Services
Håkon L. Vevang, Chartering Manager, Edda Wind

Sponsored by:
---
Bill Cochrane - Project Lead
bill.cochrane@rivieramm.com

Add to Calendar
Webinar details:
A confirmation email will be sent after registration. A reminder will be sent with your access details no later than 72 hours before the events date and a further reminder will be sent 1 hour before the webinar is due to begin.
During the webinar the identity of the attendees is confidential

All attendees join the webinar with their microphone off

We encourage questions to be sent during the webinar, the Moderator will raise these to the expert presenters

A recording of the Webinar will be accessible at www.rivieramm.com/webinar-library following the live event taking place.