Passenger Shipping Webinar Week

21 September 2020 - 25 September 2020

09:00 - 13:45

BST
---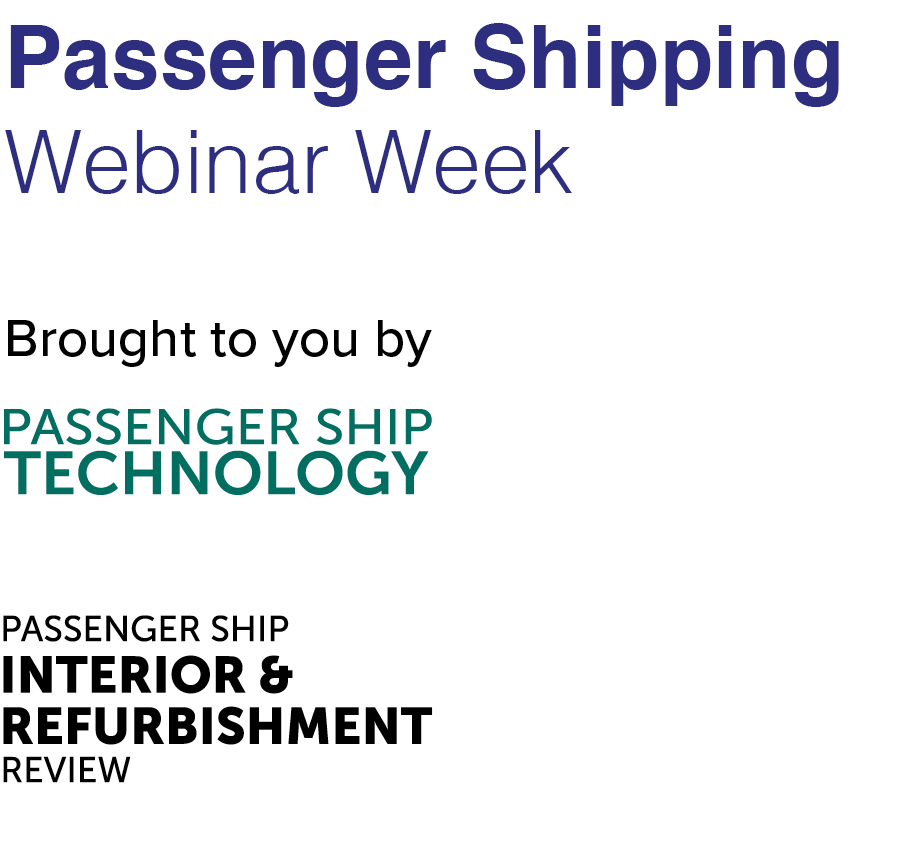 ---
Be sure to join us for Passenger Shipping Webinar Week
Beginning Monday 21 September, we will be holding a series of daily webinars, each meticulously researched and addressing a topic of vital importance to the passenger ship industry. The webinars are designed to strike the right balance between transmission of key information and interaction with the expert panel assembled. Those who register will also receive copies of webinar materials post event.
Our discussions are focused, cover the advertised subjects, and deliver registrants actionable insights.
Should you wish to join one of our expert panels, please contact Indrit Kruja.
Please join us for any or all of the following:
Hydrogen-powered ferries: unlocking the potential

Date: Monday 21 September - Time: 13:00-13:45 BST
Premier partner:


Hydrogen propulsion has considerable potential for ferries. Leading technology providers are now developing high megawatt capacity hydrogen fuel cells. Join us and discover how the passenger sector can seize the opportunity, overcome bunkering, safety and storage challenges and unlock the full potential of this alternative power solution.
Join us as we discuss
Building a hydrogen-powered vessel that meets code and user-safety requirements
Hydrogen availability and infrastructure development
Space, safety and control barriers for hydrogen on board ships
Navigating regulations and the approval processes
Potential capex and opex costs
Fuel cell technology in the maritime environment
Panellists include:
Ryan Sookhoo, Director New Initiatives, Cummins Inc, Fuel Cell and Hydrogen Technologies
Joseph W. Pratt, CEO & CTO, Golden Gate ZERO Emission Marine
---
Passenger ship projects and deliveries: adapting to a new normal

Date: Friday 25 September - Time: 09:00-09:45 BST

COVID-19 is having a huge impact on newbuild and refurbishment projects, with many postponed and some cancelled. We gauge the views from the passenger ship industry about the impact on construction and drydock schedules, how these might be transformed following the pandemic and how innovations within the design, layout and technology used on ships will be developed to keep passengers safe, taking into account both this pandemic and potential future virus outbreaks.
Join us and learn
COVID-19 impact on current newbuild projects and schedules
Future expectations and potential new trends for newbuild market
Impact on current and future repair and refurbishment and drydock
Supply chain challenges, considerations and opportunities
What can we learn from the aviation industry
Panellists include:
Andrea Zito, CEO, Swan Hellenic Cruises
Fredrik Johansson, Partner/Executive Director, Tillberg Design of Sweden
Peter Ståhlberg, CEO, Wasaline
Piero Moncheroni, Project Manager - XL Projects New buildings, RINA

---
The COVID-19 proofed passenger ship: interior design for health and safety onboard

Date: Friday 25 September - Time: 13:00-13:45 BST

The 'new normal' onboard cruise vessels requires a mix of new permanent fixtures and fittings as well as flexibility so social distancing and the health and safety of crew and passenger can be maintained. Interior designers, naval architects, classification societies and the supply chain are rising to the challenge
Join us and learn
Technology and design innovations to keep passengers safe
Passenger flow and coping with an outbreak onboard
Material matters: surfaces and finishes that prevent transmission
Social distancing without being anti-social: the impact on public spaces
Catering: the end of the buffet?
How COVID-19 design links with the circular economy
Panellists include:
David McCarthy, Marine Development Director, AD Associates
Lawrence Rapp, Principal Consultant, Cruise Line Newbuilding & Operations, Seawise Consulting Group

Andreas Ullrich, Global Market Leader, Passenger Ships & Ferries, Bureau Veritas
Frank Weber, SVP - Hotel Operations, Virgin Voyages

Fernando Pou Feliu, Senior Assessor in Unit Safety and Security, EMSA
---
Indrit Kruja - Project Lead
indrit.kruja@rivieramm.com

Add to Calendar
Webinar details:
A confirmation email will be sent after registration. A reminder will be sent with your access details no later than 72 hours before the events date and a further reminder will be sent 1 hour before the webinar is due to begin.
During the webinar the identity of the attendees is confidential

All attendees join the webinar with their microphone off

We encourage questions to be sent during the webinar, the Moderator will raise these to the expert presenters

A recording of the Webinar will be accessible at www.rivieramm.com/webinar-library following the live event taking place.