Tankers and Terminals: Gas Carriers Webinar Week

16 June 2020 - 18 June 2020

09:00 - 09:45

Online
---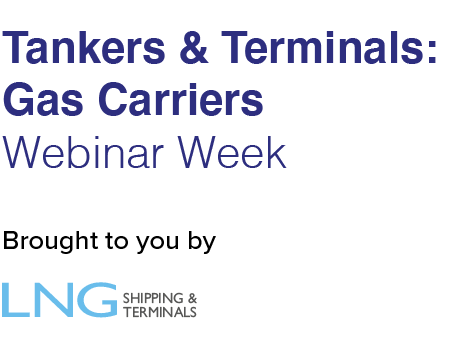 ---
Tankers and Terminals: Gas Carriers Webinar Week, be sure to join us
Beginning Tuesday 16 June we will be holding a series of daily webinars, each meticulously researched and organised in response to a present vessel optimisation challenge, headache or opportunity. The webinars are designed to strike the right balance between transmission of key information and interaction with the expert panel assembled. Those who register will also receive copies of webinar materials post event. 
Should you wish to join one of our expert panels please contact Ian Pow.
Please join us for any or all of the following:
Our discussions are focused, cover the advertised subjects, and deliver registrants actionable insights.
Ship/shore interface

: cargo transfer and monitoring technology

Date: Tuesday 16 June - Time: 09:00-09:45BST

Watch now

Selecting the right ship to shore or ship to ship cargo transfer technology is essential to the economic success of an operation. This webinar will answer questions regarding capex and opex considerations and application of various cargo transfer technologies.


Join us as we discuss
Regulatory and safety considerations
Cryogenic hose technology
Role of marine loading arms
Emergency Shutdown Systems
Jetty-based systems
Panellists include:
Capt. Nilendra Kumar, Chief Manager(Port Operations), Petronet LNG
Jonathan Heath, Marine Superintendent, "K" Line LNG Shipping (UK)
Andrew Brown, Global Director LNG Business and Project Development , Smit Lamnalco
Andrew Stafford, Technical Director, Trelleborg Marine Systems

---
Selecting the right cargo containment system

Date: Wednesday 17 June - Time: 09:00-09:45BST


Watch now
Maximising cargo and lowering BOR are important factors in selecting LNG cargo containment system. This webinar will provide answers regarding the application of cargo containment systems in LNG transport and as a fuel tank solution.
Join us as we cover
Safety and design
Capex and opex vs other CCS
Expected BOR
Sloshing characteristics
Use in LNG transport
Use in LNG fuel tank
Panellists include:
Carlos Guererro, Global Market Leader Gas Carriers and Oil Tankers, Bureau Veritas
Chris Clucas, Principal Consultant, Liquefied Gas Consultancy
Kjetil Sjølie Strand, Chief Executive Officer, LNT Marine


---
Resolving MEG4 market confusion

Date:Thursday 18 June -Time: 15:00-15:45BST

Watch now
The updated MEG4 aims to bring clarity on condition-based monitoring of mooring lines and tails. In practice it has met with confusion. This webinar will looking critically at the regulation and resolve your unanswered questions
Join us and learn
MEG4: market confusion
Certification concerns
Safety case not well understood
Will the standard be evenly upheld
Time for MEG5?
Panellists include:
Kris Volpenhein, VP – Research & Development, Samson Rope
Hans-Pieter Baaij, Commercial Director Maritime Division, Lankhorst Ropes
Capt. Sanchay Srivastava, Technical Adviser – Nautical, Oil Companies International Marine Forum (OCIMF)
Sponsored by:
Ian Pow - Brand Manager
ian.pow@rivieramm.com

Add to Calendar
Webinar details:
A confirmation email will be sent after registration. A reminder will be sent with your access details no later than 72 hours before the events date and a further reminder will be sent 1 hour before the webinar is due to begin.
During the webinar the identity of the attendees is confidential

All attendees join the webinar with their microphone off

We encourage questions to be sent during the webinar, the Moderator will raise these to the expert presenters

A recording of the Webinar will be accessible at www.rivieramm.com/webinar-library following the live event taking place.