Ship Recycling Webinar Week

02 February 2021 - 05 February 2021

09:00 - 09:45

Online
---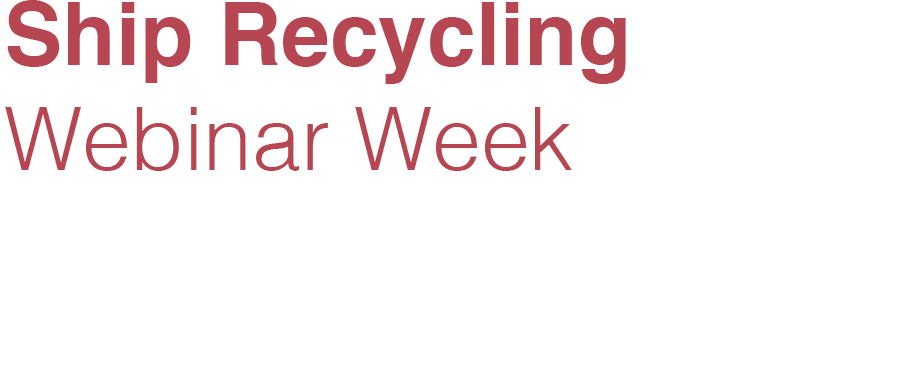 ---
Be sure to join us for Ship Recycling Webinar Week
Beginning Tuesday 2 February, we will be holding a series of daily webinars, each meticulously researched and addressing a topic of vital importance to the shipping industry. The webinars are designed to strike the right balance between transmission of key information and interaction with the expert panel assembled. Those who register will also receive copies of webinar materials post-event.
Our discussions are focused, cover the advertised subjects, and deliver registrants actionable insights.
Should you wish to join one of our expert panels, please contact Paul Dowling or Rigzin Angdu.
Please join us for any or all of the following:
The end of the EU vessel owner recycling conundrum?

Date: Tuesday 2 February - Time: 09:00-09:45 GMT
Does the updated European List of ship recycling facilities finally offer operators of larger EU-flagged tonnage sufficient slots at compliant yards with the capacity to meet their requirements? Is an expected reversal of China's ban on recycling foreign ships a pathway to certification under the EU Ship Recycling Regulation? And how will the requirement that all Indian yards attain Hong Kong Convention levels of compliance – or lose their license – impact?
Join us as we discuss
Insufficient capacity or a smokescreen for better financial return
Whether European yards favour offshore decommissioning, repair, newbuilding and military markets
How many Panamaxes can Turkish yards handle
How steel price at European yards influences commercial decisions
India and China to the rescue?
The implications of exporting end-of-life ships to non-OECD countries
Flagging. Is it an issue that 20% of the world fleet are under EU flag but EU flagged ships account for only 10% of the total amount of recycled ships?
Time for less politics and more pragmatism
Panellists:
Simon C. Bergulf, Director Regulatory Affairs, A.P. Moller – Maersk
Lotten Kronudd, Senior Adviser, ADS Insight Belgium / Managing Director ADS Insight Scandinavia
Lars Robert Pedersen, Deputy Secretary General, BIMCO
Reinoud Pijpers, Director, ISRA
Hitesh Vyas, Vice President - Middle East & Green Recycling Coordinator, Wirana Shipping DMCC

---
The link between cash buyers and environmental compliance

Date: Wednesday 3 February - Time: 09:00-09:45 GMT
Interest in buying vessels for demolition has surged and attracted new forms of investors. This webinar assesses how capital gains are being balanced with the need for environmental compliance
Join us as we discuss
How to raise average standards
Prospects for a global standard
EU legislation: a top-down push that will bring a bottom-up change
Beaching of vessels: a necessary practice that won't disappear overnight
Certification: nothing more than a spot check?
Why reflagging when recycling shows no signs of flagging
Panellists:
M Abdul Rahim, Managing Director, Middle East and South Asia, ClassNK (Nippon Kaiji Kyokai)
Jamie Dalzell, Senior Trader, GMS

Mohammed Zahirul Islam, Managing Director, PHP Ship Breaking & Recycling Industries
James Turner QC, Barrister & Arbitrator, Quadrant Chambers


Sponsored by:

---
The first certified 'EU equivalent' shipbreaking facility in Africa

Date: Thursday 4 February - Time: 09:00-09:45 GMT
The 34South facility – a planned ship recycling facility located along the West Coast of South Africa intends – to meet all the requirements stipulated by the EU commission. Once approved, this facility which will target larger Panamax sized vessels, will serve as the first green, compliant, ship recycling centre in Africa, making South Africa one of the first non-OECD countries that are able to accept these end-of-life vessels.
Join us as we discuss
Why South Africa. Why now.
Project status: financial, engineering, technical, commercial
The road to EU equivalence and regulatory compliance
Options for the EU-flagged operator of larger tonnage
Panellists:
Yaa Agyare-Dwomoh, Consulting Analyst, Frost & Sullivan Africa
Hendrik Malan, Partner & Africa CEO, Frost & Sullivan Africa
Robin Hoogwerf, Managing Director, 34South
Herman Husselmann, Senior Dealmaker, Industrial Development Corporation of South Africa (IDC)

---
Through-life data: the key to compliance in ship recycling

Date: Friday 5 February - Time: 09:00-09:45 GMT
Digitalisation is driving enhanced transparency, accountability and disclosure throughout the ship recycling supply chain from 'vessel cradle' to 'vessel grave'. This webinar addresses the current vulnerabilities and possibilities head-on and offers perspectives on the way forward.
Join us and learn
The data-driven processes needed to ensure transparency and compliance
Collecting the right data and avoiding collecting data for data's sake
Lessons learned from Inventory of Hazardous Material certification to date
Achieving best data management practice throughout the maritime industry.
Future perspectives: ISO30005. Blockchain: a breakthrough or barrier?
Panellists:
Rangel Vassilev, Project Manager, Columbia Shipmanagement
Henning Gramann, Managing Director, GSR SERVICES CYPRUS
Martin Crawford-Brunt, Independent Industry Commentator

---
Paul Dowling - Brand Manager
paul.dowling@rivieramm.com
Webinar details:
A confirmation email will be sent after registration. A reminder will be sent with your access details no later than 72 hours before the events date and a further reminder will be sent 1 hour before the webinar is due to begin.
During the webinar the identity of the attendees is confidential

All attendees join the webinar with their microphone off

We encourage questions to be sent during the webinar, the Moderator will raise these to the expert presenters

A recording of the Webinar will be accessible at www.rivieramm.com/webinar-library following the live event taking place.