Tanker Shipping & Trade Tech & Ops Webinar Day

13 September 2021

09:00 - 15:30

BST - ONLINE
---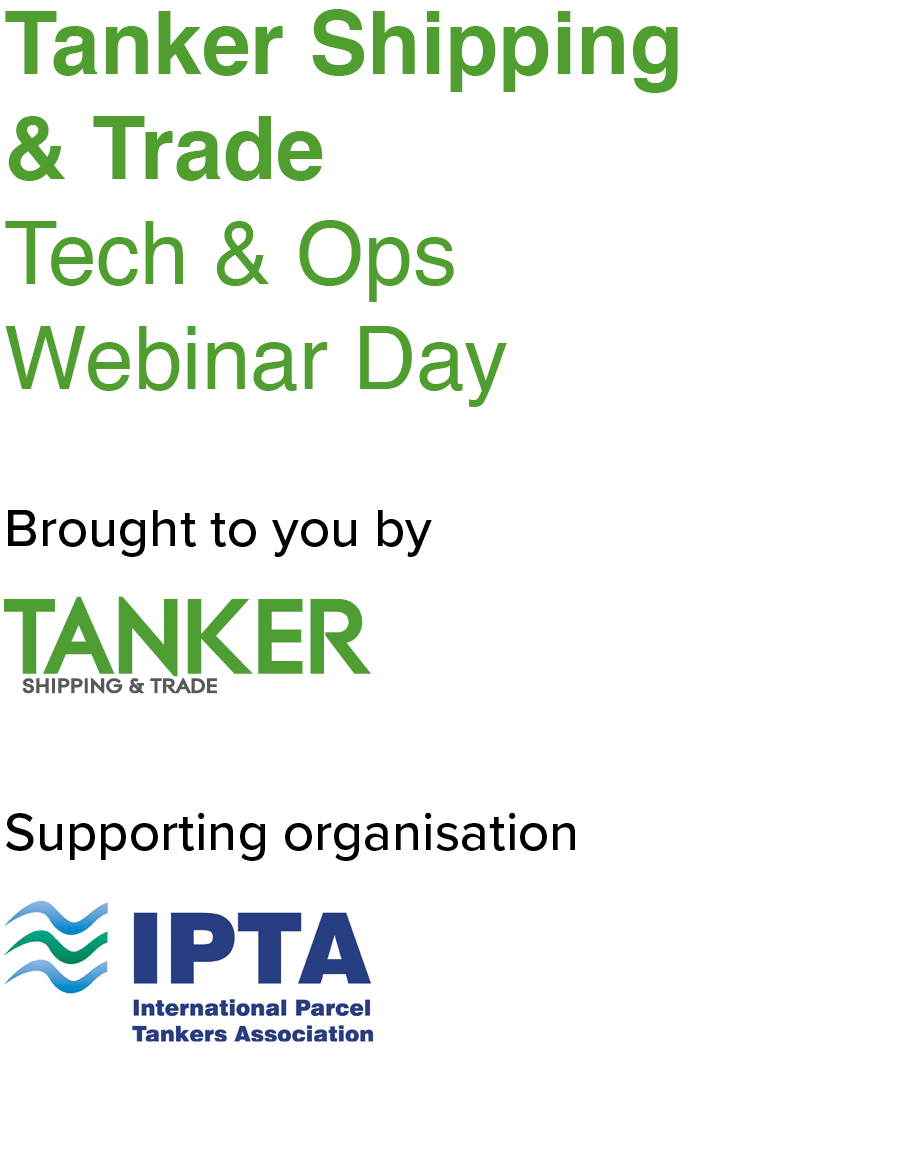 ---
Tanker Shipping & Trade Tech & Ops Webinar Day, be sure to join us

Future proofing operations. Regulations. Tanker coatings.

On Monday 13 September, we will be holding a series of webinars focused on chemical tankers from three standpoints: future proofing operations; tank coatings and regulations. Each webinar features a panel of maritime professionals expert in their chosen fields.

Each webinar is meticulously researched and speaks to a key industry challenge, headache or opportunity. The webinars are designed to strike the right balance between transmission of key information and interaction with the expert panel assembled. Those who register will also receive copies of webinar materials after the event.

Our discussions are focused, cover the advertised subjects, and deliver registrants actionable insights.

Registration is free, please sign up below
To guarantee a position on one of the panels, as either a premium partner or sponsored presenter and panellist, please speak with Paul Dowling. A number of positions are made available throughout our webinar weeks for our commercial partners on a first come, first served basis.
---
Please join us for any or all of the following:
Future-proofing chemical tanker operations

Date: Monday 13 September - Time: 09:00-10:30 BST

How can chemical tanker operators future-proof their fleets to meet the tightest of regulatory timetables when multiple pathways to decarbonisation – each with well-publicised strengths and weaknesses – are being presented? Our panel will weigh the options and analyse the strategies available.
Join us as we discuss
Slow steaming - any slower?

Optimising cleaning intervals for hulls and propellers

Weather and trim optimisation

Just-in-time port calls

Is sail assisted propulsion suitable for chemical carriers?

Cargo operations – shore / fuel cells and hybrid power provide the energy required

The Impact of reducing carbon intensity (CII) by at least 40 percent by 2030
Panellists:
Johan Kristensson, COO, Furetank Rederi
Janet Strode, General Manager, International Parcel Tankers Association (IPTA)

David Pereira, COO, Tristar Maritime Logistics


---
Surfing ahead of the regulation tsunami

Date: Monday 13 September - Time: 11:00-12:30 BST
2021 saw the introduction of the revised IBC Code, and this session examines its impact while looking at other regulations that are in the pipeline and how public opinion will shape future regulation and operation of chemical carriers.

Join us as we discuss
Upcoming regulations and compliance

Possible future regulations, including a ban on cargo emissions

Update and impact of the revised IBC Code

What is next for chemical carriers
Panellists:
Capt. Sanjay Patil, Deputy Director HSE Operations, Eaglestar Marine (S) Pte Ltd
Patrick Keffler, Chemical Manager & Regional Manager Americas, INTERTANKO


---
Next generation tank coatings: reducing opex, saving lives


Date: Monday 13 September - Time: 14:00-15:30 BST

Coating dictates the trade and life cycle of a new tanker. Can new developments decrease the time / instances of enclosed space entry? Do charterers have a role to play? How does the introduction of IHM change the recycling of chemical tank coatings?
Join us as we discuss
Application


Cleaning


Reducing enclosed space entry


Cargo heating


Maintenance


End of life and IHM: disposal of stainless steel or coatings


Shipowner case study
Panellists:
Captain Onur Yildirim, Global Marineline® Sales Manager, Advanced Polymer Coatings
Guy Johnson, Director, L&I Maritime (UK) Ltd
D. Terry Greenfield, Principal Consultant, CONSULEX and Past Chairman AMPP (Formerly NACE International) 2020-2022


---
Paul Dowling - Project Lead
paul.dowling@rivieramm.com
Webinar details:
A confirmation email will be sent after registration. A reminder will be sent with your access details no later than 72 hours before the event's date, and a further reminder will be sent 1 hour before the webinar is due to begin.
During the webinar, the identity of attendees is confidential

All attendees join the webinar with their microphone off

We encourage questions during the webinar; the moderator will raise questions to the expert presenters

A recording of the webinar will be accessible at www.rivieramm.com/webinar-library after the event has taken place.