Tanker Shipping & Trade Webinar Week

18 August 2020 - 21 August 2020

09:00 - 09:45

ONLINE
---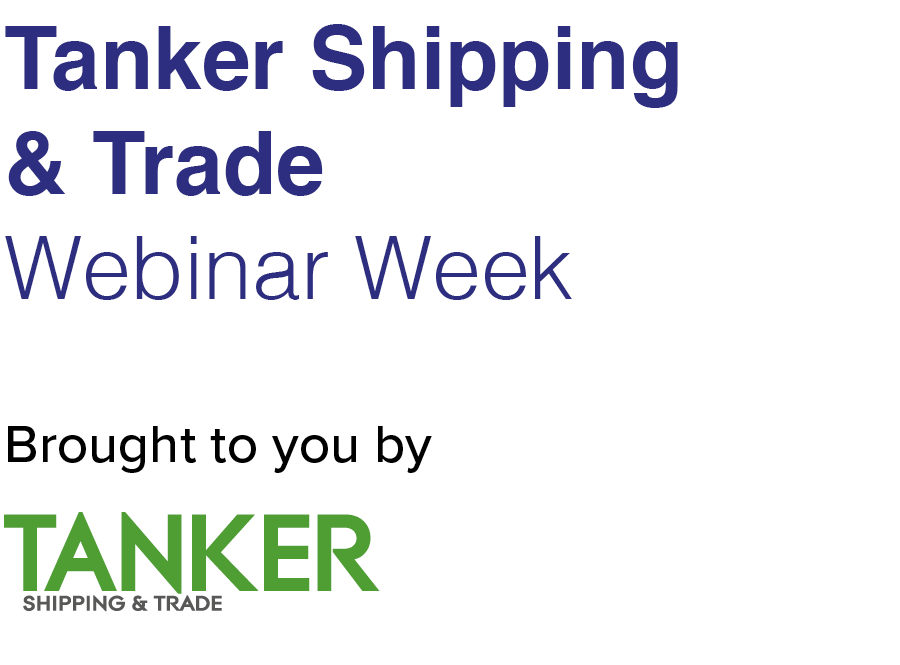 ---
Be sure to join us for Tanker Shipping & Trade Webinar Week
Beginning Tuesday 18 August, we will be holding a series of daily webinars, each meticulously researched and addressing a topic of vital importance to the tanker industry. The webinars are designed to strike the right balance between transmission of key information and interaction with the expert panel assembled. Those who register will also receive copies of webinar materials post event.
Our discussions are focused, cover the advertised subjects, and deliver registrants actionable insights.
Should you wish to join one of our expert panels, please contact Paul Dowling.
Please join us for any or all of the following:
How COVID-19 is transforming tanker operations

Date: Tuesday 18 August - Time: 09:00-09:45 BST

COVID-19's impact on tanker crew is undeniable. There are documented cases of crews being kept on board for several months, and the industry is wrestling with finding a way of getting crew on and off in a timely and safe way. How far are we from a coordinated industry strategy? This webinar will deliver meaningful insights on the way forward
Join us as we discuss
Restricted or unrestricted trade. Port access. Crew changeovers
The human element: crew welfare in the age of COVID-19
Extended overhaul intervals. Targeted replacement of parts.
Five predictions for 2021
Panellists include:
Mark Cameron, Chief Operating Officer, Ardmore Shipping
Gerry Buchanan, Managing Director, Liberian Registry (LISCR)
Dr. Arthur Diskin, MD, FACEP Global Medical Director, Future Care

Sponsored by:
---
Chemical tanker operations: gearing up for implementation of the 2021 Revision of the IBC Code

Date: Wednesday 19 August - Time: 09:00-09:45 BST
After years of discussion, amendments to MARPOL Annex II and the IBC Code enter into force on 1 January 2021. These amendments will have profound implications for the shipboard and commercial aspects of successful chemical tanker operations
Join us as we discuss
New toxicity ratings: More than 400 cargoes will be classed as toxic for the first time
What the re-rating of cargoes and the ship types that can carry them means for freight rates
Preparing for Annex II prewash requirements in northern and western Europe
The port congestion, cost and time implications of compliance
Proving the safety of your operations under the new regime
Have regulations gone too far? Time for a timeline for further revisions
Panellists include:
Patrick Keffler, Chemical Manager & Regional Manager Americas, INTERTANKO
Capt. Sanjay Patil, Head, Customer Relationship Management - Europe, Eaglestar Marine Holdings

---
STS operations: know your legal and operational responsibilities

Date: Thursday 20 August - Time: 09:00-09:45 BST
Ship-to-ship transfers (STS) are complex operations that revolve around the relationship between the Masters on the two participating vessels and the mooring master, otherwise known as the person in overall advisory control (POAC). This webinar will clarify where legal and operational responsibilities lie
Join us and learn
The Human Element.
Targeted training and direct assessment
Case study: what makes for effective decision making
Commercial, statutory, Port State Control and inspection considerations
Have the legal clauses and regulations that govern STS operations kept pace with operational reality
Panellists include:
Alasdair Adamson, HSEQ & Compliance Specialist
Robert Collins, Partner, Preston Turnbull LLC
---
Is tanker vetting fit for purpose?

Date: Friday 21 August - Time: 09:00-09:45 BST
Riviera's tanker vetting webinar draws together commercial, regulatory and technical interests to answer the key question: Is today's tanker vetting regime fit-for-purpose?
Join us and learn
Today's vetting requirements: separating fact from fiction
The role of Port State Control and IMO
A true appraisal of costs: time, money and effort
What industry should prioritise
Is there a better way of benchmarking safety?
Panellists include:
Capt. Wyn Price, OCIMF SIRE Accredited Auditor, AWP Marine Consultancy
Torben Hertel, General Manager; Head of Vetting at Dania Ship Management

---
Paul Dowling - Project Lead
paul.dowling@rivieramm.com

Add to Calendar
Webinar details:
A confirmation email will be sent after registration. A reminder will be sent with your access details no later than 72 hours before the events date and a further reminder will be sent 1 hour before the webinar is due to begin.
During the webinar the identity of the attendees is confidential

All attendees join the webinar with their microphone off

We encourage questions to be sent during the webinar, the Moderator will raise these to the expert presenters

A recording of the Webinar will be accessible at www.rivieramm.com/webinar-library following the live event taking place.