Vessel Optimisation Webinar Week

07 September 2020 - 09 September 2020

09:00 - 09:45

Online
---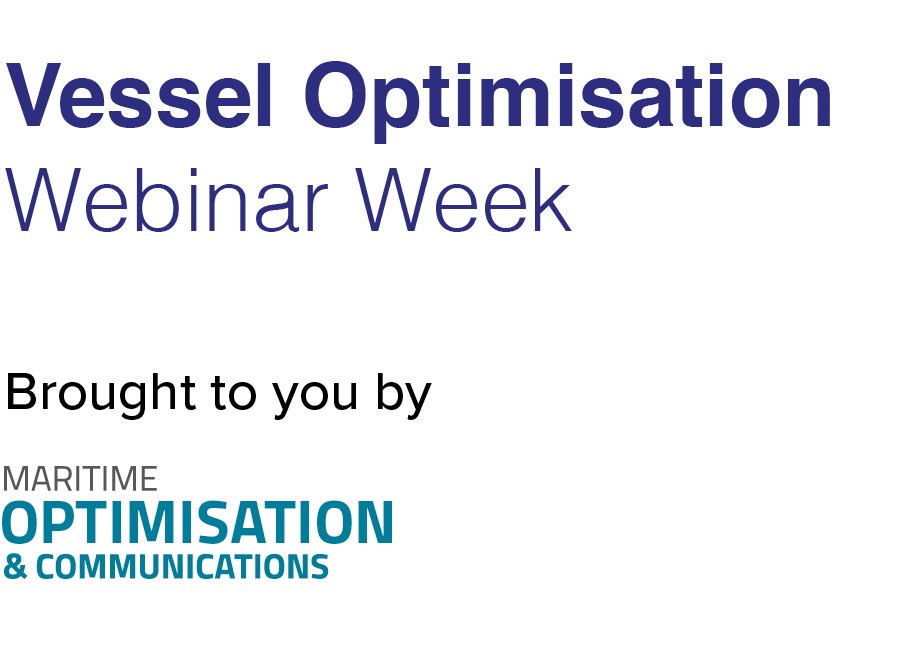 ---
Be sure to join us for Vessel Optimisation Webinar Week
Beginning Monday 7 September, we will be holding a series of daily webinars, each meticulously researched and organised in response to a Vessel Optimisation challenge, headache or opportunity. The webinars are designed to strike the right balance between transmission of key information and interaction with the expert panel assembled. Those who register will also receive copies of webinar materials post event.
Our discussions are focused, cover the advertised subjects, and deliver registrants actionable insights.
Should you wish to join one of our expert panels, please contact Paul Dowling.
Please join us for any or all of the following:
Voyage and vessel optimisation when making port calls

Date: Monday 7 September - Time: 09:00-09:45 BST

Port delays and bottlenecks are an economic and environmental frustration for vessel owners/operators. This webinar details how operators can optimise their approach to save time, money and effort.
Join us as we discuss
Why port planning is an integral part of voyage planning
Voyage planning software for port call optimisation
Just-In-Time Arrivals and the role of digital twins
What can be learnt from airports/the aviation industry
Data sharing for improved port performance and voyage efficiency
Industry collaboration on data sharing
Projects and case studies that have delivered results
Panellists:
Haraldur Orri Björnsson, Director of Service, Marorka
Ben van Scherpenzeel, Chairman, International Taskforce Port Call Optimization
Capt. Abhishek Nair, International Business Consultant - Port Call Optimization, PortXchange
Capt. Kaia Bjerre van de Ven, General Manager Shipping & Maritime, Europe & Africa, Shell


Sponsored by:
---
Unleashing the power of data to optimise vessel performance

Date: Tuesday 8 September - Time: 09:00-09:45 BST
Big data, connectivity and IoT have entered the everyday language of the maritime industry. Extracting value from the tidal wave of data now at shipowners' fingertips remains complex. This webinar will unlock the benefits of digitalisation for greater operational efficiencies and competitive advantage.
Join us as we discuss
Linking analytics and business decisions
How to make money and save money based on available data
Sifting variable and unreliable data
How best to present and interpret data
Performance management and cost management
Case studies: proven software that achieves results
Panellists:
Tor Skeie, Vice President of Maritime IT Solutions, Marlink
Juan Gil, Global IT Project Manager, OSM Maritime Group - Maritime & Technology, Singapore
Dr. Ranjan Varghese, Chief Executive Officer, Steel Ships
Dr. Dimitrios Dalaklis, Associate Professor (Safety and Security), World Maritime University (WMU)


---
Extending intelligent monitoring of onboard machinery

Date: Wednesday 9 September - Time: 09:00-09:45 BST
Intelligent monitoring of onboard machinery performance allows vessel operators to extend part life, minimise downtime and protect budgets. This webinar assesses the technologies and platforms that are achieving the best results.
Join us and learn
Cognitive analytics that intelligently track and plan maintenance, spare part and consumable inventories
Artificial intelligence for predictive maintenance, intelligent scheduling, real-time analytics and improved performance
Software and systems that are delivering greater operational efficiencies and competitive advantage
Panellists:
Pankaj Sharma, POCR Manager, Columbia Shipmanagement
Capt. K.K. Mukherjee, Director (Operations), NYK Bulkship (Asia)
Dr. Ranjan Varghese, Chief Executive Officer, Steel Ships

---
Paul Dowling - Brand Manager
paul.dowling@rivieramm.com

Add to Calendar
Webinar details:
A confirmation email will be sent after registration. A reminder will be sent with your access details no later than 72 hours before the events date and a further reminder will be sent 1 hour before the webinar is due to begin.
During the webinar the identity of the attendees is confidential

All attendees join the webinar with their microphone off

We encourage questions to be sent during the webinar, the Moderator will raise these to the expert presenters

A recording of the Webinar will be accessible at www.rivieramm.com/webinar-library following the live event taking place.