Vessel Optimisation Webinar Week

03 March 2021 - 05 March 2021

14:00 - 14:45

Online
---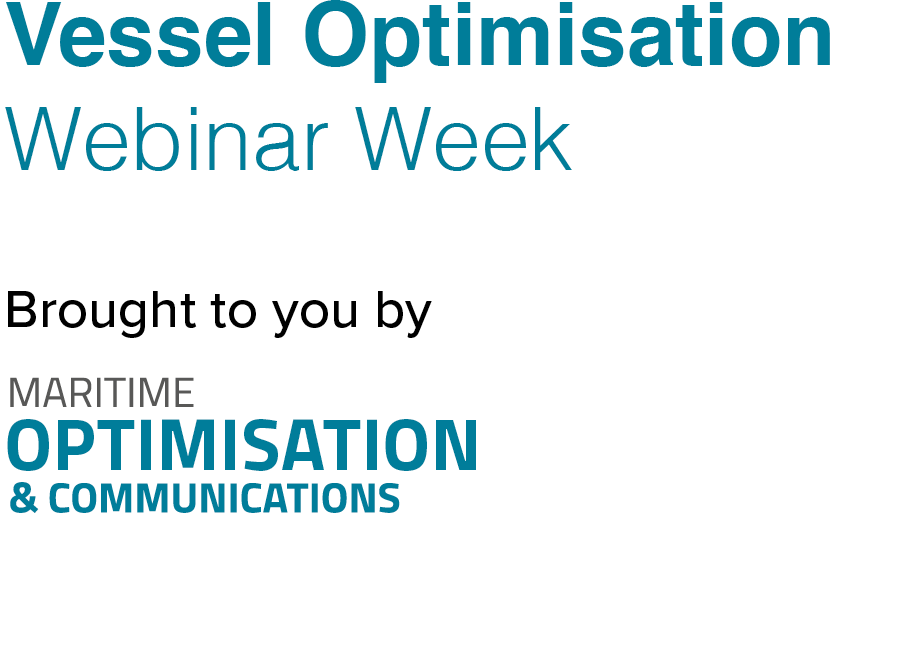 ---

Be sure to join us for Vessel Optimisation Webinar Week
Beginning 3 March, we will be holding a series of daily webinars, each meticulously researched and organised in response to a vessel optimisation challenge, headache or opportunity. The webinars are designed to strike the right balance between transmission of key information and interaction with the expert panel assembled. Those who register will also receive copies of webinar materials post event.
Our discussions are focused, cover the advertised subjects, and deliver actionable insights to registrants.
Should you wish to join one of our expert panels, please contact Paul Dowling.
Please join us for any or all of the following:
How operators use data to optimise
engine performance

Date: Wednesday 3 March - Time: 14:00-14:45 GMT
This webinar sets out how owners and operators can harness engine and fuel flow monitoring system data to optimise engine power and performance
Join us as we cover
The onshore digital dashboard for tracking engine performance across the fleet
Using vessel case study data to identify fleet-wide improvement measures
Combining live data with baseline information to compare fleet performance and fuel consumption with the 'perfect' engine
Optimising engine performance to manage power output and engine idling during the voyage
Panellists include:
Thomson John, International Sales Manager, Aquametro Oil & Marine

Sunil Kapoor, Director & General Manager, FML Ship Management
Rajiv Malhotra, Technical Manager, Thome Group
Zoe Lygizou-Karlou, Communications & Marketing Executive, Propulsion Analytics
Sokratis Demesoukas, Engine Performance Manager, Propulsion Analytics

Sponsored by:
---
A holistic approach to cost-effective
fleet-wide energy management

Date: Thursday 4 March - Time: 14:00-14:45 GMT
Achieving a cost-effective, fleet-wide management programme is a complex interplay between technical, operational, commercial and regulatory factors. This webinar will reveal how operators of different vessel types and scale can balance these considerations and unlock significant fuel and energy savings.
Join us as we cover
Identifying and minimising fuel losses
Integrating optimisers: trim, power, manoeuvrability, speed, idling, fouling
Selecting the best fuel optimisation systems for your fleet
Short sea as well as deep sea applications
Panellists include:
Michael LaGrassa, Performance Manager, International Seaways
Ross Millard, Senior Director, Strategy & Insights, Nautilus Labs
Frank Paleokrassas, Head of Data Governance and Analytics, Bernhard Schulte Shipmanagement
---
IoT solutions transforming the maritime
industry

Date: Friday 5 March - Time: 14:00-14:45 GMT

COVID-19 has been the catalyst for wider uptake of IoT throughout the maritime industry. Assessing which of the multiple options is best for your fleet is less clear cut. Our panel will cut through the spin to critically analyse the options available and provide guidance so that the IoT you invest in is transformative rather than your weakest operational link.
Join us as we cover
Which IoT solutions will transform the industry
IoT's true cost
Smart maintenance applications
Remote classification and surveying
Vessel and voyage optimisation
How industry will adopt remote practices over the long term
Panellists include:
Sven-Eric Brooks, Senior Director of Business Development, KVH
Franco Cerutti, IT Security & Operation Director, Carnival Maritime - Costa Group
Simon Whitford, CEO, GreenSteam
Alexander Steel, Product Manager, Lloyd's Register


---
Paul Dowling - Brand Manager
paul.dowling@rivieramm.com
Webinar details:
A confirmation email will be sent after registration. A reminder will be sent with your access details no later than 72 hours before the events date and a further reminder will be sent one hour before the webinar is due to begin.
During the webinar the identity of the attendees is confidential

All attendees join the webinar with their microphone off

We encourage questions to be sent during the webinar. The moderator will raise these to the expert presenters

A recording of the webinar will be accessible at www.rivieramm.com/webinar-library following the live event taking place.