Vessel Optimisation Webinar Week

24 May 2021 - 27 May 2021

09:00 - 09:45

BST - ONLINE
---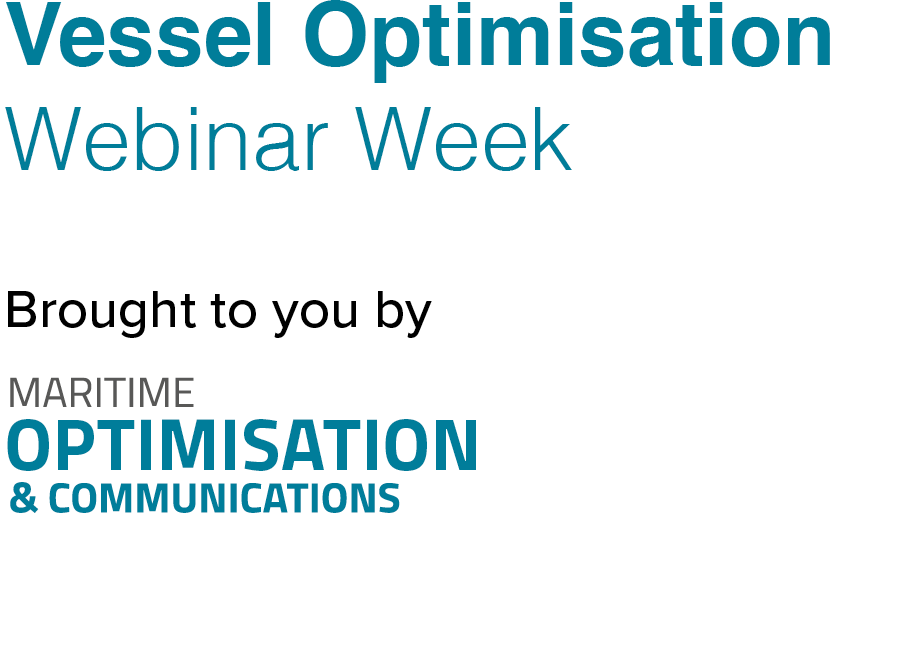 ---

Be sure to join us for Vessel Optimisation Webinar Week
Compliance. Route Planning. AIS. Remote Surveys
Beginning 24 May, we will be holding a series of daily webinars, each meticulously researched and focused on an aspect of vessel optimisation. The webinars are designed to strike the right balance between transmission of key information and interaction with the expert panel assembled.
Our discussions are focused, cover the advertised subjects, and deliver registrants actionable insights.
Registration is free, please sign up below
Should you wish to join one of our expert panels, please contact Paul Dowling.
Please join us for any or all of the following:
Vessel optimisation: a digitalised approach to CII compliance

Date: Monday 24 May - Time: 09:00-09:45 BST
IMO's Carbon Intensity Indicator (CII) is a new measure based on an operational approach that supports IMO's objective of reducing the carbon intensity of international shipping. The CII is expected to come into force on 1 January 2023, but careful planning, understanding and action is required now to achieve a minimum acceptable CII rating.
Join us as we cover
Understanding the CII metric and CII ratings

Advantages of a partially laden vessel
The effect on charter rates
Vessel-specific challenges
Performance monitoring and analysis
What can be done now
Panellists include:
Grzegorz Zboś, Fleet Performance Manager, Dorian LPG
Henning Rebnord, Senior Fuel Performance Specialist, G2 Ocean
Sebastian Ebbing, Technical Advisor, VDR - Verband Deutscher Reeder


---
Vessel optimisation: route planning that optimises scheduling and profitability

Date: Tuesday 25 May - Time: 09:00-09:45 BST
Achieving a cost-effective, fleet-wide management programme is a complex interplay between technical, operational, commercial and regulatory factors. This webinar will reveal how operators of different vessel types and scale can balance these considerations and unlock significant fuel and energy savings.
Join us as we cover
How weather routing can reduce fuel consumption, emissions and the risk of cargo loss
The emergence of vessel motion forecasting
Stowage planning using artificial intelligence
Reducing crew work hours and the risk of human error with automated routeing
Bridging the gap between voyage calculation, monitoring and analysis
Panellists include:
Ossi Mettälä, Senior Customer Success Manager, Shipping Solutions, NAPA Group

Risto Kariranta, Ship Performance Manager, Neste
Jacob Snoer Iversen, Business Development Lead, Fleet Optimisation, Wärtsilä Voyage

Sponsored by:


---
Vessel optimisation: how AIS optimises
decision making

Date: Wednesday 26 May - Time: 09:00-09:45 BST
Automatic Identification Systems (AIS) support sharper decision making and a competitive edge, especially when it comes to understanding and predicting trade flows, managing and monitoring emissions and optimising vessel performance. New applications are fast emerging that will drive transparent vessel operations and reporting.
.
Join us as we cover
The environmental value of persistent real-time monitoring
The importance of situational awareness in just-in-time arrival concepts
Cargo tracking and monitoring
Tapping into shipping's vast under-explored data resources
Long-range wireless radio frequency technology
Lessons learned from the Suez Canal blockage
Panellists include:
Dr. Mikael Lind, Adjunct professor in Maritime Informatics, Chalmers University of Technology and Senior Strategic Research Advisor, Research Institutes of Sweden (RISE)
Kevin Moyer, Director of Strategy, HawkEye 360
Jouni Salo, Business Development and Ecosystems, Unikie
Peter Mabson, President, CEO and Director, exactEarth


Sponsored by:
---
Vessel optimisation: IoT and remote
classification and surveying

Date: Thursday 27 May - Time: 09:00-09:45 BST
The pandemic has seen the range of classification and surveys being carried out remotely multiplying with several thousand completed and new applications being rapidly identified and deployed. Initial industry scepticism around the extent a surveyor can truly observe via a laptop or tablet has given way to a broad acceptance whether a three-month tail shaft survey extension, lay-up survey or ISPS audit. Flag administrations have begun approving the use of remote technology for inspections providing more evidence that remote surveys have entered the maritime mainstream.
.
Join us as we cover
Lessons learned from remote inspections during COVID

The importance of ship connectivity and bridge systems
Drills and machinery tests
Assessing the human aspects of the vessel
Are drones the future?
Panellists include:
So Kah Meng, Senior Manager, Fleet Operations, PSA Marine
Kris Vedat, Head of IT, P&O Maritime Logistics

Vincent Joly, Digital Solution Manager, Bureau Veritas
Sponsored by:
---
Paul Dowling - Brand Manager
paul.dowling@rivieramm.com

Add to Calendar
Webinar details:
A confirmation email will be sent after registration. A reminder will be sent with your access details no later than 72 hours before the events date and a further reminder will be sent one hour before the webinar is due to begin.
During the webinar the identity of the attendees is confidential

All attendees join the webinar with their microphone off

We encourage questions to be sent during the webinar. The moderator will raise these to the expert presenters

A recording of the webinar will be accessible at www.rivieramm.com/webinar-library following the live event taking place.