Marine Propulsion Webinar Week

26 July 2021 - 29 July 2021

09:00 - 14:45

BST - ONLINE
---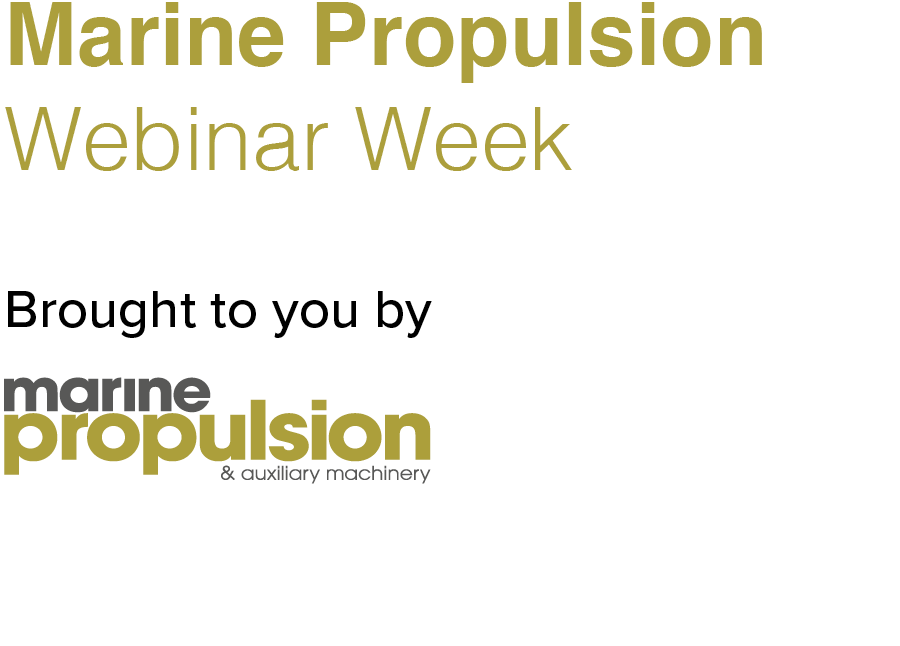 ---
Be sure to join us for

Marine Propulsion Webinar Week

The engineroom. Remote maintenance. Frequency converters. Noise and vibration.
Beginning Monday 26 July, Riviera will be holding a series of webinars focussed on on engineroom design and safety, remote maintenance, frequency converters and noise and vibration. Each webinar is meticulously researched and speaks to a key industry challenge, headache or opportunity.

Our webinars are designed to strike the right balance between transmission of key information and interaction with the expert panel assembled. Those who register will also receive copies of webinar materials post event.

Our discussions are focused, cover the advertised subjects, and deliver registrants actionable insights.


Registration is free, please sign up below
To guarantee a position on one of the webinar panels, as a premium partner or sponsored presenter and panellist, please contact Tom Kenny. A number of positions are made available throughout our webinar weeks for our commercial partners on a first come, first served basis.
Please join us for any or all of the following:
Engineroom design, crew training and fire safety

Date: Monday 26 July - Time: 09:00-09:45 BST

Register free
Haphazard engineroom design and gaps in crew training are at the root of most engineroom fires. This webinar will detail how the risks can be well managed through the right approach to design and training, safeguarding life and avoiding insurance claims that typically cost six times as much as standard hull and machinery claims.
Join us as we discuss
Engineroom design, including the impact of using alternative fuels
Fire-fighting systems and equipment
Ventilation and air control
Crew training and awareness
Proper engine maintenance and sources of ignition
Panellists include:
Dr. Reza Akbari Alashti, Training Manager, Columbia Ship Management
Peter Stålberg, Senior Technical Advisor, The Swedish Club
Remote maintenance - condition monitoring
in COVID times

Date: Tuesday 27 July - Time: 14:00-14:45 BST

Register free
With COVID guidelines limiting shipboard access, remote condition monitoring is being deployed to diagnose potential engine and propulsion health issues, increase operational efficiency and maximise uptime. The fact that Flag administrations have begun approving the use of remote technology for inspections underscores the extent to which remote monitoring and maintenance has entered the maritime mainstream.
Join us as we discuss
How condition monitoring works now
- Monitor level 1 data until it pierces a threshold
- Use level 2 data to determine root cause
How condition monitoring worked before COVID
Remote monitoring, online and offline
Panellists include:
Tony Planamento, Technical Projects, AME Solutions
Gavin Coull, Service Sales Manager, SKF


---
The case for frequency converters and motors

Date: Wednesday 28 July - Time: 09:00-09:45 BST
Today's electric drive systems use converters to adapt the voltage and frequency of the power supply to achieve the desired speed of the electric motor. This webinar will examine the benefits of using frequency converters paired with power management systems in battery and diesel hybrid applications.
Join us as we discuss
Diesel-electric hybrid system configurations
Vessel applications
Performance and fuel consumption expectations
Advantages of pairing batteries with electric motors
Panellists include:
Dr Hinrich Mohr, Owner, GasKraft Engineering
Jonas Nyberg, Managing Director - West Hemisphere, Berg Propulsion

Sponsored by:


Noise and vibration: the link between environmental legislation and torsional vibration

Date: Thursday 29 July - Time: 14:00-14:45 BST

Register free
More ships are being built with highly efficient power trains to comply with stricter emissions regulations and to further improve fuel consumption. This can lead to torsional vibration issues across the powertrain. Join us as we discuss noise and vibration applications including vibration analysis (VA) and motion amplification.
Join us as we discuss
Defining VA and how it works
Motion amplification
Effects of raw vibration
Mechanical issues: balancing and alignment
Panellists include:
Rich Merhige, Regional Manager, AME Solutions
Christof Sigle, Director, Gesilco® & Acoustics


Sponsored by:
---
Tom Kenny - Project Lead
tom.kenny@rivieramm.com

Add to Calendar
Webinar details:
A confirmation email will be sent after registration. A reminder will be sent with your access details no later than 72 hours before the events date and a further reminder will be sent 1 hour before the webinar is due to begin.
During the webinar the identity of the attendees is confidential

All attendees join the webinar with their microphone off

We encourage questions to be sent during the webinar, the Moderator will raise these to the expert presenters

A recording of the Webinar will be accessible at www.rivieramm.com/webinar-library following the live event taking place.