Maritime Communications Webinar Week

20 July 2020 - 24 July 2020

09:00 - 14:45

Online
---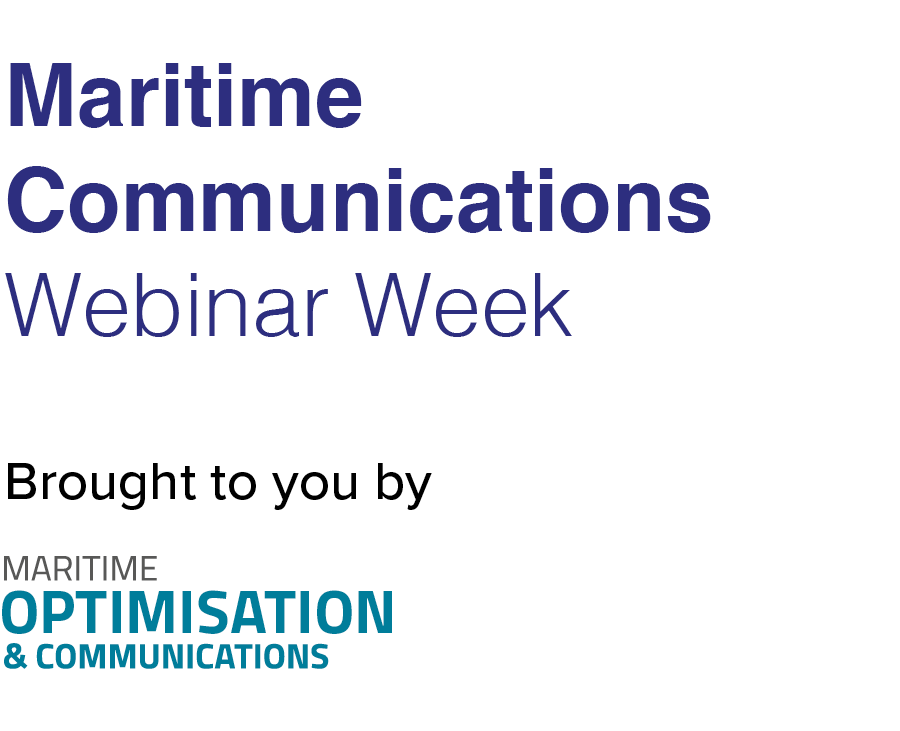 ---
Be sure to join us for

Maritime Communications Webinar Week
Beginning Monday 20 July, we will be holding a series of daily webinars, meticulously researched and organised to address maritime communications with the maritime professionals you want to hear from. The webinars are designed to strike the right balance between transmission of key information and interaction with the expert panel assembled.
Our discussions are focused, cover the advertised subjects, and deliver registrants actionable insights.
Should you wish to join one of our expert panels please contact Paul Dowling.
Please join us for any or all of the following:
The future of offshore vessel connectivity is here

Date: Monday 20 July - Time: 09:00-09:45 BST
Real-time, shore-based video support offers OSV operators the potential to do more with less and meet charterer connectivity requirements. This webinar will critically assess the options available and where the true productivity, operational and economic gains lie
Join us as we cover
How, why and when energy companies are calling for greater connectivity

Multi-band and multi-constellation connectivity

Hardware and VSAT considerations

Overcoming barriers to adoption: technical, operational, commercial

Crew welfare or crew retention or a combination of the two?
Panellists:
Mark Warner, Marketing & PR Director, Maritime, Inmarsat
Kris Vedat, Head of IT, P&O Maritime Logistics
---
What every operator needs to know about the future of safety communications

Date: Wednesday 22 July - Time: 09:00-09:45 BST

Watch now
Industry has entered into a new era now that The Global Maritime Distress and Safety System (GMDSS) is open to the market. This webinar will give guidance on the options available to operators and the future direction of emergency and distress messaging and communications.
Join us as we cover
IMO and the modernisation of safety communications
New safety services for shipping and seafarer benefit
LEO, MEO and GEO satellites for emergency communications
Hardware and safety communications
Flag and Class perspectives
Future satellite developments for maritime safety communications
Panellists:
Aidan Jennings, Technical Officer, International Maritime Organization
Kyle Hurst, Director Maritime Safety and Security Services, Iridium

---
5G's impact on maritime operations

Date: Thursday 23 July - Time: 09:00-09:45 BST
The 5G revolution is underway: 2G and 3G services will be switched off and 4G/LTE and 5G networks will carry greater volumes of voice, video, internet and data traffic. Our webinar will assess the extent 5G can and will transfer for the maritime industry and where vessel operators can integrate the benefits.
Join us as we cover
The extent to which 5G connectivity will transform maritime
Port and coastal coverage. Where and when
Satellite's role in enabling 5G
5G and the offshore sector
The future role of 4G/LTE
How ships will integrate 5G/LTE into future communications
Panellists:
Paul Jarkiewicz, Operations Director, P&O Maritime Logistics
Andrew Faiola, Head of Mobility, ST Engineering iDirect
Gerrit Jan Konijnenberg, Strategic Development, Vodafone Roaming Services
Sponsored by:

---
Paul Dowling - Brand Manager
paul.dowling@rivieramm.com

Add to Calendar
Webinar details:
A confirmation email will be sent after registration. A reminder will be sent with your access details no later than 72 hours before the events date and a further reminder will be sent 1 hour before the webinar is due to begin.
During the webinar the identity of the attendees is confidential

All attendees join the webinar with their microphone off

We encourage questions to be sent during the webinar, the Moderator will raise these to the expert presenters

A recording of the Webinar will be accessible at www.rivieramm.com/webinar-library following the live event taking place.