Maritime Communications Webinar Week

02 June 2021 - 03 June 2021

11:00 - 11:45

BST - ONLINE
---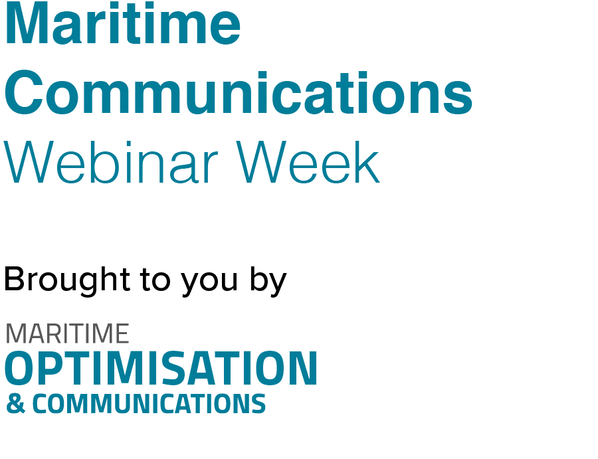 ---

Be sure to join us for Maritime Communications Webinar Week
In early June, we will hold a series of webinars, meticulously researched and organised to address maritime communications with the maritime professionals you want to hear from. The webinars are designed to strike the right balance between transmission of key information and interaction with the expert panel assembled.
Our discussion will be focused, cover the advertised subjects, and deliver registrants actionable insights.
Registration is free, please sign up below
For further information please contact Paul Dowling.
The future of maritime safety: an exclusive Inmarsat report and discussion

Date: Wednesday 2 June Time: 11:00-11:45 BST

WATCH NOW

Join this Riviera Maritime Media webinar for exclusive insights into The Future of Maritime Safety report, accompanied by a presentation and discussion with Inmarsat's senior vice president responsible for safety and security services, Peter Broadhurst.
Mr Broadhurst will share the exclusive findings of a three-year study of vessel GMDSS distress alert data. He will link this data with a bold vision for GMDSS where algorithms and Artificial Intelligence anticipate and trigger early warning of distress for enhanced protecting of crew on Solas and non-Solas vessels.
The study is part of a new safety research report The Future of Maritime Safety. The Future of Maritime Safety also carries industry opinion from IMO, ICS, BIMCO, InterManager and UK P&I Club. A common thread is how greater industry collaboration and the use of new technologies will proactively safeguard life at sea and monitor and prevent future incidents.
Join us as we discuss
Exclusive insights from Inmarsat's upcoming safety report and discussion on proactive safety?
Lessons learnt studying vessel GMDSS distress alert data between 2018-2020
Conclusions drawn from the 830 distress calls logged in 2020
Why tankers and fishing vessels have the highest recorded number of calls
Which flag state records the highest numbers of distress calls

---
Iridium GMDSS: giving safety a voice

Date: Thursday 3 June Time: 11:00-11:45 BST

WATCH NOW
Iridium GMDSS enhances safety at sea by offering more capability, unprecedented coverage and cost-effective packages for vessels of all sizes. Currently, there are both SOLAS and non-SOLAS vessels around the world that are installing and using Iridium GMDSS. Learn more about the distinct advantages that the service can provide to you and your crew.
Join us as we discuss
How Iridium's unique satellite network provides safety services to the entire planet

How Iridium GMDSS brings a modern, highly capable, and cost-effective option to the table

How Iridium GMDSS uniquely provides automated high-quality distress voice service


The capabilities of Iridium SafetyCastSM, which delivers important navigational and meteorological

information to vessels with Iridium onboard


How the inaugural Iridium Connected GMDSS terminal from Lars Thrane supplies three satellite GMDSS

services through a single, small-form-factor maritime terminal at a cost-effective price, allowing more

vessels to access these life-saving services


How flag states are increasingly allowing Iridium GMDSS to be used in Sea Area A4, replacing existing

requirements for extra equipment


Examples of fleets successfully adopting Iridium GMDSS
Panellists:
Kyle Hurst, Director of Maritime Safety & Security Services, Iridium
Wouter Deknopper, Vice President & General Manager, Maritime, Iridium

Thomas Flinth, Sales Manager, Lars Thrane
---
Paul Dowling - Project Lead
paul.dowling@rivieramm.com
Webinar details:
A confirmation email will be sent after registration. A reminder will be sent with your access details 24 hours before the event's date and a further reminder will be sent 1 hour before the webinar is due to begin.
During the webinar the identity of the attendees is confidential

All attendees join the webinar with their microphone off

We encourage questions to be sent during the webinar, the Moderator will raise these to the expert presenters

A recording of the Webinar will be accessible at www.rivieramm.com/webinar-library following the live event taking place.