Offshore Energy Webinar Week

14 June 2021 - 17 June 2021

09:00 - 14:45

BST - ONLINE
---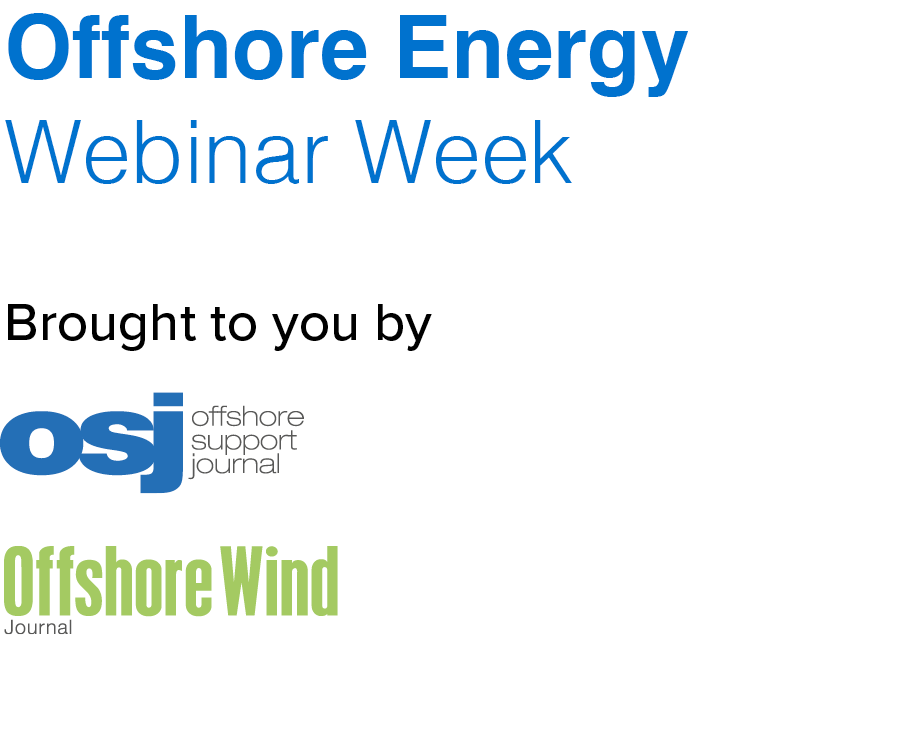 ---
Be sure to join us for Offshore Energy Webinar Week




Beginning Monday 14 June, we will be holding a series of daily webinars, each meticulously researched and focused on different facets of offshore energy. The webinars are designed to strike the right balance between transmission of key information and interaction with the expert panel assembled.
Our discussions are focused, cover the advertised subjects, and deliver registrants actionable insights.
Registration is free, please sign up below
Should you wish to join one of our expert panels please contact Ian Glen or Bill Cochrane
Please join us for any or all of the following:
The US offshore wind boom: opportunities for vessel owners, designers and suppliers

Date: Monday 14 June - Time: 15:00-15:45 BST

America's long-awaited offshore wind boom means upwards of 30 GW of offshore wind capacity could be installed by 2030, far more than front-runners such as the UK have installed to-date. Installing that kind of capacity will create around 80,000 jobs and demand for vessels and services of all types.
Join us as we cover
The vessels needed to serve the US

offshore

wind market

Where those vessels will be built

How the US market's vessel requirements differ from Europe's

How to enter the US market
Panellists include:
Nick Wessels, Marketing and Sales Manager, Ulstein Design & Solutions
Mark D. Mitchell, Senior Vice President - Project Construction, Dominion Energy
Erik Milito, President, National Ocean Industries Association (NOIA)
Liz Burdock, President & CEO, The Business Network for Offshore Wind
Sergio Garcia, Head of Communications for Maritime Americas, DNV
In association with
Sponsored by:
---
Data-driven and objective-based independent testing for DP vessels

Date: Tuesday 15 June - Time: 15:00-15:45 BST

Change is rife in the dynamic positioning market, and among the biggest changes is the emerging use of remote DP trials. The practice has increased during the course of the Covid-19 pandemic, but questions linger over whether remote trials are fit-for-purpose. While independent validation could make trials more robust, there remains an urgent need for development of methods to ensure objective, independent testing. We examine potential solutions and seek to understand how quickly the industry can evolve.
Join us as we discuss
Objective-based testing and customer acceptance: what is the aim?

What makes a great test programme

Presenting data-driven evidence for customer acceptance

Enabling remote trials: how industry can move forward
Panellists include:
Mat Bateman, Senior Partner/Marine Consultant, Keelson Marine Assurance
Mark Craig, President, OneStep Power Solutions
Suman Muddusetti, Projects and Technology - Principal Marine Operations Engineer, Shell International Exploration and Production
Dag Leo Emblemsvåg, Business Lead Dynamic Position Services, Global Maritime


In association with:

Sponsored by:
---
Seizing opportunities in Asia's fast-growing
offshore wind industry

Date: Wednesday 16 June - Time: 09:00-09:45 BST

By 2030, Asia is set to become one of the world's largest offshore wind markets and one of the most prospective for suppliers. Taiwan has a target of 5.7 GW of offshore wind installed capacity by 2025. Japan is aiming for 10 GW by 2030. South Korea is planning an 8-GW offshore windfarm at a cost of US$36Bn.
Join us as we discuss
The opportunities
Joint ventures and routes to market
Prospects for owners, designers and equipment manufacturers
How to integrate into regional supply chains
Panellists include:
Tom Whittle, APAC Director, OWC, an AqualisBraemar LOC company
Ramesh Namasivayam, Commercial Manager Australia, Malaysia and Taiwan, Ampelmann
Tom Manning, General Manager and Director, CWind Taiwan
Ferenc Pasztor, Senior Offshore Analyst, Maritime Strategies International

| | |
| --- | --- |
| In association with: | Sponsored by: |
| | |
| | |
---
Exploring current and future vessel designs
in the offshore sector

Date: Thursday 17 June - Time: 14:00-14:45 BST

Offshore vessel designs are undergoing a period of transition. Driven by the need to decarbonise and make offshore oil and gas operations greener, existing OSV designs are being updated or adapted for new roles. On the offshore sector's renewables side, offshore wind ships are leading the rest of the sector with the adoption of new fuels, new forms of power and propulsion and designs that have potential to become 'zero emissions' ships.
Join us as we discuss
Changes in the offshore wind vessel market
Updating vessels for the offshore oil and gas market
Conversions and refits: extending vessel lifetime and securing new opportunities
Optimisation, emissions reduction and fuel choices
Panellists include:
Wijtze van der Leij, Sales Manager, OSD-IMT Ship Design & Marine Consultancy
Trygve Espeland, Naval Architect and Co-Founder, ESNA
Catherine MacFarlane, ConstructionVesselBase Manager, IHS Markit
Stefan Lettink, Market Director Offshore Renewables, Royal IHC


| | | |
| --- | --- | --- |
| In association with: | Sponsored by: | |
| | | |
| | | |
---
Ian Glen - Project Lead
ian.glen@rivieramm.com
Webinar details:
A confirmation email will be sent after registration. A reminder will be sent with your access details no later than 72 hours before the events date and a further reminder will be sent 1 hour before the webinar is due to begin.
During the webinar the identity of the attendees is confidential

All attendees join the webinar with their microphone off

We encourage questions to be sent during the webinar, the Moderator will raise these to the expert presenters

A recording of the Webinar will be accessible at www.rivieramm.com/webinar-library following the live event taking place.