LNG Shipping & Terminals Webinar Week

03 August 2021 - 05 August 2021

09:00 - 09:45

BST - ONLINE
---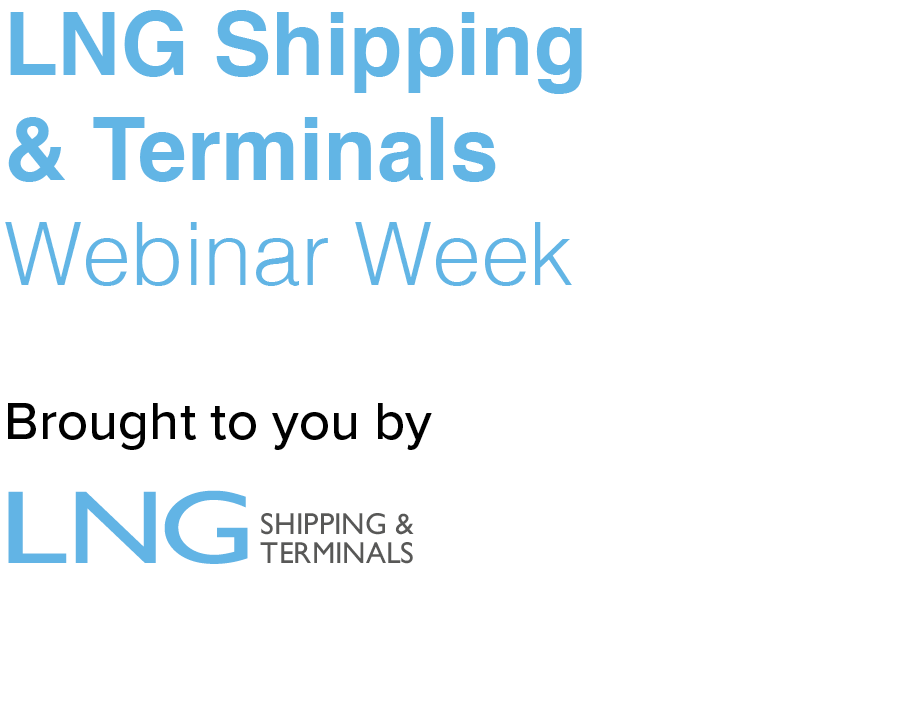 ---

Be sure to join us for LNG Shipping & Terminals Webinar Week

FSRUs. Loading Arms & Hoses. Bunker Safety.


Beginning Tuesday, 3 August, we will be holding a series of daily webinars focussed on FSRUs, marine loading arms and hoses and LNG bunker vessels. Each is meticulously researched and speaks to a key industry challenge, headache or opportunity. The webinars are designed to strike the right balance between transmission of key information and interaction with the expert panel assembled. Those who register will also receive copies of webinar materials post event.


Our discussions are focused, cover the advertised subjects, and deliver registrants actionable insights.


Registration is free, please sign up below.


To guarantee a position on one of the webinar panels, as either a premium partner or sponsored presenter and panellist, please contact Ian Pow. A number of positions are made available throughout our webinar weeks for our commercial partners on a first come, first served basis.
Please join us for any or all of the following:
FSRUs: the interesting, the innovative, the avoidable

Date: Tuesday 3 August - Time: 09:00-09:45 BST

Floating storage and regasification units (FSRUs) have underpinned the global expansion of LNG, allowing countries to import clean energy quickly, flexibly and cost-effectively. This webinar will examine recent innovations in FSRU design and technology, including lessons learned from challenging projects.


Join us as we discuss
Build new or convert?
Integrating with onshore infrastructure
Gas-to-power applications
Double-banking: FSRU-Ship-Shore
Jetty and mooring arrangements
Regasification technology
Panellists include:
Andrew Brown, LNG Business & Project Director, Smit Lamnalco
---
New twists on marine loading arms and hoses




Date: Wednesday 4 August - Time: 09:00-09:45 BST

Technical and operational developments over the last decade in marine loading arms and flexible hoses have improved the loading/unloading of LNG and other cryogenic liquefied fuels. This webinar will provide a practical overview of design, operation and safety issues for shipboard and portside applications.


Join us as we discuss
OCIMF/SIGTTO guidance and safety considerations

Technical advances in loading arms & hose technology

Applications in LNG loading/discharge, bunkering, small-scale transfer
Panellists include:
Ricardo Martinez, Engineering Advisor, OCIMF


---
LNG bunker vessels: designing for safety

Date: Thursday 5 August - Time: 09:00-09:45 BST
Within a decade, the LNG bunkering fleet will more than triple in size, underpinning the strong uptake in LNG as a fuel. To maintain its enviable safety record, the LNG bunkering industry needs to continue to refine practices, strengthen regulations and improve efficiencies. This webinar will look at practical experience and lessons learned, examining existing standards and regulations for LNG bunkering.
Join us as we discuss
Overview of current LNG bunker vessel designs

Digitalisation: the 'smart' bunker vessel

Experience with STS and different types of vessels

Bunkering safety standards

Independent or membrane tanks
Panellists include:
Saunak Rai, General Manager / Head, FueLNG


---
Ian Pow - Project Lead
ian.pow@rivieramm.com

Add to Calendar
Webinar details:
A confirmation email will be sent after registration. A reminder will be sent with your access details no later than 72 hours before the event's date, and a further reminder will be sent 1 hour before the webinar is due to begin.
During the webinar, the identity of attendees is confidential

All attendees join the webinar with their microphone off

We encourage questions during the webinar; the moderator will raise questions to the expert presenters

A recording of the webinar will be accessible at www.rivieramm.com/webinar-library after the event has taken place.