Marine Coatings Webinar Week

14 September 2021 - 15 September 2021

09:00 - 15:15

BST - ONLINE
---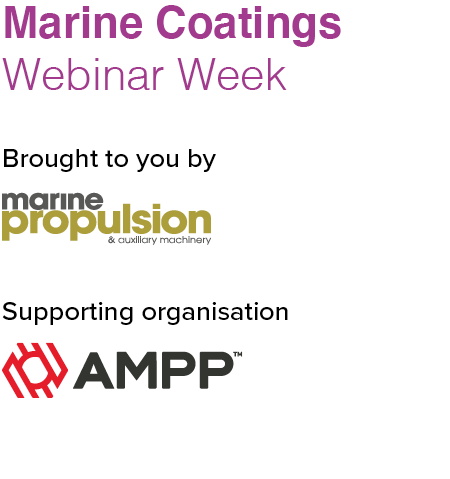 ---
Be sure to join us for Marine Coatings Webinar Week

Hull coatings. Surface preparation. Vessel biofouling.

Beginning Tuesday 14 September, we will be holding a series of daily webinars focused on hull coatings, surface preparation and managing vessel biofouling during layup, idling or at slower speeds. Each webinar is meticulously researched and speaks to a key industry challenge, headache or opportunity. The webinars are designed to strike the right balance between transmission of key information and interaction with the expert panel assembled. Those who register will also receive copies of webinar materials post event.

Our discussions are focused, cover the advertised subjects, and deliver registrants actionable insights.

Registration is free, please sign up below.

To guarantee a position on one of the webinar panels, as either a premium partner or sponsored presenter and panellist, please speak with Tom Kenny A number of positions are made available throughout our webinar weeks for our commercial partners on a first come, first served basis.
Please join us for any or all of the following:
Hull coatings, fuel savings and CO2 emissions reduction

Date: Tuesday 14 September - Time: 09:00-09:45 BST
This webinar explores the link between advanced hull coatings, fuel savings and CO2 emissions reduction for vessels of different types, trading patterns and operating speeds over the lifetime of the vessel.
Join us as we discuss
Data analysis and monitoring
Hull and propeller performance
Vessel-specific challenges
CII compliance
Fuel savings
Capital investment. Return on investment
Panellists include:
Ashok Srinivasan, Manager, Maritime Safety & Security, BIMCO
Steve Riley, Technical Sales Manager EMEA, PPG PMC
Davide Ippolito,Head of Marine Group Product Management, Hempel

---
Surface preparation under the microscope

Date: Wednesday 15 September - Time: 10:30-11:15 BST
Most coatings failures can be attributed to poor preparation. This webinar sets out what needs to be considered when selecting surface preparation methods and materials, current practice and future requirements.
Join us as we discuss
Surface preparation standards
Climate control systems
Substrate composition
Abrasive cleaning techniques
Cargo tanks and ballast tanks
Scheduling, in-service considerations and repair
Panellists include:
D. Terry Greenfield, Principal Consultant, CONSULEX and Past Chairman AMPP (Formerly NACE International) 2020-2022

Krassi Nikolov, General Manager,Tech Services, Safinah Group

---
Managing biofouling during layup, idling or at slower speeds

Date: Wednesday 15 September - Time: 14:30-15:15 BST
This webinar sets out how operators can proactively manage vessel biofouling when laid up, at anchorage or transiting different waters at different speeds. A passive approach risks ever increasing financial, operational and environmental penalties.
Join us as we discuss
Today's context: COVID-19, layup, idling and port congestion

Rising seawater temperatures, reducing vessel speeds

The biocide regulatory challenge

Operational strategies

Ultrasonic anti-fouling systems

Ship-specific functional specifications

Anti-fouling robotics

Panellists include:
Carl Barnes, General Manager Marine Consulting, Safinah Group
Carsten Baehr, Associate Director, Regulatory Affairs, Lonza Solutions

---
Tom Kenny
tom.kenny@rivieramm.com

Add to Calendar
Webinar details:
A confirmation email will be sent after registration. A reminder will be sent with your access details no later than 72 hours before the events date and a further reminder will be sent 1 hour before the webinar is due to begin.
During the webinar the identity of the attendees is confidential

All attendees join the webinar with their microphone off

We encourage questions to be sent during the webinar, the Moderator will raise these to the expert presenters

A recording of the Webinar will be accessible at www.rivieramm.com/webinar-library following the live event taking place.