Asia Maritime & Offshore Webinar Week

12 April 2021 - 16 April 2021

15:00 - 15:45

SGT
---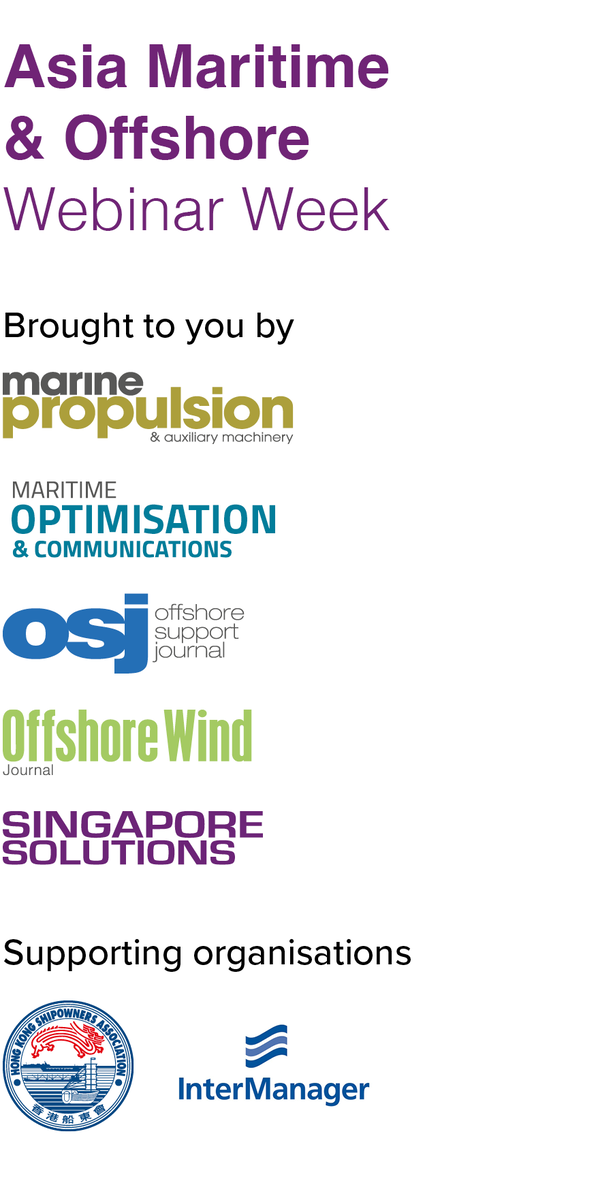 ---
Asia Maritime & Offshore Webinar Week, be sure to join us
Beginning 12 April, we will be holding a series of daily webinars focussed on the Asia maritime and offshore markets. Each is meticulously researched and speaks to a key maritime and/or offshore challenge, headache or opportunity. The webinars are designed to strike the right balance between transmission of key information and interaction with the expert panel assembled. Those who register will also receive copies of webinar materials post event.
Our discussions are focused, cover the advertised subjects, and deliver registrants actionable insights.
Registration is free, please sign up below.
To guarantee a position on one of the webinar panels, as either a premium partner or sponsored presenter and panellist, please speak with Kym Tan. A number of positions are made available throughout our webinar weeks for our commercial partners on a first come, first served basis.
Please join us for any or all of the following:
How digital technologies are driving smart shipping in Asia

Date: Monday 12 April Time: 15:00-15:45 SGT | 08:00-08:45 BST
Big data is transforming the maritime and offshore industries throughout Asia. But the data by itself is not enough. Unlocking the potential requires an ability to analyse, understand and apply the data. This webinar will take a case study approach to assessing Asia's progress towards smart shipping from three standpoints: what's working, what's needed and what's next.
Join us as we discuss
Asia's engagement in smart shipping
Current thinking and industry guidance
Case study: quality data for marine and offshore applications
Case study: lessons learned from modelling and simulations
Case study: data-driven insights that reduce other non-propulsion maintenance and upkeep costs
Managing the risks: ownership, cyber security, skills shortages, siloed working
Panellists:
Brandon Yeo, Sales Manager, Aquametro Oil & Marine
Daniel Ng, CEO, CyberOwl
Alberto Perez, Director, Strategy & Business Development, Inmarsat

---
Green fuels, green engines, the role of LPG and of hydrogen fuel cells: what's right for Asia?

Date: Tuesday 13 April Time: 15:00-15:45 SGT | 08:00-08:45 BST
Asia shares the world's commitment to zero emissions – but what's right in one part of the world does not necessarily work in another. This webinar will take a case study approach to assessing Asia's green marine fuel pathway from three standpoints: what's working, what's needed and what's next. This will include an assessment of the role and appetite for LPG as a marine fuel, as well as hydrogen fuel cells.
Join us as we cover
Asia's green maritime pathway
Green fuelling and green power and propulsion options in Asia
LPG as a marine fuel: benefits, investment, availability, storage and safety
The alternative bunker fuel for the decades ahead
Fuel cell solutions: market potential assessed
The infrastructure requirements
Renewable hydrogen hubs
Panellists:
Rajat Saxena, Manager - Performance & Efficiency, BW Epic Kosan
Chris Chatterton, Chief Operating Officer, Methanol Institute
Bernard Wong, Head of Fleet Management, PSA Marine
Nikos Xydas, Technical Director, WLPGA (World LPG Association)
Supported by:
---
Ammonia as a marine fuel in Asia

Date: Wednesday 14 April Time: 15:00-15:45 SGT | 08:00-08:45 BST

Demand and interest in ammonia as a marine fuel in Asia is rising. ABS, Nanyang Technological University Singapore, and the Ammonia Safety and Training Institute are jointly assessing Singapore's potential to become a leading ammonia bunkering hub. Other project partners include ExxonMobil, Hoegh LNG, MAN Energy Solutions Singapore, Jurong Port, PSA Singapore and ITOCHU Group. Japanese interests also feature prominently in this wave of interest and include among others, NYK and Japan Engine Corporation while Japan's Ministry of Economy, Trade and Industry wants renewable ammonia to represent 30M tonnes of the country's annual fuel mix by 2050. Meanwhile China's New Times Shipbuilding Co is building the world's first ammonia-ready Suezmax tanker for a European owner.
Join us as we discuss
Asia's appetite for ammonia as a marine fuel
Singapore: a world-leading bunkering port for ammonia?
Case study: the world's first ammonia-ready tanker
The wave of Japanese interest in ammonia
Panellists:
Jesse Fahnestock, Project Director, Global Maritime Forum
Takeo Akamatsu, Project Leader, Integrated Project for development of NH3 fuel ship with fuel supply chain, Marine Department, ITOCHU Corporation
Tsutomu Yokoyama, Senior General Manager, Green Business Group, NYK Line


---
Offshore wind in Taiwan: challenges and opportunities

Date: Thursday 15 April Time: 15:00-15:45 SGT | 08:00-08:45 BST
Offshore wind in Taiwan is one of Asia's most exciting offshore wind opportunities and has drawn global interest and investment. There are a growing number of large-scale offshore wind projects including Greater Changhua 1 & 2a; Changfang and Xidao offshore windfarm; Taipower Phase 1 Demonstration Project; Formosa 2; Formosa 3; Yunlin windfarm; and Hai Long offshore windfarm.

Projects in Taiwan have the support of the government, which would like to establish a thriving industry that can also serve the entire Asia-Pacific region. At the same time there are significant challenges: these include the need to establish a supply chain in the country, and the government's desire to reduce feed-in tariffs. Local content requirements are also seen as a challenge to progress, competition and keeping down costs.
Join us as we discuss
The Taiwanese vessel market: opportunities for international players and vessel owners and builders in Taiwan
Vessel requirements for the Taiwanese market
Vessel designs for the Taiwanese market
Taiwan's upcoming Round 3 and its implications
Localisation: an international issue
Panellists:
Dr. Ferenc Pasztor, Senior Offshore Analyst, Maritime Strategies International
Jay Ko, Vice President, MOL (Taiwan) Co
Wijnand van Aalst, CEO, Safeway BV
Sponsored by:
---
Asia-based shipmanagers' leadership dialogue: crew welfare and crew change

Date: Friday 16 April Time: 15:00-15:45 SGT | 08:00-08:45 BST
This webinar is built around two distinct but related topics: addressing the complex, costly and critical issues of crew welfare and crew change.

Recent progress does not mask that more action is required to solve the crewing crisis which besets Singapore and the crewing nations in the Asian region. Our leaders will consider how and why the crew change situation got so bad that it was designated a human rights crisis, its economic impact and the toll on shore-based and seagoing personnel. By reassessing the relationship between owners, managers and authorities can common ground and common priorities be found? This webinar will explore how and why empathy can be embedded in company culture and why this is not only the right thing, but a sound business move too.
Join us as we discuss
Why swift crew changes are not happening when contracts conclude
What more can be done by regional governments, shipowners and stakeholders
Stricter government guidelines, local border controls, travel restrictions and bureaucratic processes
The impact on Asia's supply chains
Talent management in the crew change crisis
Crew welfare and leading with empathy
Panellists:
Bjørn Hojgaard, CEO, Anglo-Eastern Univan Group

Mark O'Neil, President, InterManager & President and CEO, Columbia Shipmanagement
John-Kaare Aune, Interim Group CEO / Managing Director Ship Management, Wallem Group

---
Kym Tan - Head of Sales, Asia
kym.tan@rivieramm.com

Add to Calendar
Webinar details:
A confirmation email will be sent after registration. A reminder will be sent with your access details no later than 72 hours before the events date and a further reminder will be sent one hour before the webinar is due to begin.
During the webinar the identity of the attendees is confidential

All attendees join the webinar with their microphone off

We encourage questions to be sent during the webinar. The moderator will raise these to the expert presenters

A recording of the webinar will be accessible at www.rivieramm.com/webinar-library following the live event taking place.