Ballast Water Webinar Week

15 February 2021 - 19 February 2021

09:00 - 09:45

ONLINE
---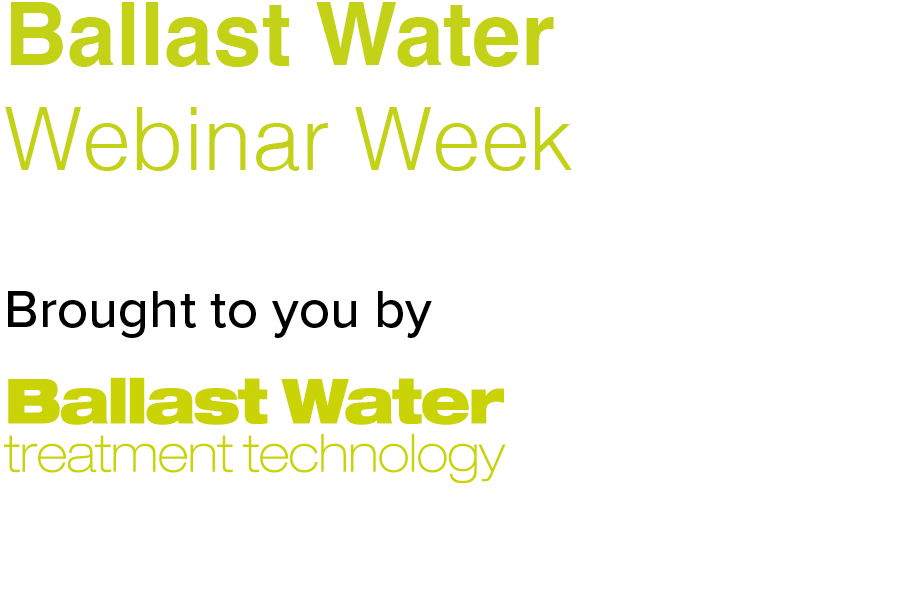 ---
Ballast Water Webinar Week, be sure to join us
Beginning 15 February, we will be holding a series of daily webinars, each meticulously researched and organised in response to a present ballast water-related challenge, headache or opportunity. The webinars are free to attend and are designed to strike the right balance between transmission of key information and interaction with the expert panel assembled.
Should you wish to join one of our expert panels please contact Paul Dowling.
Please join us for any or all of the following:
Our discussions are focused, cover the advertised subjects, and deliver registrants actionable insights.
---
BWMS commissioning testing: making it work in practice

Date: Monday 15 February - Time: 09:00-09:45GMT

November's IMO MEPC 75 addressed the practical constraints industry has faced on BWMS commissioning testing by approving revised guidance on ballast water sampling and analysis. However, confusion surrounds testing versus type approval. And some flag administrations are requiring implementation of testing before the BWM Convention amendments enter into force. Where does this leave the owner/operator?
Join us as we cover:
Explanation of type-approval versus testing

Preventing issues by providing early testing results and analysing failures

Overcoming issues with scheduling and incomplete testing

COVID-19, vessel attendance and disrupted commissioning testing

Flag states' requirements: testing and standards

Identifying and standardising commissioning testing
Panellists:
Michael Haraldsson, Global BDM, CTI-Maritec
Stephen Loiacono, Scientific Program Manager, Golden Bear Research Center
Mark Riggio, Head of Marine, Filtersafe Automatic Screen Filtration
Dr Guillaume Drillet, Regional Manager, SGS

---
What we know about changes to ballast water regulations in US waters

Date: Tuesday 16 February Time: 14:00-14:45 GMT

Watch Now
This webinar will provide vital clarity on US ballast water regulations including: the implications of EPA edits to the Vessel General Permit (VGP) for ballast water discharge; how the USCG regards VIDA and other testing regimes; and the prospect that these and other uncertainties will see ballast water treatment providers retreat from the US market.
Join us as we discuss:
Changes the EPA made to the wording of VGP and how will this impact up to 66,000 vessels transiting US waters
How delays on alternative testing affects ballast water treatment providers using lower-power UV systems
Whether momentum to achieve USCG type-approval has been lost
Scenario planning: How many vessels will have non-compliant systems, expired certification and / or the inability to source spare parts from defunct providers
AMS deadline – should owners retrofit new BWTSs or consider scrapping
Great Lakes – great and ongoing ballast water treatment concerns
Panellists:
Jeanne M. Grasso, Partner, Blank Rome
Jon Stewart, President, International Maritime Technology Consultants, Inc.
Thomas Rayburn, Vice President, Lake Carriers' Association
Jack Faulk, Environmental Protection Specialist/Co-team lead VIDA rulemaking, U.S. Environmental Protection Agency

---
The BWMS market: crystal clear or murky waters?

Date: Wednesday 17 February - Time: 14:00-14:45GMT
COVID-19 has scrambled previous forecasts of industry demand for ballast water retrofit installations. This webinar will provide clarity on yard schedules, vessel deliveries and other key information that will aid owners, yards and the supply chain in making and timing their ballast water retrofit installation programmes.
Join us as we discuss:
The state of the BWMS market

Stress testing present retrofit installation forecasts

How many systems have been type-approved to revised G8 standards

Progress towards greater transparency on data and a central database of IMO revised G8 type approval systems
Panellists:
Tobias Döscher, Head of Sales EMEA PureBallast, Alfa Laval
Debra DiCianna, Senior Compliance Manager, Choice Ballast Solutions
M Abdul Rahim, Corporate Officer, ClassNK (Nippon Kaiji Kyokai)


Sponsored by:


---
Learning from BWMS implementation: where do we go from here?

Date: Thursday 18 February - Time: 09:00-09:45GMT

Compliance monitoring devices and total residual oxidant measurement devices are critical in ensuring BWMSs operate successfully, in practice. This webinar will assess the efficacy of these systems, what's working and what's needed, and how lessons learnt will guide future operational, technical and regulator development.
Join us as we discuss:
CMDs: update on ISO and IMO development of verification protocol

Will the verification protocol lead to CMDs that enjoy market confidence?

Implementation of CMD verification and likely timescales

TROs: with technical challenges reported, is reliability in question and what are crew experiences?

ISO's development of a verification protocol for TRO sensors onboard: what are industry perceptions?
Panellists:
Dimitrios Tsoulos, Sales Manager EMEA, De Nora Marine Technologies
Michael Silveri, President, Halogen Systems, Inc.
Michael Lehmann, Principal Engineer, Environmental Protection, DNV GL

Sponsored by:


---
Resolving key ballast water operational issues for owners and operators

Date: Friday 19 February - Time: 09:00-09:45GMT
Crew training, delays to retrofit installation due to COVID-19, filter clogging and keeping on top of regulatory bureaucracy are just a selection of the ballast water operational issues owners and operators are reporting. This webinar will examine the backlog and propose workable solutions.
Join us as we discuss:
Continuous crew training in the age of COVID-19


Caveat Emptor: accessing data from the IMO's knowledge building phase


The role of class


The P&I clubs perspective. What's dominating the loss prevention departments and what are the remedies


Has the time for shore-based BWTS finally arrived?
Panellists:
William Burroughs, Senior Principal Engineer, ABS
Jad Mouawad, CEO, Mouawad Consulting
Simon Hodgkinson, Global Head of Loss Prevention, West P&I

---
Paul Dowling - Project Lead
paul.dowling@rivieramm.com
Webinar details:
A confirmation email will be sent after registration. A reminder will be sent with your access details no later than 72 hours before the events date and a further reminder will be sent 1 hour before the webinar is due to begin.
During the webinar the identity of the attendees is confidential

All attendees join the webinar with their microphone off

We encourage questions to be sent during the webinar, the Moderator will raise these to the expert presenters

A recording of the Webinar will be accessible at www.rivieramm.com/webinar-library following the live event taking place.