Carbon Capture & Storage Webinar Week

18 May 2021 - 21 May 2021

14:00 - 10:30

BST - ONLINE
---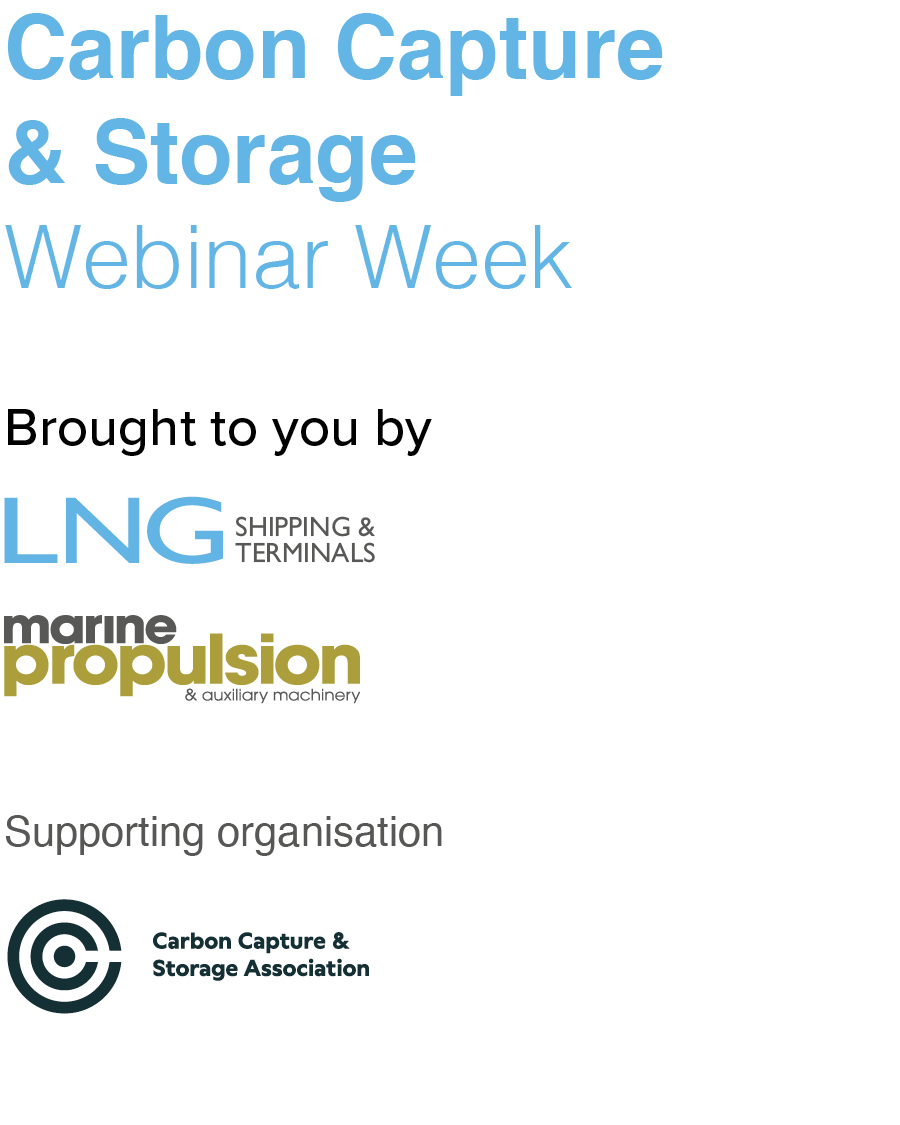 ---
Be sure to join us for Carbon Capture & Storage Webinar Week
Riviera's Carbon Capture & Storage Webinar Week will focus on carbon capture and storage from four perspectives: shipboard use and emissions monitoring; scaling up CO2 infrastructure; maritime clusters; and the powering of future-fuelled fleets. Each 1.5-hour session is tailored to address one of these aspects and will deliver practical insights and meaningful answers on what it will take for the maritime industry to harness the power and the potential of carbon capture and storage in the years ahead.
Registration is free, please sign up by clicking the 'Register now' links below.
To guarantee a position on one of the webinar panels, as either a premium partner or sponsored presenter and panellist, please speak with Ian Pow. A number of positions are made available throughout our webinar weeks for our commercial partners on a first come, first served basis.
Please join us for any or all of the following:
Carbon capture for shipboard use and emissions monitoring

Date: Tuesday 18 May Time: 14:00-15:30 BST
Stena Bulk, Kawasaki Kisen Kaisha's (K Line), Sovcomflot, Knutsen and Ardmore rank among the companies piloting studies into capturing carbon dioxide onboard ships while at sea. In parallel, pilot projects are examining the potential for exhaust gas abatement systems to capture carbon at the point of exhaust.
Join us as we discuss
How shipboard carbon capture works
Design, technical and operational considerations
Funding mechanisms available to support shipboard carbon capture and storage
Lessons learned from industry pilot studies
Shipboard carbon capture and storage: a new role for scrubbers
Panellists:
Kazuki Saiki, Deputy Manager, Strategic Planning & Operation Office, Mitsubishi Shipbuilding
Stian Aakre, CEO, TECO 2030
Jasper Ros, Research Scientist, TNO

Sponsored by:


---
Scaling up CO2 shipping infrastructure

Date: Wednesday 19 May Time: 09:00-10:30 BST
The first moves into liquid CO2 shipping began in the early 2000s. Momentum has continued to build with MOL underlining its confidence in large-scale CO2 shipping with an investment in Larvik Shipping AS, a Norwegian ship management company specialist in liquefied CO2 carriers. Expect the global fleet of liquefied CO2 carriers to grow shaped by lessons learned from LNG and LPG shipping.
Join us as we discuss
Designing a liquefied CO2 carrier
Loading and cargo containment systems
Properties, handling and storage of liquefied CO2
Ship/shore interface challenges
Port and terminal design
Potential trade routes
Current policies and funding supporting development
What can be learnt from LNG and LPG shipping
Panellists:
Christian Fjell, Sustainability Manager, Altera Infrastructure Shuttle & Storage
Frank Wettland, Study Manager, Altera Infrastructure
Tore Lunde, Senior Advisor - Business Development, Höegh LNG
Michael Joos, Senior Consultant, Element Energy
Björn Munko, Head of Business Development & Sales, TGE Marine Gas Engineering


---
The emergence of carbon capture and storage maritime clusters

Date: Wednesday 19 May Time: 14:00-15:30 BST
New maritime clusters will take advantage of carbon capture and storage infrastructure developed for industrial decarbonisation to create entirely new shipping industries.
Join us as we discuss
The status of CO2 shipping maritime clusters globally
Technical challenges
Regulatory hurdles
Different business and operating models
Accessing the necessary external infrastructure for CO2 transport
Matching captured volumes and storage availability
Panellists:
Jannicke Gerner Bjerkås, Director CCS (CO2 Capture and Storage), Fortum Oslo Varme
Jan Boyesen, Senior Manager Green Transition, Maritime & Logistics Innovation Denmark (MARLOG)

Supported by:


---
How carbon capture will power future-fuelled fleets

Date: Friday 21 May Time: 09:00-10:30 BST
Join our panel as we consider how CO2 emissions can be turned into (future) fuels to power a more sustainable shipping future.
Join us as we discuss
The link between CO2 emissions and next generation fuels
Case study: how CO2 emissions can create methanol for use in the shipping industry
Case study: the technical feasibility of advanced carbon capture to power shipping at scale
Case study: the economic feasibility of advanced carbon capture to power shipping at scale
Panellists:
Benedikt Stefánsson, Director of Business Development, Carbon Recycling International
Claes Fredriksson, CEO and Founder, Liquid Wind
Claus Winter Graugaard, Head of Onboard Vessel Solutions, Mærsk Mc-Kinney Møller Center for Zero Carbon Shipping
Matthias Classen, Commercial Manager, Proman Shipping


---
Ian Pow - Brand Manager
ian.pow@rivieramm.com
Webinar details:
A confirmation email will be sent after registration. A reminder will be sent with your access details no later than 72 hours before the events date and a further reminder will be sent 1 hour before the webinar is due to begin.
During the webinar the identity of the attendees is confidential

All attendees join the webinar with their microphone off

We encourage questions to be sent during the webinar, the Moderator will raise these to the expert presenters

A recording of the Webinar will be accessible at www.rivieramm.com/webinar-library following the live event taking place.