Maritime Hybrid, Electric and Fuel Cells Webinar Week

01 June 2020 - 04 June 2020

09:00 - 09:45

ONLINE
---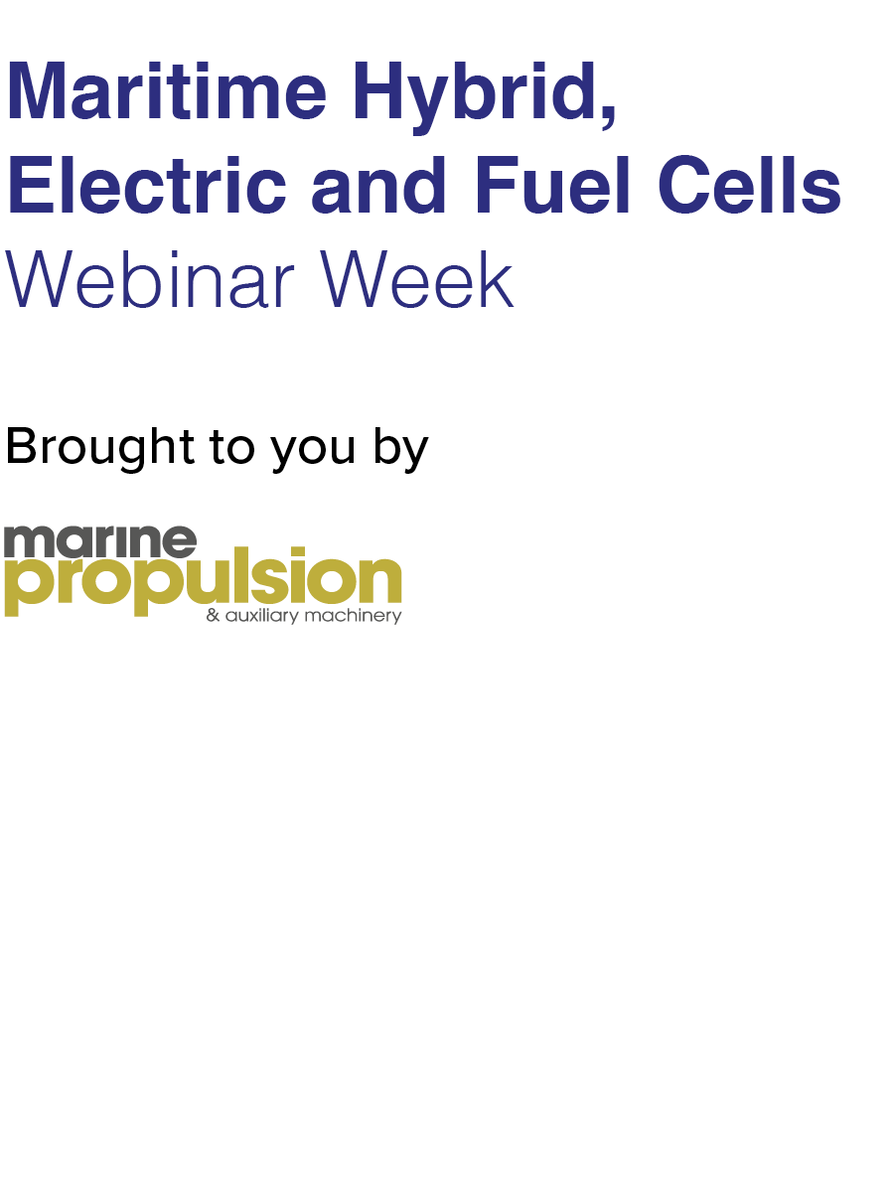 ---
Be sure to join us for Maritime Hybrid, Electric and Fuel Cells Webinar Week
Beginning Monday 1 June, we will be holding a series of daily webinars, each meticulously researched and organised in response to the ever growing need to find compliant, efficient and reliable propulsion solutions. The webinars are designed to strike the right balance between transmission of key information and interaction with the expert panel assembled.
Our discussions are focused, cover the advertised subjects, and deliver registrants actionable insights.
Should you wish to join one of our expert panels please contact Indrit Kruja.
Please join us for any or all of the following:
The all-electric revolution

Date: Monday 1 June - Time: 09:00-09:45 BST
Premier Partner:
We examine the latest innovations in electric maritime propulsion systems and how they can provide significant reductions in fuel consumption, maintenance costs and emissions for vessels. This webinar will address the design, build and operating considerations for all-electric vessels.
Join us as we discuss
Charging considerations and innovations
Creating extra redundancy
Gaining a return on investment
All electric-ready: converting hybrid to full electric
The Green agenda: Implications post COVID-19
Case study: operational challenges and achievements of live, all-electric ferries
Panellists include:
Cecilie Larsen, Project manager, renewable energy, Ellen E-Ferry/Aero Kommune
Ferhat Acuner, General Manager, Navtek Naval Technologies
Halvard Hauso, Chief Commercial Officer, Corvus Energy

---
The business case for hybrid and electric technology

Date: Tuesday 2 June - Time: 13:30-14:15BST
In relative terms, the cost of hybrid and electric technology has come down, but it still represents a significant outlay for owners, especially during financially challenging times. This webinar explores to what extent operators can amortise their investments based on optimised performance and reduced operating costs.
Join us as we discuss
The investment case
Managing engines, gensets and motors to optimise performance
Power supply and energy storage solutions
Battery storage and hybrid propulsion on warm and cold layup
Crew and maintenance considerations
Vessel case study
Panellists include:
Cecilie Larsen, Project manager, renewable energy, Ellen E-Ferry/Aero Kommune
Halvard Hauso, Chief Commercial Officer, Corvus Energy
Jon Diller, Commercial Director, Spear Power Systems
Will Ayers, Chief Electrical Engineer, Elliott Bay Design
Erno Tenhunen, Director – Marine Business Line, Danfoss Editron


Sponsored by:


---
Fuel cells: addressing the key
technical challenges

Date: Wednesday 3 June - Time: 09:00-09:45 BST

Premier Partners:
Fuel cells are being championed as one of the most promising solutions for reducing harmful pollutants in the maritime sector. Today the technology is powering vessels sailing short distances and supporting auxiliary energy requirements for larger vessels. This webinar will explore the range of issues that need to be overcome if this technology is to deliver on its potential.
Join us and learn
Safety – hydrogen storage and fuel cell system
Vessel layout and space management
Fuel cell technologies for maritime application
The 3Rs: refurbishing, re-using and reclaiming fuel cell components
Fuel cell power requirements for different classes of ships
Panellists include:
Ko Stroo, Product Manager, Ulstein Design & Solutions
Renaud Cornu, Sr Sales, Passenger Vessels, GE Power Conversion
Roel Van De Pas, Chief Commercial Officer, Nedstack
---
Fuel cells: key operational challenges

Date: Thursday 4 June - Time: 13:30-14:15 BST
The business case for fuel cells is gaining momentum. Understanding the key operational challenges is the key to driving wider uptake. This webinar will assess hydrogen fuel cells' maritime potential and enable operators to plan and understand the options available and how to achieve a return on investment.
Join us and learn
Status of land-based supporting infrastructure and challenges
The operational and maintenance costs of hydrogen fuel cells
Potential capex and opex costs
The Green Agenda – impact of recent events on funding for research & development projects
The future of hydrogen fuel cells
Panellists include:
Joseph W. Pratt, CEO & CTO, Golden Gate ZERO Emission Marine
Kristina Fløche Juelsgaard, Business Development Director, Ballard Power Systems Europe

Tjalve Magnusson Svendsen, Researcher, Prototech
---
Indrit Kruja - Project Lead
indrit.kruja@rivieramm.com

Add to Calendar
Webinar details:
A confirmation email will be sent after registration. A reminder will be sent with your access details no later than 72 hours before the events date and a further reminder will be sent 1 hour before the webinar is due to begin.
During the webinar the identity of the attendees is confidential

All attendees join the webinar with their microphone off

We encourage questions to be sent during the webinar, the Moderator will raise these to the expert presenters

A recording of the Webinar will be accessible at www.rivieramm.com/webinar-library following the live event taking place.