Marine Propulsion Webinar Week

01 June 2021 - 03 June 2021

09:00 - 14:45

BST - ONLINE
---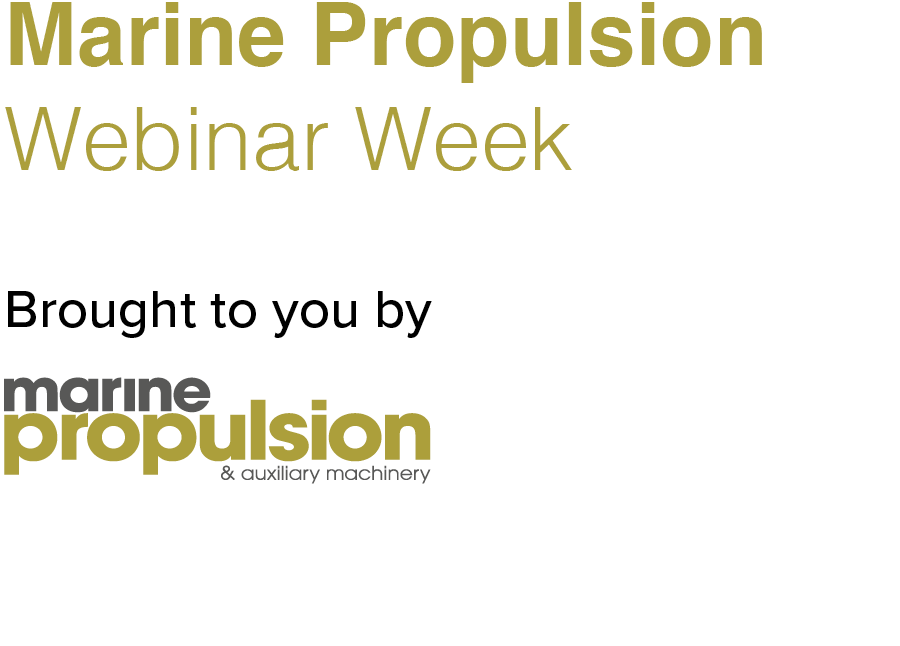 ---
Marine Propulsion Webinar Week, be sure to join us

Thrusters. Electric propulsion. Compressors. Filters. Turbochargers
Beginning Tuesday 1 June, we will be holding a series of daily webinars focussed on thrusters, electric propulsion, compressors, filters and turbochargers. Each is meticulously researched and speaks to a key industry challenge, headache or opportunity. The webinars are designed to strike the right balance between transmission of key information and interaction with the expert panel assembled. Those who register will also receive copies of webinar materials post event.
Our discussions are focused, cover the advertised subjects, and will deliver registrants actionable insights.

Registration is free, please sign up below
To guarantee a position on one of the webinar panels, as either a premium partner or sponsored presenter and panellist, please contact Tom Kenny. A number of positions are made available throughout our webinar weeks for our commercial partners on a first come, first served basis.
Please join us for any or all of the following:
Thrusters: future-proofing your vessel and investment

Date: Tuesday 1 June - Time: 09:00-09:45 BST

WATCH NOW
Premier partner:




This webinar will provide guidance on thruster selection, maintenance and performance. Our experts will assess operational factors including manoeuvring, docking and hydrodynamics. Economic and environmental factors will also be considered.
Join us as we discuss
Tunnel bow thrusters; stern thrusters; azimuth thrusters; rim-driven thrusters
Matching the right thruster selection with your vessel and operating profile
Thruster controls, safety and training
Capex and opex considerations
Remote monitoring and maintenance
Panellists:
Jonas Nyberg, Managing Director West, Berg Propulsion
Duncan Payne, Director, Global Ship Support
Lauri Tiainen, Director, Thrusters and Propulsion Control Systems, Wärtsilä
---
Electric propulsion: steering towards efficiency

Date: Tuesday 1 June - Time: 14:00-14:45 BST

WATCH NOW
Electric propulsion holds out the promise of delivering zero-emissions power at a favourable cost over the lifetime of a vessel. The passenger vessel, tug and harbour craft sectors, which tend to operate very close to population centres, have been in the vanguard of adoption. Wider maritime interest is now reported in response to tougher noise and emissions regulations. Our webinar will assess electric propulsion from design, installation, operational and maintenance standpoints.
Join us as we discuss
Electric versus conventional propulsion
The design benefits
The operational benefits
How lower fuel and maintenance costs can offset capital and training costs
Panellists:
Dr Christoph Priestner, Manager - Multi-Body & NVH Simulation, AVL List
Philipp Fedorov, Head of Sales, Marine, Danfoss Editron


---
Compressors: squeezing out energy savings

Date: Wednesday 2 June - Time: 09:00-09:45 BST
Marine air compressors provide compressed air for powering pneumatic pumps that transfer shipboard fluids such as oil, water and bilge. These systems must be robust, reliable and energy efficient. This webinar will examine how to choose the right marine air compressor and how to maximise in-service performance.
Join us as we discuss
Selecting the right air compressor
Minimising opex and crew maintenance
Remote maintenance and diagnostics
Energy savings - what can be expected
Panellists:
Oscar de Groen, Global Sales / Business Development Manager Marine, KAESER KOMPRESSOREN
Stephan Behrens, Marine Engineer / Global Business Development Manager Shipping, Sauer Compressors


Sponsored by:


---
Steering gears and rudders: is it time to retrofit your vessel?

Date: Wednesday 2 June - Time: 14:00-14:45 BST
The Energy Efficiency Existing Ship Index (EEXI) will require owners of existing ships to consider retrofitting 'propulsion improving devices' on their ships. One short-term technical option – in combination with an optimised propeller – is retrofitting a ship's rudder. This webinar offers guidance on the steps that need to be considered.
Join us as we discuss
Matching the right rudder to the right vessel
Assessing the technical feasibility of a rudder retrofit
Financing and return-on-investment
Energy and fuel savings - what can be expected
Panellists include:
David Wing, Director - Ship Design & Engineering, Houlder
Dr Noriyuki Sasaki, Visiting Professor, Department of Naval Architecture and Marine Engineering (NAOME), University of Strathclyde

Lennart Dobele, Regional Sales Manager, Humphree
Per Landegren, Sales & Marketing Director, Humphree
---
Filter technology for greener and cleaner engine operation

Date: Thursday 3 June - Time: 09:00-09:45 BST

Watch now
Premier partners:

Filter technology has evolved in line with emissions regulations to support greener and cleaner engine operation. We will spotlight the step changes seen from centrifugal separators through to fine filers to meet low oil pressure. Our panel will also address re-orientated approaches from class, meeting stringent fuel cleaning requirements and preparation for operation on the next generation of fuels.
Join us as we discuss
Enhanced engine maintenance
Yard CAPEX savings
The link between reduced fuel and emissions and OPEX
Paradigm shifts: new approaches from class; new fuel cleanliness demands
Filter technology, electronic engines and new fuels.
Panellists include:
Kim Kjaer, Global Segment Manager, Marine & Offshore, CC Jensen
Charlotte Rojgaard, Global Head of Marine Fuel Services, Bureau Veritas
Kjeld Aabo, Director New Technologies, 2-Stroke Promotion, MAN Energy Solutions
Claus Beiersdorfer, Category Manager, Boll & Kirch Filterbau


---
Getting it right: selecting the right filters for emissions technology

Date: Thursday 3 June - Time: 14:00-14:45 BST

Watch now
At the forefront of owner/operator concerns is compliance with emissions reduction regulations. This calls for investment in SOx, NOx and CO2 emissions reduction technology and marrying those choices with the right filter technology. Our expert panel will set out the options and implications when it comes to filter technology.
Join us as we discuss
Ceramic filters
Fine filtration technology
How filter selection impacts equipment service life
Panellists include:
Thomas Mann, Business Development Manager, Business Unit Fine Filtration Technology, Boll & Kirch Filterbau
Anders Skibdal, CEO, PureteQ

---
Tom Kenny - Project Lead
tom.kenny@rivieramm.com

Add to Calendar
Webinar details:
A confirmation email will be sent after registration. A reminder will be sent with your access details no later than 72 hours before the events date and a further reminder will be sent 1 hour before the webinar is due to begin.
During the webinar the identity of the attendees is confidential

All attendees join the webinar with their microphone off

We encourage questions to be sent during the webinar, the Moderator will raise these to the expert presenters

A recording of the Webinar will be accessible at www.rivieramm.com/webinar-library following the live event taking place.