Maritime Air Pollution Asia Webinar Week

14 December 2020 - 17 December 2020

07:00 - 08:45

ONLINE
---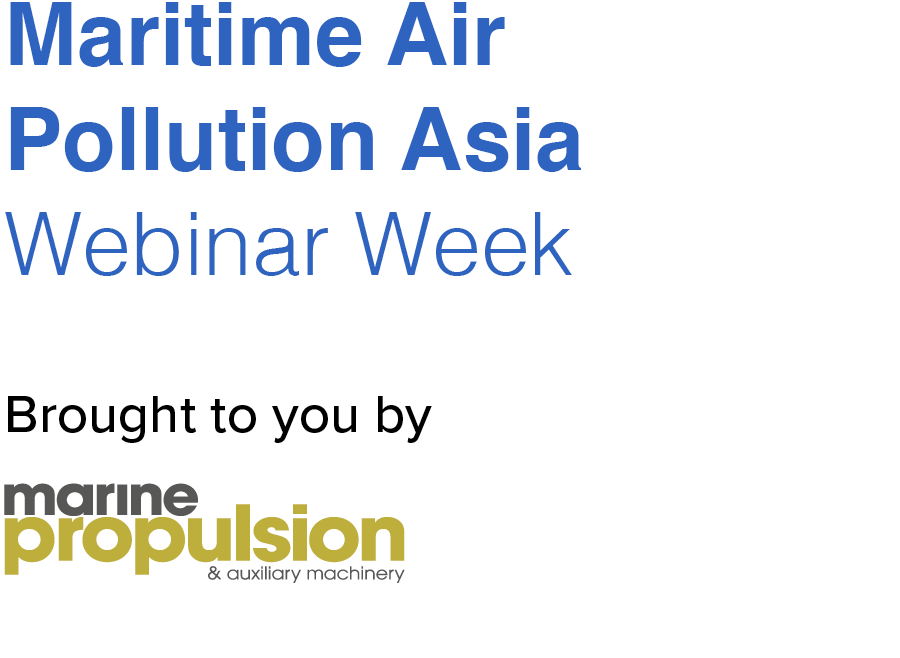 ---
Join us for Maritime Air Pollution Asia Webinar Week
Beginning Monday, 14 December, we will be holding a series of daily webinars, each meticulously researched and organised in response to a present maritime air pollution-related challenge, headache or opportunity, in Asia. The webinars are free to attend and are designed to strike the right balance between transmission of key information and interaction with the expert panel assembled.
Should you wish to join one of our expert panels please contact Tom Kenny.
Please join us for any or all of the following:
Our discussions are focused, cover the advertised subjects, and deliver registrants actionable insights.
Regulatory compliance to ensure your fleet sails

Date: Monday 14 December Time: 15:00-15:45 SGT / 07:00-07:45 GMT
Implementing new and upcoming regulations for decarbonising the shipping industry remains a massive headache for shipowners. This webinar will provide expert opinions, guidance and examples for how to deal with the new emissions legislation and how the effective enforcement of fines will ensure compliance.
Join us as we cover
The effects of new regulations on UNCLOS
Ensuring your fleet complies with stringent emissions legislation
A non-compliant fleet: what are the implications?
Compliance and non-compliance case studies
Panellists:
Jesper Jarl Fano, Senior Regulatory Affairs Manager, A.P. Moller – Maersk
Thomas Blenk, Safety & Technical Manager, IRI / Marshall Islands Registry
Ansuman Ghosh, Director Risk Assessment, Thomas Miller

---
Diesel engine exhaust gases – exhaust gas cleaning, or is fuel selection good enough?

Date: Wednesday 16 December Time: 16:00-16:45 SGT / 08:00-08:45 GMT

Watch Now
This webinar compares the different shipowner investment decisions taken to meet IMO 2020 regulation requirements. To weigh these decisions properly, they need to be set in their proper context. Our panel will critically assess the efficacy of these regulations versus their stated aims. It will consider the effect COVID-19 has had on global crude demand and the impact blending of more highly refined products has had on global CO2 output. A hard look will be taken at MEPC 75. Statements questioning VLSFOs' environmental credentials will be robustly challenged. Ultimately, how should the responsibility for lowering emissions be distributed among owner/operator/charterers; fuel providers; regulators and the public at large? And how far are we from achieving this balanced outcome?
Join us as we cover
Financial drivers versus regulatory compliance
A level playing field or a levelled playing field: is meeting progressively tighter emissions limits the way to go?
The case for Exhaust Gas Cleaning Systems
In the dock... do port incentive schemes work?
Panellists:

Caroline Huot, Senior Vice President Shipmanagement, Delta Corp Shipping
Don Gregory, Director, EGCSA
Kai Latun, Director, Sales and Public Affairs, Yara Marine Technologies
Ian Adams, Executive Director, Clean Shipping Alliance
---
Engines for now and the future

Date: Thursday 17 December Time: 16:00-16:45 SGT / 08:00-08:45 GMT

Watch Now
Vessel owners and operators must meet stringent emissions legislation against the tightest of deadlines. This webinar will cut through the spin to examine the engine options available today and tomorrow from cost, compliance, technical and operational perspectives.
Join us as we cover
Navigating the regulatory maze

Fuel for thought: engine operations on next generation fuels

Retrofit and upgrade options

Case studies: options for new builds; 5 year-old vessels; 10 year-old vessels; 15 years plus
Panellists:
Kjeld Aabo, Director New Technologies 2-Stroke Promotion Department, MAN Energy Solutions
Lars Anderson, Director, Power Supply Product Management, Wärtsilä Marine Power
Dr Carmelo Cartalemi, General Manager Global Sales, Winterthur Gas & Diesel

---
Tom Kenny - Project Lead
tom.kenny@rivieramm.com

Add to Calendar
Webinar details:
A confirmation email will be sent after registration. A reminder will be sent with your access details no later than 72 hours before the events date and a further reminder will be sent 1 hour before the webinar is due to begin.
During the webinar the identity of the attendees is confidential

All attendees join the webinar with their microphone off

We encourage questions to be sent during the webinar, the Moderator will raise these to the expert presenters

A recording of the Webinar will be accessible at www.rivieramm.com/webinar-library following the live event taking place.