Maritime Cyber Security Webinar Week

04 August 2020 - 06 August 2020

14:00 - 09:45

ONLINE
---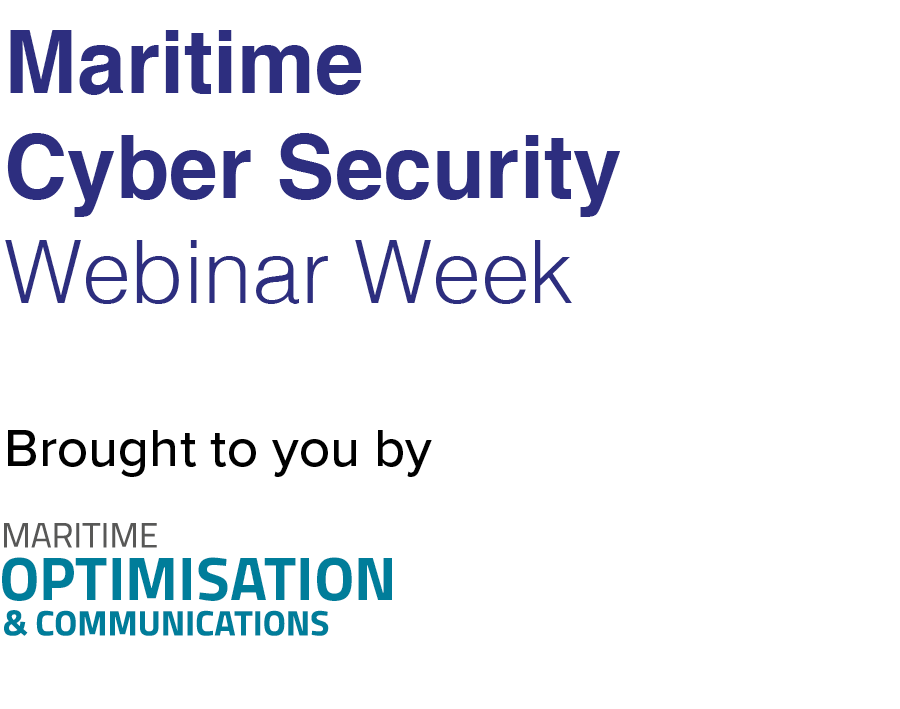 ---
Be sure to join us for Maritime Cyber Security Webinar Week
Beginning Tuesday 4 August, Riviera is broadcasting a series of webinars, each meticulously researched and organised in response to a specific maritime cyber security challenge, threat or regulatory requirement. The webinars will strike the right balance between transmission of key information and interaction with the expert panel assembled. Those who register will also receive copies of webinar materials post event.
Our discussions are focused, cover the advertised subjects, and deliver registrants actionable insights.
Should you wish to join one of our expert panels please contact  Paul Dowling.
Please join us for any or all of the following:
Where port security meets  cyber 

security

Date: Tuesday 4 August - Time: 14:00-14:45 BST
In association with:



Port security is so much more than guns, gates and guards. Port hacking is one of the most common, misunderstood – and underreported – forms of  cyber-attack. This webinar will bring insight on the risk as well as guidance on how to cost-effectively mitigate the threats.
Join us as we discuss
Why port security is much more than guns, gates and guards

Case studies: manifest manipulation, ransomware and extortion, fraudulent payments and rewiring of money

The actual threats facing virtual ports

Snooping or reconnaissance?

Building resilience: IT not just OT
How to split the budget between being compliant and being secure
Panellists:
Scott Dickerson, Executive Director, Maritime Transportation System ISAC
Dr Kimberly Tam, Cyber-SHIP Lab Academic Lead and Lecturer in Cyber Security, University of Plymouth, Faculty of Science and Engineering
Paul Ferrillo, Partner, McDermott, Will & Emery

---
Cyber

 

security

: readying for the ISM Code's


1 Jan 2021 requirements




Date: Wednesday 5 August - Time: 09:00-09:45 BST
IMO is adding mandatory  cyber  security requirements to the ISM Code. This means shipping companies must incorporate  cyber  security into their Safety Management System no later than the first annual verification of the company's Document of Compliance following 1 January 2021. This webinar will clarify the requirements, confirm what owner/operators need to do now and underline the help and advice available.
Join us as we discuss
What the new regulation requires

Readying for a risk-based approach

Cost effectiveness: how to split the budget between being compliant and being secure

What assessing, verifying and improving  

cyber

 resilience means in practice

Operator case studies: lessons learned on the pathway to compliance

How compliance will be policed. Attitudes towards enforcement

An opportunity or a burden?
Panellists:
Kelly Malynn, Senior Risk Manager, Beazley
Ms Makiko Tani, Deputy Manager, Cyber Security Team, ClassNK
Capt Alex Soukhanov, Managing Director, Moran Cyber
Rajeev Sukumaran, Director-Consulting Services Asia Pacific, Cybersecurity & Functional Safety, TÜV Rheinland

---
Cyber  security: minimising cost and disruption after a  cyber  event




Date: Thursday 6 August - Time: 09:00-09:45 BST
A  cyber  breach – in whatever form it takes – is costly and potentially devastating. Companies of all sizes are vulnerable, and the age of COVID-19 has reduced workforces and introduced greater dependency on the Internet of Things. This webinar will highlight how vessel owners and operators can mitigate the costs and fallout from a maritime  cyber  attack.
Join us and learn
Where the 

cyber

  security function should sit in your organisation

What does an effective disaster recovery plan look like?

Coordinating a company-wide response: ship and shoreside

Maintaining business continuity

Marine insurance: how much assurance?

Reputation management

Where does liability lie?
Panellists:
Gwilym Lewis, Chief Executive Officer, Neptune Cyber
Philip Roche, Partner, Norton Rose Fulbright
Andrew Hill, Executive Director / Cyber Cover Specialist, Willis Towers Watson

---
Paul Dowling - Project Lead
paul.dowling@rivieramm.com

Add to Calendar
Webinar details:
A confirmation email will be sent after registration. A reminder will be sent with your access details no later than 72 hours before the event's date, and a further reminder will be sent 1 hour before the webinar is due to begin.
During the webinar, the identity of attendees is confidential

All attendees join the webinar with their microphone off

We encourage questions during the webinar; the moderator will raise questions to the expert presenters

A recording of the webinar will be accessible at www.rivieramm.com/webinar-library after the event has taken place.