Maritime Hybrid, Electric and Fuel Cells Webinar Week

22 June 2021 - 24 June 2021

09:00 - 14:15

BST - ONLINE
---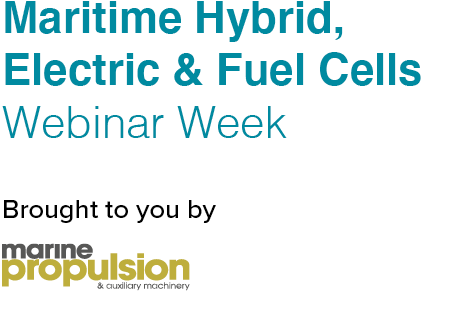 ---
Be sure to join us for Maritime Hybrid, Electric and Fuel Cells Webinar Week
Adoption. Decarbonisation. Charging. Infrastructure
Beginning Tuesday 22 June, we will be holding a series of webinars focussed on maritime, hybrid electric and fuels. Each is meticulously researched and speaks to a key industry challenge, headache or opportunity.
Our webinars are designed to strike the right balance between transmission of key information and interaction with the expert panel assembled. Those who register will also receive copies of webinar materials post event.
Our discussions are focused, cover the advertised subjects, and deliver registrants actionable insights.
Registration is free, please sign up below
To guarantee a position on one of the webinar panels, as either a premium partner or sponsored presenter and panellist, please contact Indrit Kruja. A number of positions are made available throughout our webinar weeks for our commercial partners on a first come, first served basis.
Please join us for any or all of the following:
Hybrid and all-electric: the next steps in electrifying the world's shipping industry

Date: Tuesday 22 June - Time: 09:00-09:45 BST

The uptake of hybrid and electric technologies by the maritime and shipping industries is being driven by decarbonisation targets set out by governments around the world. Join the industry's pioneers in examining the latest innovations in electric and hybrid systems and how they can deliver significant reductions in fuel consumption, emissions and maintenance costs. This webinar will address key considerations in the design, build and operations of hybrid and all-electric vessels as well as reviewing what the fleet of the future may look like.
Join us as we discuss
Demonstrating the advantages of hybrid and electric systems
The investment challenge – balancing cost vs. benefit
Access to finance, leasing options, government support and financial initiatives
Regulatory and safety considerations
Design considerations (space and weight)
Today's battery technology, second life and battery disposal
Panellists include:
Torsten Büssow, Director Electrical and Power Systems, Wärtsilä
Paul Simavari, Business Development Manager, Europe Marine, BAE Systems
Shaun White, Senior Project Manager, Spear Power Systems

Sponsored by:
---
Hydrogen and fuel cells: the key to decarbonising the shipping industry

Date: Wednesday 23 June - Time: 09:00-09:45 BST

Fuel cell technology is seen by many in the industry as the most practical, viable zero-emissions solution to fuelling vessels of the future. This webinar will discuss the benefits of adopting hydrogen and fuel cell technology, review commercial and technology considerations and address some of the hurdles to wide-scale take-up across the maritime sector.
Join us as we discuss
The latest advances in hydrogen fuel cells for maritime application
The investment challenge – balancing cost vs. benefit
Regulatory and safety aspects of fuel cells
Hydrogen – production and storage issues
Overcoming barriers to implementation and finding strategies for scaling up
Short-haul shipping will be the first sector to adopt, but who will follow?
Fuel cells – are they truly the future for maritime?
Panellists include:
Milinko Godjevac, Senior Integration Advisor, Future Proof Shipping
Ivan Østvik, Project Manager, Norled
Mads Friis Jensen, CCO, Blue World Technologies

---
Infrastructure and charging requirements
for hybrid, electric and fuel cell vessels

Date: Thursday 24 June - Time: 13:30-14:15 BST

Vessel owners are adopting green fuel technologies across their fleets at a pace, but is the infrastructure in place to meet the growing demand for charging and refuelling in ports and offshore? This webinar will consider what the maritime and shipping industry needs from its ports and charging/refuelling facilities with regard to what is currently available and what will be needed over the coming years.
Join us and learn
What is required to meet shore-based and offshore infrastructure requirements
Standardisation of connectors in ports
Electric charging requirements and the challenge of variable power peaks on the grid
Hydrogen options at ports and terminals
Advantages of shore power while ships are docked
Mobile refuelling options
Assessing the challenges and possibilities
Forward-looking opportunities and how you can become 'future-ready'
Panellists include:
Ingve Sorfonn, General Manager R&D and Concepts, Wärtsilä
Thomas Andersson, CEO, Ports of Stockholm
Olav Roald Hansen, Founder, HYEX Safety
Danny Terlip, Lead Engineer, Zero Emission Industries


Sponsored by:
---
Indrit Kruja - Project Lead
indrit.kruja@rivieramm.com

Add to Calendar
Webinar details:
A confirmation email will be sent after registration. A reminder will be sent with your access details no later than 72 hours before the events date and a further reminder will be sent 1 hour before the webinar is due to begin.
During the webinar the identity of the attendees is confidential

All attendees join the webinar with their microphone off

We encourage questions to be sent during the webinar, the Moderator will raise these to the expert presenters

A recording of the Webinar will be accessible at www.rivieramm.com/webinar-library following the live event taking place.