Offshore Webinar Week

11 August 2020 - 13 August 2020

14:00 - 14:45

ONLINE
---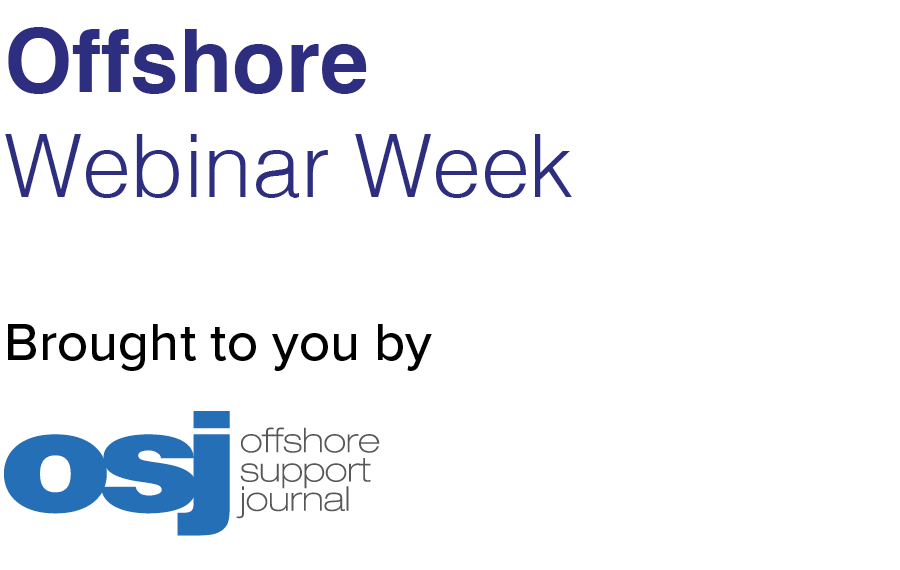 ---
Be sure to join us for Offshore Webinar Week
Beginning Tuesday 11 August, we will be holding a series of daily webinars, each meticulously researched and addressing a topic of vital importance to the offshore support vessel industry. The webinars are designed to strike the right balance between transmission of key information and interaction with the expert panel assembled. Those who register will also receive copies of webinar materials post event.
Our discussions are focused, cover the advertised subjects, and deliver registrants actionable insights.
Should you wish to join one of our expert panels please contact Ian Glen.
Please join us for any or all of the following:
Remote DP trials & FMEAs: What the guidelines say. What the guidelines mean

Date: Tuesday 11 August - Time: 14:00-14:45 BST

Do present guidelines help the OSV industry analyse failure modes and fault tolerance on DP vessels? How rigorous are present remote DP trials? How robust their conclusions? This webinar will uncover the extent today's guidelines can be relied upon to provide vessel owners and operators operational and safety assurance
Join us as we discuss
Time to define remote trials
Should it be mandatory for third parties to verify and validate configuration and test results
The data required to be data driven
Data driven approaches to verifying and validating each test configuration and results
Continuous trials versus single, time bound trials
Maintenance records as evidence
Co-host:
Dan Endersby, Director, All Offshore


Panellists include:
Mat Bateman, Senior Partner/Marine Consultant, Keelson Marine Assurance
Peter Solvang, Managing Director, DP & Marine Assurance Norway
Oystein Killingrod, Marine Superintendent, Siem Offshore
Faisal Rashid, Technical Adviser – Offshore, OCIMF
Sponsored by:
---
The Future OSV – What will it look like?

Date: Wednesday 12 August - Time: 14:00-14:45 BST
This webinar will deliver insight into the design elements that the industry will need to understand in anticipation of its next newbuilding phase
Join us as we discuss
Making the right choice: future powering and fuel options
Joining the dots: What the connected ship means in practice
How offshore services will be performed and delivered
Our future customers and their requirements
Panellists include:
Bo Jardine, Global Category Manager - Marine, Shell
Arnstein Eknes, Business/Segment Director - Special Ships, DNV GL
Tim Clerc, Vice President of Engineering, SEACOR Marine
Darren Truelock, Vice President Houston, VARD Group
---
Offshore Rig Market Update: Is the worst behind us?

Date: Thursday 13 August - Time: 14:00-14:45 BST

Is 2020 the beginning of the end of the downturn for the offshore rig market or just the end of the beginning? The year began with high hopes of recovery however the collapse of the oil price and COVID-19 have precipitated a global wave of rig contract terminations. The market has shown signs of life of late, notably in the deepwater sector. What prospect a revival later this year?
Join us and learn
Outlook for global offshore E&P investment
Assessing the impact of COVID-19 on the offshore rig market
Activity
Attrition & Fleet Rationalisation
Logistical Challenges
Demand forecast for the global offshore rig fleet 2020-25
Panellists include:
Thom Payne, Head of Offshore, Rigs & Wells, Westwood Global Energy Group
Terry Childs, Head of RigLogix, Westwood Global Energy Group
---
Ian Glen - Project Lead
ian.glen@rivieramm.com

Add to Calendar
Webinar details:
A confirmation email will be sent after registration. A reminder will be sent with your access details no later than 72 hours before the events date and a further reminder will be sent 1 hour before the webinar is due to begin.
During the webinar the identity of the attendees is confidential

All attendees join the webinar with their microphone off

We encourage questions to be sent during the webinar, the Moderator will raise these to the expert presenters

A recording of the Webinar will be accessible at www.rivieramm.com/webinar-library following the live event taking place.