Offshore Webinar Week

19 January 2021 - 21 January 2021

09:00 - 14:45

ONLINE
---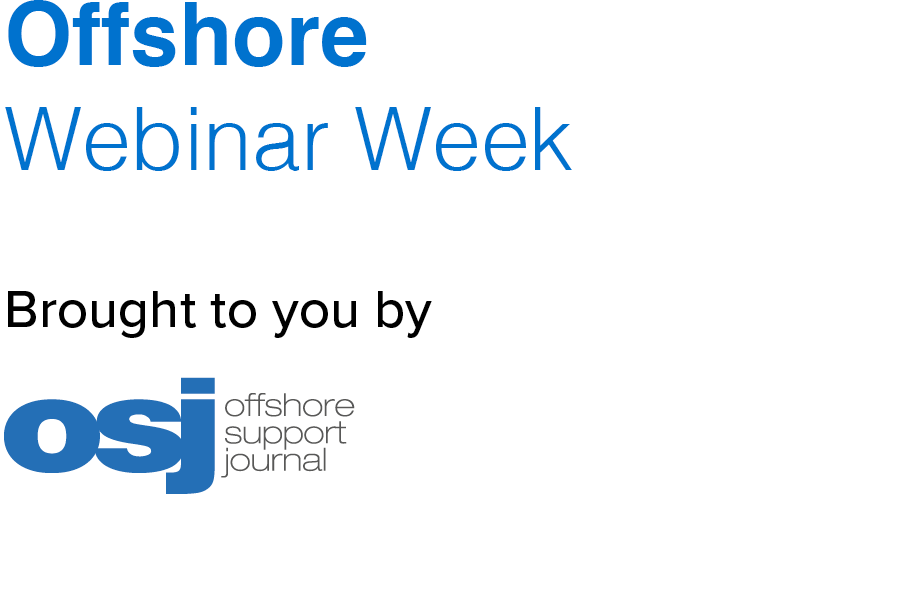 ---
Be sure to join us for Offshore Webinar Week
Beginning Tuesday 19 January, we will be holding a series of daily webinars, each meticulously researched and addressing a topic of vital importance to the offshore support vessel (OSV) industry. The webinars are designed to strike the right balance between transmission of key information and interaction with the expert panel assembled. Those who register will also receive copies of webinar materials following the event.
Our discussions are focused, cover the advertised subjects, and deliver registrants actionable insights.
Should you wish to join one of our expert panels please contact Ian Glen.
Please join us for any or all of the following:
How can you retrofit your OSV fleet
to future proof your competitiveness?

Date: Tuesday 19 January - Time: 09:00-09:45 GMT

Premier Partner:


Offshore support vessel owners are faced with unprecedented challenges: a weakened oil and gas market; record numbers of laid up vessels; compliance with new regulations and squeezed margins. Expect incisive presentations and lively debate as our panel discusses the ways in which retrofitting technology can boost operational advantage in the most competitive and pressurised of markets.
Join us as we discuss
Fuels and emissions
Electric and hybrid propulsion: batteries; shore power
Maintenance
Safety
Digitalisation
Timescales and return on investment
Panellists:
Arnstein Eknes, Segment Director – OSV & Special Ships, DNV GL
Egil Arne Skare, Chief Project Officer, Østensjø Rederi

Svein Mannes, Senior Sales Support Engineer, Wärtsila Project Services, Hybrid Sales
---
Floating wind farms: the new driver
of the AHTS market?

Date: Wednesday 20 January - Time: 14:00-14:45 GMT
Until now, the offshore drilling industry has been the main driver of AHTS vessel demand, but with a severely weakened oil and gas market this is expected to change. How will planned, large-scale floating wind projects drive AHTS utilisation through to 2030?
Join us as we discuss
Why floating wind? The story so far, growing interest and future developments
Just how large-scale are upcoming commercial projects
How AHTSs are utilised at floating wind farms
Prospects for a significant floating wind AHTS vessel market
Will the offshore oil and gas market sustain AHTS vessel owners ahead of a floating wind boom?
Fleet renewal: the offshore wind market's requirement for AHTS vessels against the backdrop of an ageing fleet
Panellists:
Dr Ferenc Pasztor, Senior Offshore Analyst, Maritime Strategies International
Tom Fulton, Head of Renewables and Mooring Development, Acteon Group
Yvan Leyni, Floating Wind Solution Director, Maersk Supply Service
Christophe Bekhouche, Senior Engineer, Marine Operations, Aker Offshore Wind

Offshore influencers in conversation

Date: Thursday 21 January - Time: 14:00-14:45 GMT
In an open interview format, offshore support vessel industry influencers take centre stage, giving candid and practical insights on how they are positioning to withstand today's unprecedented trading challenges
Join us and learn
The current market
Lessons learned and the industry post COVID-19
Charterer requirements
Where's the smart money today and where's it heading?
Emerging opportunities outside the oil and gas markets
The outlook for the OSV supply chain
Panellists include:
Quintin V. Kneen, President, CEO & Director, Tidewater
Niek Spiljard , Managing Director, Vroon Offshore Services B.V.

Harry Knox, Managing Director - Offshore Ship Management, V.Ships Offshore
---
Ian Glen - Project Lead
ian.glen@rivieramm.com
Webinar details:
A confirmation email will be sent after registration. A reminder will be sent with your access details no later than 72 hours before the events date and a further reminder will be sent 1 hour before the webinar is due to begin.
During the webinar the identity of the attendees is confidential

All attendees join the webinar with their microphone off

We encourage questions to be sent during the webinar, the Moderator will raise these to the expert presenters

A recording of the Webinar will be accessible at www.rivieramm.com/webinar-library following the live event taking place.