Passenger Ship Webinar Week

27 April 2021 - 29 April 2021

14:00 - 14:45

ONLINE
---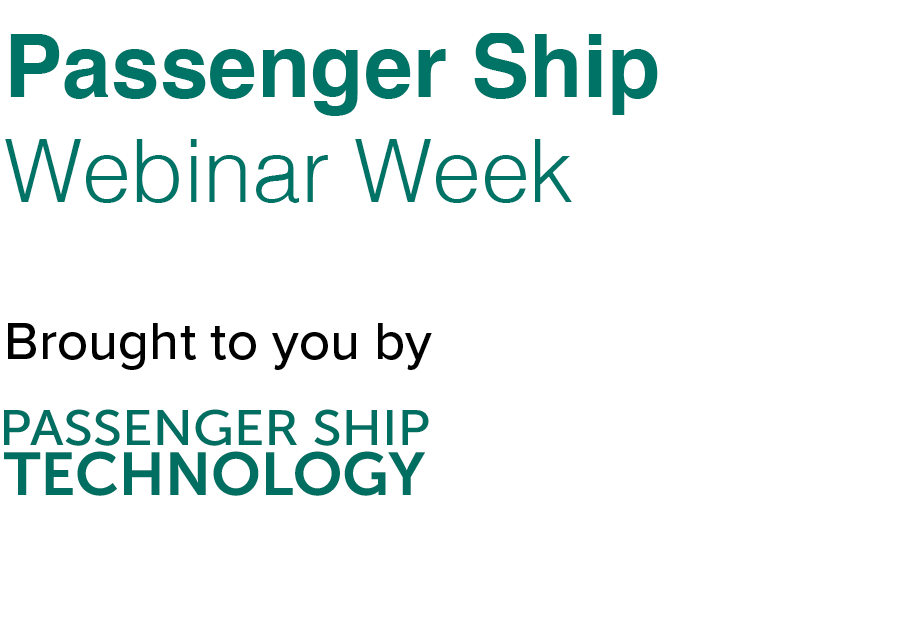 ---

Be sure to join us for Passenger Ship Webinar Week

Building in China. Zero emissions. Preparing to sail again.


Beginning 27 April, we will be holding a series of daily webinars, each meticulously researched and focussed on a key aspect of cruise and ferry operations. The webinars are designed to strike the right balance between transmission of key information and interaction with the expert panel assembled.
Our discussions are focused, cover the advertised subjects, and deliver registrants actionable insights.
Registration is free, please sign up below.
To guarantee a position on one of the webinar panels, as either a premium partner or sponsored presenter and panellist, please speak with Indrit Kruja. A number of positions are made available throughout our webinar weeks for our commercial partners on a first come, first served basis.
Please join us for any or all of the following:
Passenger vessel construction in China: experience, cost and capacity assessed

Date: Tuesday 27 April - Time: 14:00-14:45 BST
Chinese shipyards are successfully targeting passenger ship construction business boosted by capacity constraints at European shipyards and pricing. Our webinar will critically assess the benefits - and challenges - of building passenger ships in China and include case studies that share lessons learned.
Join us as we discuss
An operator's experience: lessons learned; benefits assessed
Why European and US technology and outfitters can help China make up vital ground
How Chinese yards can develop ferry and cruise ship construction techniques
Managing quality assurance
Panellists:
Per Westling, Managing Director, Stena RoRo
Niels-Erik Lund, Chairman-CEO, SunStone Ships
Carlos Reyes, Managing Partner, Tomas Tillberg Design
Kari Granberg, Project Manager NB, Viking Line

---
Ferry sector: paving the way towards zero emissions




Date: Wednesday 28 April - Time: 09:00-09:45 BST
The ferry sector's pathway to zero emissions involves operators assessing a plethora of propulsion options, including all-electric, hydrogen, fuel cells, LNG as well as hybrid choices. This webinar will compare these options including the key technical and operational issues, cost implications and compliance challenges. Case studies featuring recent zero-emissions newbuilding projects and operational experience will be shared.
Join us as we discuss
Creating a business case for a zero-emissions ferry
Operational challenges: technical, operational, regulatory
Opex versus capex costs and a return on investment
Onshore infrastructure and onboard energy storage considerations
Balancing light weight and high-speed needs with heavier alternative propulsion equipment
How 'well-to-wake' and tank-to-wake' environmental assessments impact the passenger ship sector
Panellists:
Halfdan Abrahamsen, Media and Information Manager, Aeroe EnergyLab (Municipality of Aeroe)
Jakob Steffensen, Director, Innovation Lead, Technology & Innovation, DFDS
Per Vidar Johannesen, Senior Sales Manager, Integrated Systems and Solutions EPMS, Wärtsilä Norway


Sponsored by:

---
Cruise ships: preparing to sail again

Date: Thursday 29 April - Time: 14:00-14:45 BST
As cruise companies prepare to start voyages again, they need to take into consideration some important aspects such as: crew and passenger interior spaces; Covid-19 testing; containing an onboard outbreak; vaccine passports and travel restrictions. Our webinar will look at these and related concerns from operational, technology, design and layout standpoints. Our panel will also put forward solutions and ways forward.
Join us as we discuss
Vessel lay up: how vessels are being brought back into service
Ventilation and filtering technology
Public spaces: short-term and long-term solutions
Impacts on crew and logistics
Guest testing: digitalisation versus manual
Passenger flow: designing the next-generation cruise ship
Panellists:
My Nguyen, Director of Design & Operations, Holland America Group
Luca Matola, Leading Advisor to the CEO, MSC Cruises
Alessandro Maccari, Marine Research and Development Director, RINA
Andrea Zito, CEO, Swan Hellenic Cruises

Dee Cooper, Senior Vice President - Design, Virgin Voyages


---
Indrit Kruja - Project Lead
indrit.kruja@rivieramm.com

Add to Calendar
Webinar details:
A confirmation email will be sent after registration. A reminder will be sent with your access details no later than 72 hours before the event's date, and a further reminder will be sent 1 hour before the webinar is due to begin.
During the webinar, the identity of attendees is confidential

All attendees join the webinar with their microphone off

We encourage questions during the webinar; the moderator will raise questions to the expert presenters

A recording of the webinar will be accessible at www.rivieramm.com/webinar-library after the event has taken place.