Thales VesseLINK 200: accessing Certus with a smaller antenna

12 November 2020

13:00 - 13:45

ONLINE
---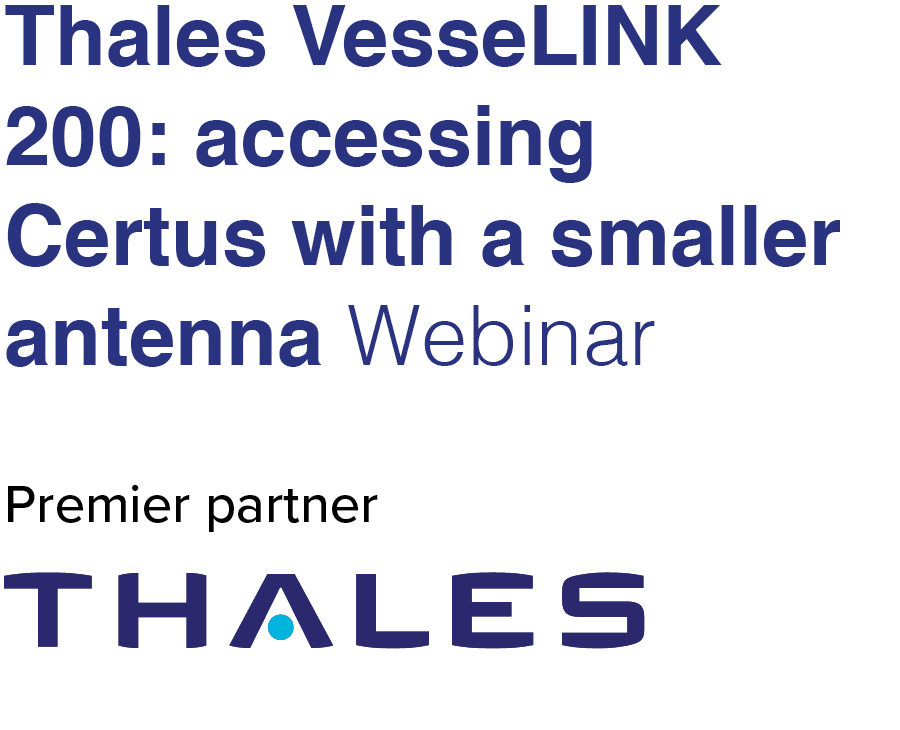 ---
Be sure to join us,

in partnership with Thales, for a webinar looking at

the

Thales VesseLINK 200kbps
Our discussion will be focused, cover the advertised subjects, and deliver registrants actionable insights.
For further information please contact Paul Dowling.
Please join us for the following:
Thales VesseLINK 200: accessing Certus with a smaller antenna

Date: Thursday 12 November Time: 13:00-13:45 GMT

Watch now
Thales VesseLINK 700kpbs was one of the first Iridium Certus solutions to come to the maritime market in January 2019. In under two years, VesseLINK has brought reliable communications to vessels worldwide, making maritime operations more efficient and cost effective. Now, Thales is launching VesseLINK 200kbps operating on Iridium's latest service class Certus 200.
This new solution will enable smaller vessels with operations to access Certus with the same reliable, state-of-the-art hardware Thales always delivers, at an aggressive and competitive price. This webinar will inform the maritime market of the product features and key differentiators of VesseLINK 200kpbs, while highlighting specific use cases that will be improved by this solution.
Join us as we discuss:
A deep look into the new Thales VesseLINK 200kbps antenna

Use cases – examples of where and why to use VesseLINK 200 kbps

Thales Push-to-Talk: also compatible with VesseLINK 200 kbps

Where can you get it? Our official Beta testers and first adopters

An update from Iridium on their service for 200kbps

User testimonial: How Thales VesseLINK has improved a maritime user's communications
Wouter Deknopper, Vice President & General Manager, Maritime Line of Business, Iridium Communications
Brian Aziz, Vice President, Satcom Solutions, Thales

Peter Van de Venne, Director IT, Spliethoff Group
---
Webinar details:
A confirmation email will be sent after registration. A reminder will be sent with your access details 24 hours before the event's date and a further reminder will be sent 1 hour before the webinar is due to begin.
During the webinar the identity of the attendees is confidential

All attendees join the webinar with their microphone off

We encourage questions to be sent during the webinar, the Moderator will raise these to the expert presenters

A recording of the Webinar will be accessible at www.rivieramm.com/webinar-library following the live event taking place.